Even though the car mob activities, a form of political expression to demand Prayuth Chan-ocha's resignation, have reduced in force this month, they have become an important alternative to political protest amidst the Covid-19 pandemic in the past three and a half months totaling more than a hundred events all over the country.
Nevertheless, the resulted lawsuits continue. Police in various locations have been issuing summon warrants and pressing charges against organizers and participants of the car mob activities. Each and every case is expected to last at least a year before conclusion.
According to the Thai Lawyers for Human Rights, at least 244 people in 96 cases (some are involved in multiple cases) have already been accused since the first car mob in July 2021 until 18th October 2021. This figure also includes 18 juveniles.
Geographically, these cases were found to have taken place in all regions of the country in at least 37 provinces, as follows:
Central and East – Bangkok (22 cases), Nonthaburi (3 cases), Pathumthani (2 cases), Chonburi (2 cases), Lopburi (2 cases), Saraburi (1 case), Singburi (1 case), Kanchanaburi (1 case), and Nakhon Nayok (1 case).
North – Chiang Mai (6 cases), Chiang Rai (5 cases), Lampang (3 cases), Lamphun (2 cases), Tak (2 cases), Phitsanulok (1 case), Nakhon Sawan (1 case), Kampaeng Phet (1 case), and Uttaradit (1 case).
Northeast – Nakhon Ratchasima (7 cases), Khon Kaen (4 cases), Nakhon Panom (3 cases), Surin (2 cases), Roi Et (2 cases), Chaiyaphum (1 case), Yasothorn (1 case), Nongbua Lamphu (1 case), Amnat Charoen (1 case), and Ubon Ratchathani (1 case).
South – Nakhon Si Thammarat (3 cases), Yala (3 cases), Krabi (2 cases), Phuket (2 cases), Pattani (2 cases), Narathiwas (1 case), Satun (1 case), Surat Thani (1 case), and Songkhla (1 case).
Among these were also cases which the police had settled in accordance with the offence of unpermitted use of amplifier or the offences under the Road Traffic Act. 12 cases have already been concluded as a result.
On the other hand, 84 other cases mainly concern the offence of the violation of the Emergency Decree, which carries both an imprisonment as well as fine penalty. This has made most accused individuals decide to defend their case. Many cases have been indicted by the public prosecutors, in two of which, namely in Lampang Province and Nongbua Lamphu Province, the accused had already pleaded guilty before the Court.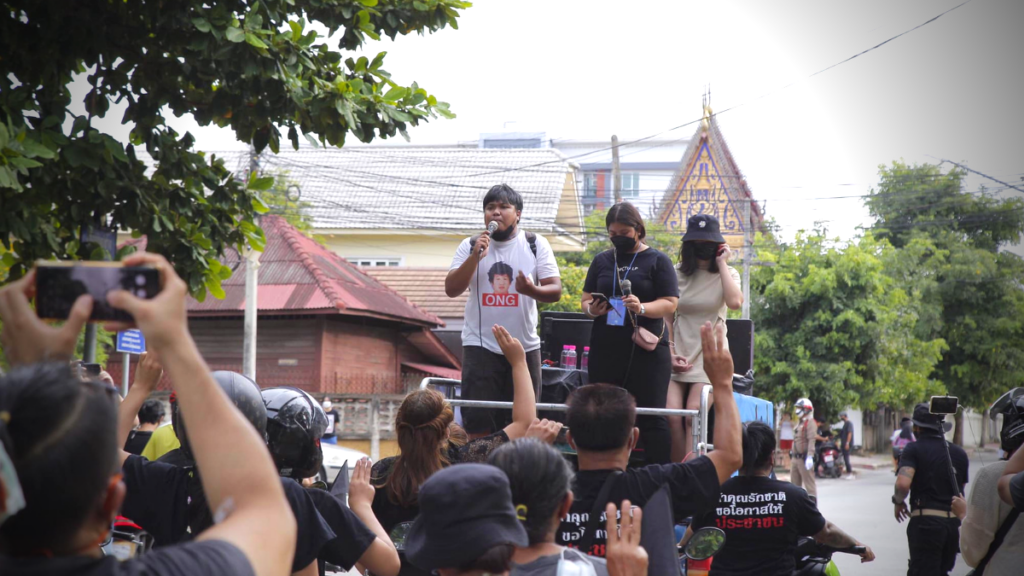 The Thai Lawyers for Human Rights have the following observations on the arisen lawsuits.
1. Many activities in dispute involved the participants seated within their personal vehicle and never leaving it. There were no close contacts or overcrowding issue at the venue, which were unlikely to constitute an element of risk for disease transmission. That being said, local police officers still actively and continuously enforced the law on the public assembly deemed risky of disease transmission on protesters.
In some activities, such as the one in Nakhon Phanom Province, the organizers even had contacted the village health volunteers to set up screening points prior to the activity as well as distributed thermometers, surgical masks, and alcohol sanitizers during it. Despite all that, they still faced accusations.
The said tendency has created a legal burden for the affected people requiring them to prove their innocence for a long period of time ahead. This has also resulted in a restriction of the freedom of expression and assembly, which are guaranteed by the Constitution. In short, regulations and announcements related to the Covid-19 pandemic have been regularly interpreted by state authorities as a tool to squelch rights and freedom since 2020.
2. Police officers "selectively" target politically active individuals and activists as well as those in the "watchlist". Some provinces focused on organizers, while others targeted watchlisted participants not responsible for the organization of the activity.
Authorities actively accused protesters on site during the activities. Some organizers were accused in multiple cases consecutively according to the number of activities organized. For instance, the team of organizers in Chiang Rai were accused in 4 cases from organizing 4 activities, 3 cases from 3 activities in Nakhon Phanom, and 5 activities in Nakhon Ratchasima including 5 youths.
Following this practice, the number of political cases in the past three months surged rapidly and expanded widely to other provinces.
In the meantime, the pattern of accusation lacks certainty and is full of "discrimination", subject to the whim of the authorities. In Lampang, the Phirab Khao (White Doves for the People) group organized two car mob activities with similar details and formats. However, the organizers were summoned to pay fines for using amplifiers and obstructing the traffic in the first one, whereas nine people were pressed charge for violating of the Emergency Decree in the second.
3. Police officers used a broad range of charges to accuse the organizers/participants, including: Covid-19-related measures such as violation of the Emergency Decree, violation of the Announcements of the Chief Official Responsible for Solving the State of Emergency in Relation to Security Issues, violation of the Orders of the Communicable Disease Committees in each province, or violation of the Communicable Disease Act.
Traffic-related offences such as using horn signals unnecessarily, driving in the way that obstructs the traffic, not taking into account safety or trouble of others, obstructing public ways, making loud noises without reasonable justification, concealing plate of registration number, etc.
The extensive use of legal provisions against political expression has led to a large number of petty offences in several provinces. For example, police in Chiang Rai used 5 – 7 offences to accuse people in each case.
Notably, many laws and regulations issued under the Emergency Decree have been used against political assemblies. Overlaps were identified in both their issuance as well as enforcement creating confusion among the public. Until present, there are 34 Regulations Issued under Section 9 of the Emergency Decree B.E. 2548 (2005), 11 Announcements of the Chief Official Responsible for Solving the State of Emergency in Relation to Security Issues, and Announcements of the Chief Official Responsible for Solving the State of Serious Emergency, as well as a large number of Announcements of the Communicable Disease Committee in each province all over the country issued under both the Emergency Decree and the Communicable Disease Act, all with varying details. With such complex and superfluous laws and regulations, it is therefore difficult for people to grasp and understand them.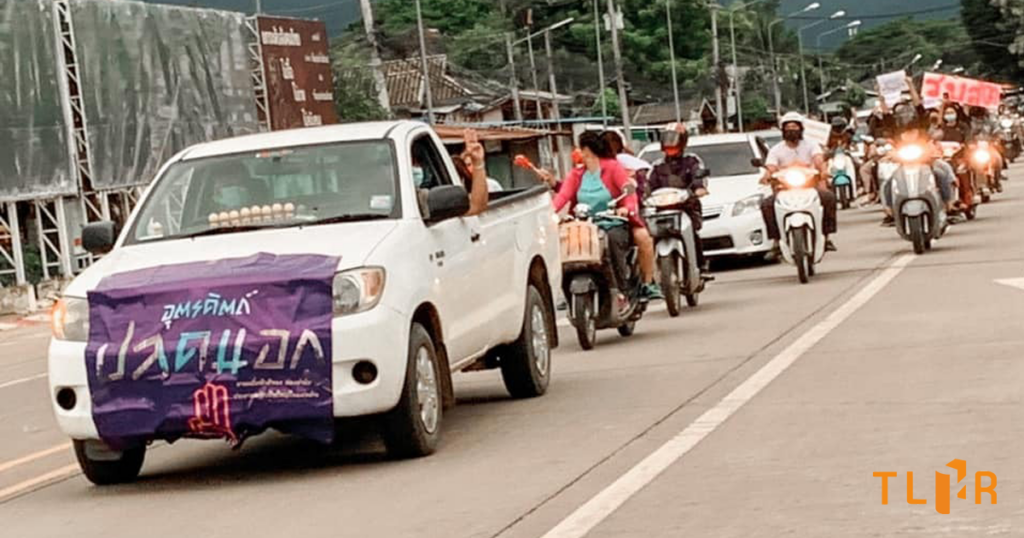 4. Among all cases, it was found that in two provinces, Nakhon Sawan and Kampaeng Phet, organizers or participants of the car mob activities were accused of not notifying a public assembly, even though Section 3 (6) of the Public Assembly Act B.E. 2558 (2015) exempts its enforcement on public assemblies during the state of emergency. In Kampaeng Phet, the public prosecutor filed the case to the court with offences both under the Emergency Decree and Public Assembly Act at the same time. In Nakhon Sawan, police settled the case in accordance to the offence of not notifying a public assembly with fine, rendering it concluded.
5. Police officers interpreted the laws to accuse people who did not even participate in activities. Cases include: In Uttaradit, the admin of the Free Uttaradit page was accused of being "a person who has committed an offence in a public assembly or activity with risk of disease transmission", although the person neither participated in the car mob activity nor resided in Uttaradit Province. In Yala, people not participating in activities as well as a photographer of an online media who was covering the activity were pressed charge.