On the occasion of 2021 Constitution Day in Thailand and International Human Rights Day.
Constitutional Court Ruling: A Selection of Documents in the Justice in Translation
Justice in Southeast Asia Lab at Center for Southeast Asian Studies UW-Madison CSEAS – New presented the translation of Constitutional Court Ruling No. 19/2564: A Selection of Documents in the Justice in Translation 7/2021.
On 10 November 2021, the Constitutional Court of Thailand ruled that the peaceful protests and calls for reform of the institution of the monarchy by activists in 2020 constituted overthrow of rule by democracy with the king as head of state.
In this selection of documents, the petition submitted to the Constitutional Court requesting this ruling, the counter statements submitted by the activists, and the full Constitutional Court ruling are translated. The ruling raises significant questions about the meanings of democracy, law, and sovereignty in the Thai polity.
Download here:https://seasia.wisc.edu/…/Justice-in-Translation-No.-7.pdf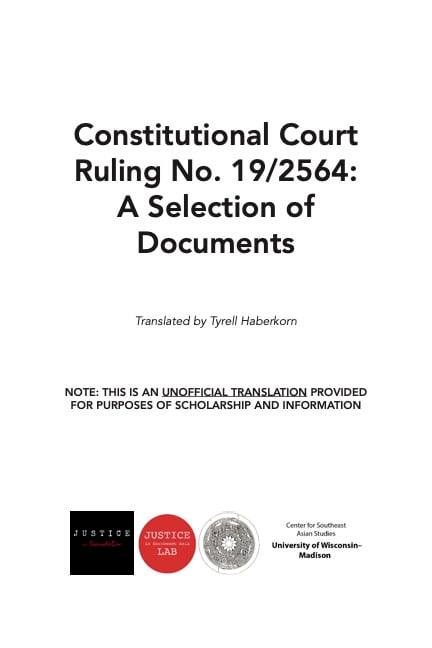 Background
The Thai Constitutional Court ruled that three activists, Arnon Nampa, Panupong "Mike" Jadnok, and Panusaya "Rung" Sithijirawattanakul, attempted to overthrow the democratic regime with the King as Head of State.
The ruling came in response to a petition filed against the activists by an ultra-royalist lawyer, after they gave speeches and released a ten-point manifesto, which calls for reform of the monarchy and the abolition of the lèse-majesté law (Section 112 of the Criminal Code), during the Harry Potter-themed rally on 3 August 2020, and a rally at Thammasat University on 10 August 2020.
The judges ruled that these actions are in violation of Article 49 of the Constitution. While the ruling carries no penalties for the three respondents, the court ordered the activists, other organisations and networks to cease further actions on these matters.
However, the activists are already being detained prior to their trials for lèse-majesté. Arnon has been detained since 11 August 2021, facing 14 counts which could result in 210-year imprisonment if convicted. Panupong has been detained since 23 September, facing 9 counts which could result in 135-year imprisonment. Meanwhile, Panusaya has been detained since 15 November and released on bail with condition to temporary release between 1 December 2021 to 12 January 2022. It should be noted that this is the second time that they have been detained without bail. All of them were previously detained for lèse-majesté in early 2021.