On June 28, 2023, in the courtroom number 904, the Criminal Court decided an important case regarding five activists namely Ekachai Hongkangwan, Boonkueanun Paothong, Suranat Paenprasert and two other people charged with an assault on the Queen's liberty.
The court acquitted all charges against the five defendants after concluding that the 14 October 2020 incident was the fault of the police, who did not adequately clear the roads or provide sufficient notice of the royal procession to protestors.
The court also found that once protestors became aware of the royal motorcade, they allowed it to pass through without incident.
After considering the evidence of both sides, the court determined that the royal procession's route was never announced. There is no clear evidence that the route had been announced, and the four buses and twelve crowd control vans did not indicate the royal route in any way. Additionally, the photographs presented by the plaintiff's witnesses, which were taken from a horizontal angle, the protestors could not see past the line of crowd control police to see the royal procession behind them. Therefore, this evidence was inconclusive and could not prove that the five defendants deliberately obstructed the royal procession.
Due to the inconclusiveness of the evidence, all five defendants were deemed not guilty of Section 110 of the Criminal Code, "assassinating the liberty of the queen," and not guilty of Section 215 of the Criminal Code, "assembling by force causing chaos in the country."
The court also found that the police had already parked the vans to block the road to prevent the protesters from entering the Government House area. Therefore, it was the police who had obstructed the public roads and traffic, not the five defendants. The court acquitted the charges of obstructing public paths and traffic.
It should be noted that either party may file an appeal of the verdict to the Court of Appeals according to Article 198 of the criminal procedural code.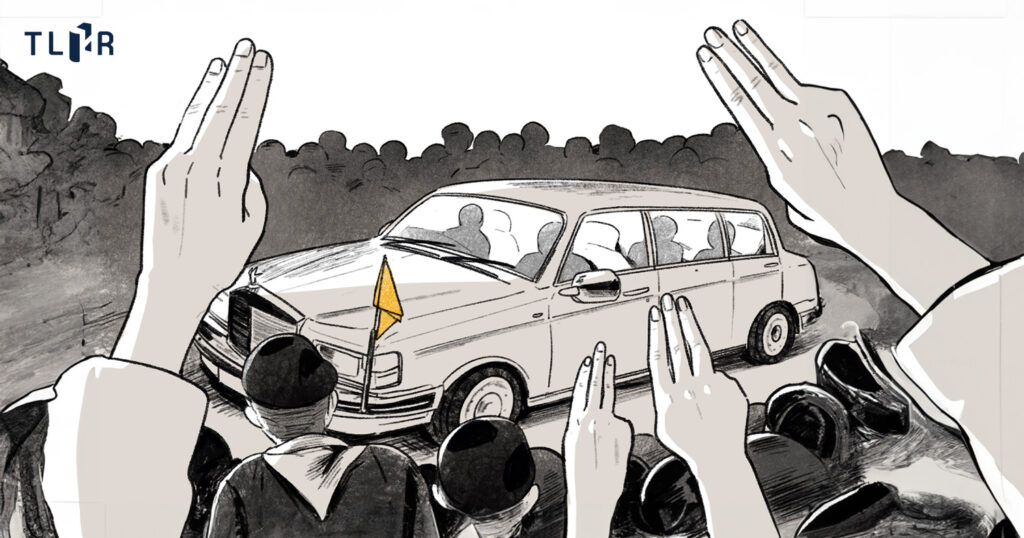 Court began in the early morning of July 28. About twenty people were in attendance, including representatives from the embassies of Germany, Belgium, and Canada. The court room became so crowded, that many of the public, the media, and a number of activists had to wait outside.
Upon the announcement of the verdict, Boonkueanun and Ekachai stood up to thank the court for their fairness. Boonkueankun's summary stated, at the time of this case, we believed that the police would disperse the demonstrations. Therefore, we showed a 3-finger salute and shouted in protest. But, thank you to the court for giving justice to us today.
Ekachai said he was subject to several political prosecutions. Previously, there were people who doubted whether the court's performance was truly impartial or not, but today the court has given justice.
.
Read more:
📌 Summary of the witnesses testimony before judgement day, historic criminal lawsuit against the Thai Queen in English at https://tlhr2014.com/en/archives/56976
📌The full witness testimonies of this case in Thai at https://tlhr2014.com/archives/56935
📌 The interview with "Suranath" and the indictment from "Royal Motorcade" incident in Thai at https://tlhr2014.com/archives/27626
📌 "Suranth" life prior to being charged for violating the well-being of the Queen Suthida who was a hero of the youths in Thai at https://tlhr2014.com/archives/22814