During the month of November, political prosecution continued as intense with cases from protests during APEC2022 involving arrest of civilians and summon warrants issued to activists. New arrests on the basis Section 112 (Lèse-majesté) continue to be reported periodically while many prosecuted for violation of Emergency Decree continue their defense with most cases concluded as acquitted.
According to the TLHR statistics, at least 1,886 people in 1,159 cases have been prosecuted due to political participation and expression since the beginning of the "Free Youth Movement" protest on 18 July 2020 until 30 November 2022. Among this number are 283 minors under 18 years old in 210 cases.
Compared to the end of October 2022, 22 people in 14 cases have been added to the statistics (counting only those who have never been charged before).
If individuals who have been prosecuted in many cases are counted, the number would be as high as 3,710 prosecuted individuals.
The prosecutions can be categorized according to key charges as follows:
1. The "royal defamation or lèse-majesté" charge under Section 112 of the Criminal Code: at least 221 individuals in 239 cases.
2. The "sedition" charge under Section 116 of the Criminal Code: at least 128 individuals in 40 cases.
3. Charges of violation of the Emergency Decree: at least 1,469 people in 663 cases (since May 2020 when the first legal action against political protesters and activists was initiated).
4. Charges under the Public Assembly Act: at least 132 people in 76 cases.
5. Charges under the Computer Crime Act: at least 156 people in 176 cases.
6. Contempt of court charge: at least 36 people in 20 cases and insult to the court charge involving at least 27 people in 8 cases.
Out of the mentioned 1,159 cases, 279 have been concluded, 38 of which were not indicted by the public prosecutors and another 160 cases concluded with fine. As such, 880 cases are still ongoing in court proceedings.
.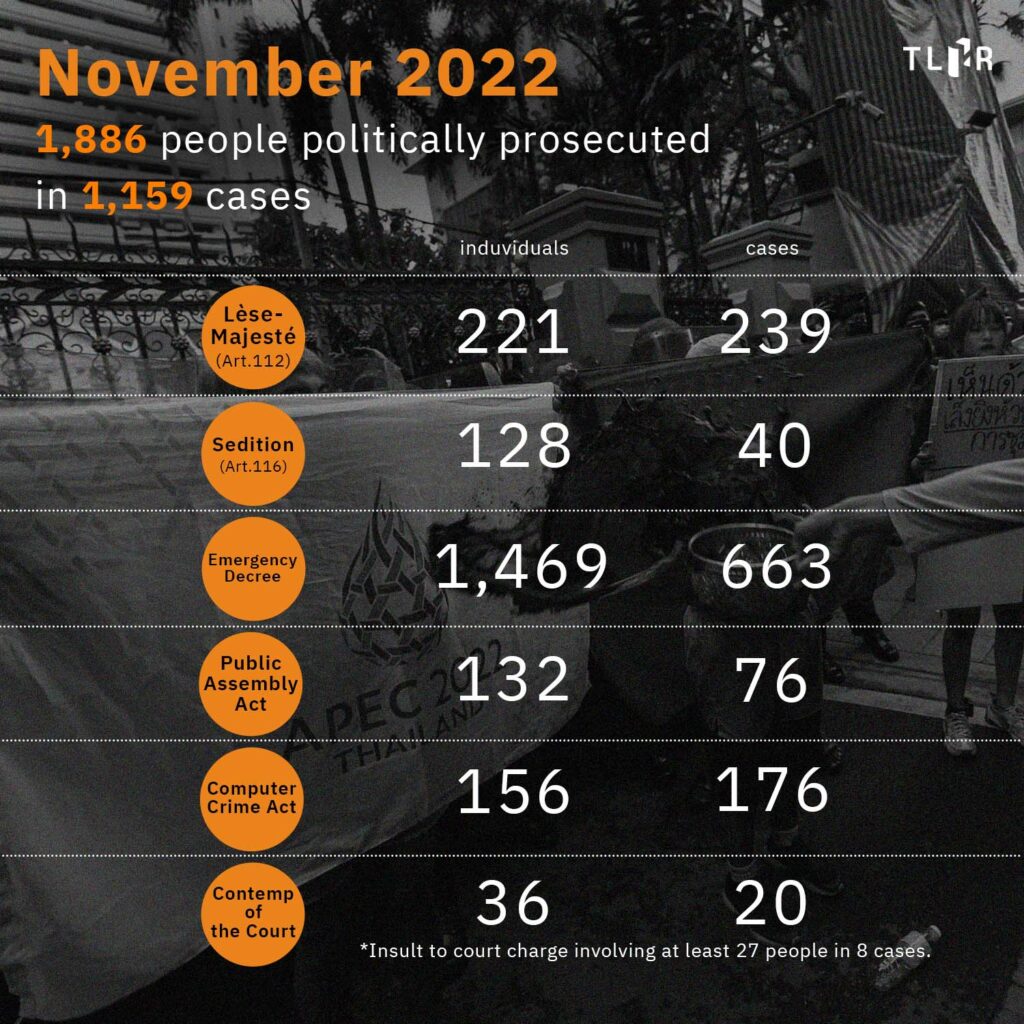 .
The prosecution trends in November 2022 observe the following key events:
An addition of 4 individuals in 3 cases were prosecuted under Section 112 (Lèse-majesté) of Thailand Criminal Code while 8 cases were concluded within the month of November.
Four new individuals in 3 cases prosecuted under Section 112 (Lèse-majesté) were added to the statistic with at least one defendant, Sombat Thongyoi, remain detained for over 7 months while waiting for appeal.
The 4 individuals prosecuted in 3 cases included Warinthip Watcharawongthawee or "Xiao Pao" Faiyen, a citizen who once release to the press regarding the preparation to found a political party 'Faiyen'. Xiao Pao was arrested and charged at Prachachuen Police Station following the accusation made by Anon Klinkaew, the leader of the People's Centre for the Protection of the Institutions (CCP), for singing '. . . Lucky to have the Thai people' by Faiyen in front of Bangkok Special Prison during September 2022.
Meanwhile, Jitrin Plakantong or "Karim Thalufah" surrendered to the police after became aware of the arrest warrant issued since March 2022 from allegedly burning the portrait of the King at the front of Rachawinit School during the protest on 19 September 2021. Karim was the fourth to be prosecuted in this case after Sam, Max and Miggy Bang who were previously accused but was granted bail later in November.
The court also concluded a total of 8 cases charged under Lèse-majesté during November, one of which was Jarat's case charged for criticizing Sufficiency Economy Philosophy of Rama IX on Chanthaburi Page. The Nonthaburi Court of Appeal Region 2 reversed the Court of First Instance verdict stated that Section 112 of the penal code (Lèse-majesté) may be interpret to protect late king as any defamation, insult or threat to the late king could affect the current king.
Furthermore, the case of "Petch" Thanakorn, a youth who participate in public speech on the 6 December 2020 at Wongwian Yai, was concluded guilty at Central Juvenile and Family court. Despite not mentioning any name, the court ruled that Section 112 (Lèse-majesté) also cover the monarchy constitution. As such, Petch's case remains ongoing in the Court of Appeal.
To have such a board interpretation of Section 112, protecting late king and the monarchy constitution without any define scope will continue to allow obscure implementation of this criminal code affecting freedom of expression as opinion regarding the monarchy constitution and may lead to legal consequences.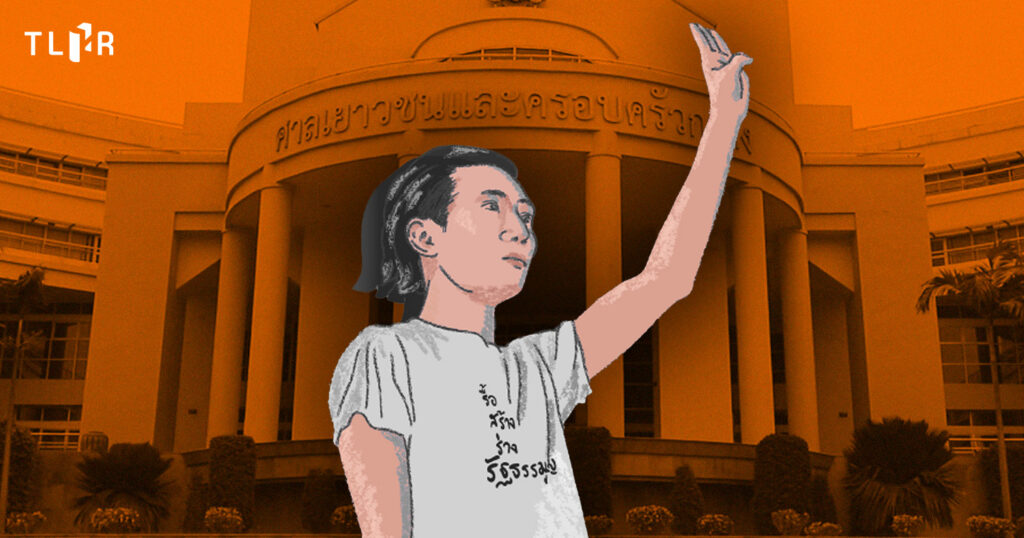 The other 6 cases were concluded with the defendants pleaded guilty: 4 of which were at the criminal court. Among the cases, "Nacha" was sentenced to jail term with suspension while other 3 defendants, Suthitep, Pitakpong and Panitarn, were sentenced to 3-5 years jail term without suspension. As a result, the 3 later cases had filed for appeal.
At the same time, "Joe" case charged for sharing an online post from Free Youth Facebook Page concluded with 2 years of suspension from Lampang Provincial Court while Pithayut 's case of allegedly burning the portrait Rama X at Udonthani received a verdict to wait for sentencing hearing.
These cases involved everyday citizens. Many defendants did not participate in political protests but only express their opinion or shared an online post. To receive jail term without suspension still reveals violence resulting from Section 112 (Lèse-majesté) punishment as well as the perception or ideology of those in the judicial system.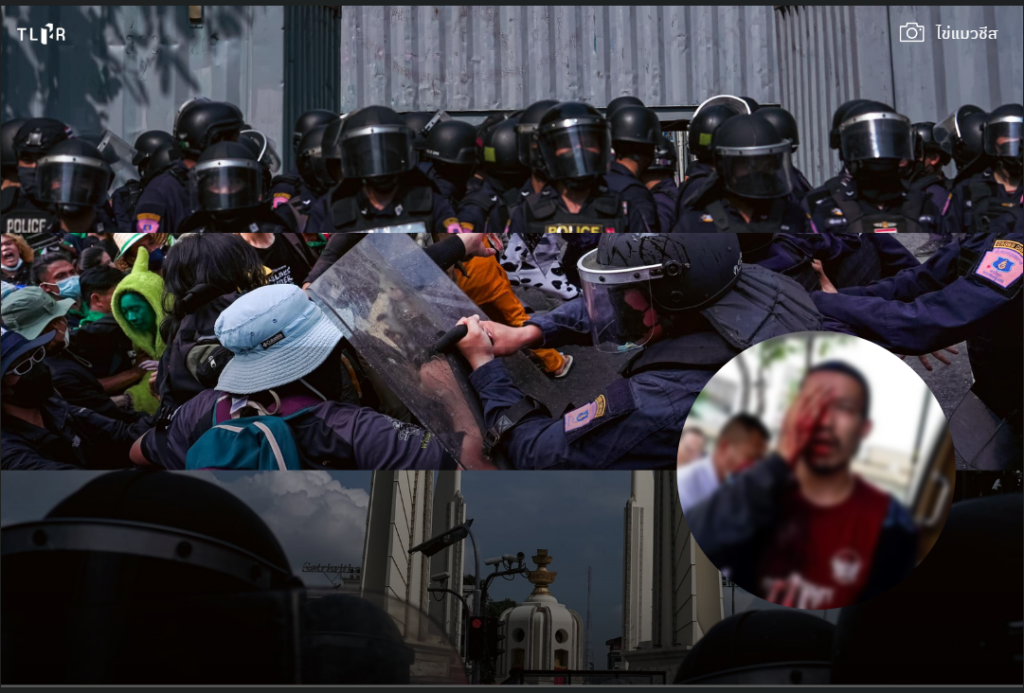 .
The situation reports on protests during #APEC2022 amidst intimidation, harassment, arrests, and prosecution by Thai state.
The political ground during mid-November was intense as a result of #APEC2022 hosted by Thailand. Multiple civic organizations and NGOs expressed their concerns related to the APEC meetings were faced with suppression of their freedom to express and assemble by Thai State.
The situation involved groups of villagers, civic organizations, and activists in many cities. At least 61 cases of intimidation, harassment and tracking by state officers occurred despite many defendants not involving in any political movement at the time. The violent crackdown on RatsadornStopAPEC protest in Bangkok results in a total of 26 injuries and arrests. As a result of the clearance of Emergency Decree, the Public Assembly Act and charges under Article 215-216 were frequently enforced by the police to suppress protests.
Activists who participated in RatsadornStopAPEC2022 continue to receive summon warrants and prosecution following the crackdown. One of which was a group of activists dressed in Winnie the Pooh costume holding a protest sign against APEC meeting. Suppression by the police led to a clash. The activists were later prosecuted on the basis of offense against officials while summon warrants from other protests around the same time are not acknowledge yet.
An interesting case emerge as "Jinny" Jiratchaya who was arrested under contempt of court for the second time following a joint speech at Bangkok South Criminal Court in August. Accused and arrested according to the arrest warrant issued by Bangkok South Criminal Court, "Jinny" is detained for the second time without opportunity for bail throughout the investigation.
Furthermore, Amarat Chokepamitkul, a Move Forward Party MP, went to acknowledge her allegation of defaming the prime minister, Gen Prayut Chan-O-Cha, following her tweet regarding "Thef Prime minister". The accusation was made by Apiwat Khantong, Prayut's lawyer, at Nang Leung Police Station.
In Chiang Mai, there are at least 3 must-watch cases as a professor along with 3 university students from Chiang Mai University's Faculty of Fine Arts attempted to reclaim the Art Museum for the students' project display during the semester. They were accused for colluding of illegal trespassing and property damage during October 2021. The accusation was granted a permission by ex-Dean of Chiang Mai University's Faculty of Fine Arts; however, the case was kept under the police for a year before summon warrants were issued in October.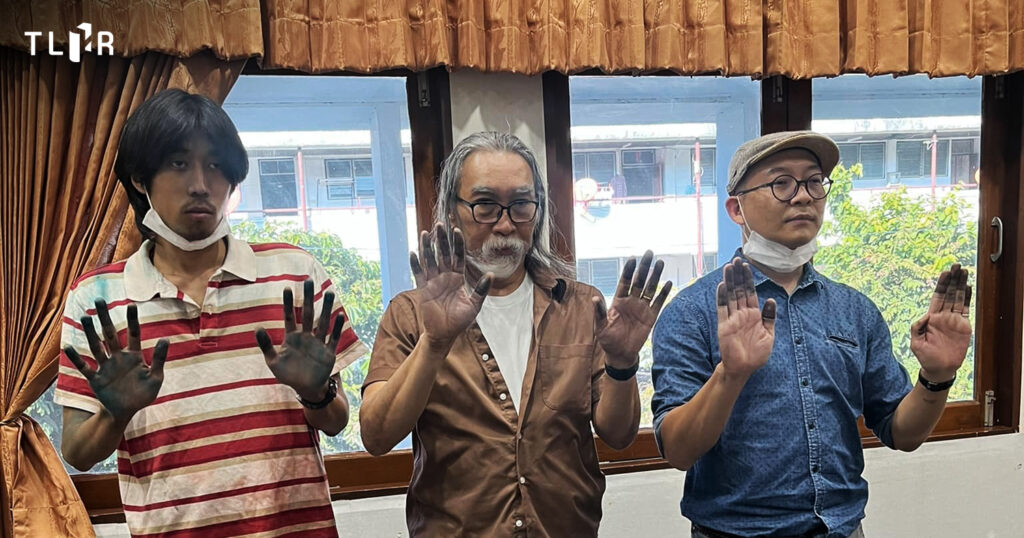 Trends of peaceful protest cases: Court dismissal continue but leaving the burden of lengthy court proceeding to citizens.
During November, an addition of 5 cases charged for violation of Emergency Decree since the protest in 2020-2021 had been dismissed including
The case of "Sombut Thongyoi" charged for protesting at the Victory Monument on 18 October, however, he was sentenced to 6 years in jail for violating of Section 112 (Lèse-majesté).
Tatchapong Kaedum charged for the same protest as Sombut Thongyoi.
Two cases from Krabi Car Mob.
Harry Potter-themed rally charged under Emergency Decree and Public Assembly Act.
Two cases from Pattani Car Mob where 2 defendants were acquitted while one defendant remain guilty
As for "I want to vote" protest since 2018 such as ARMY57 case, involving 10 protest leaders mainly charged under 'Sedition' (Section 116), was also dismissed after 4 years of judicial proceedings. The court concluded that ARMY57 was a peaceful protest and exercise of rights as stated in the constitution.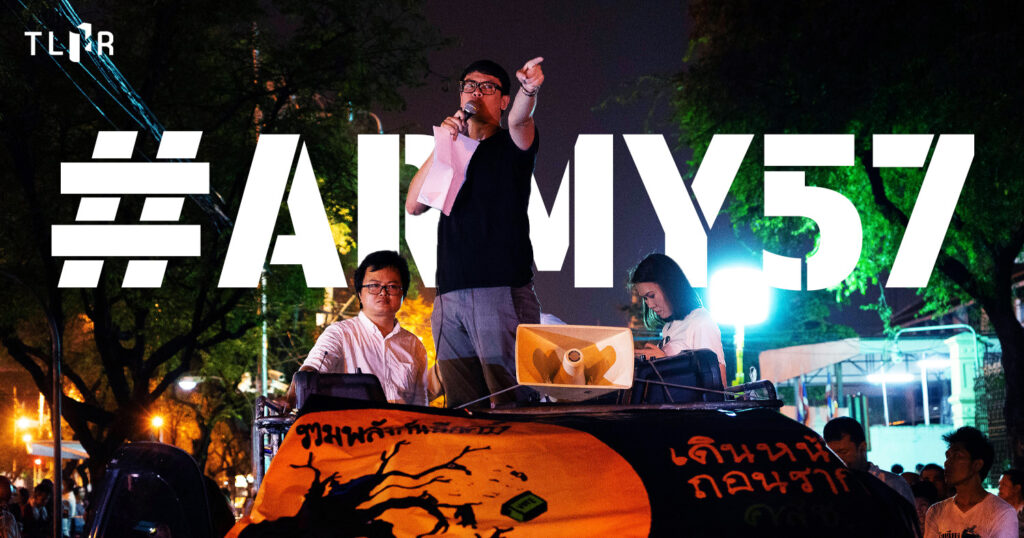 It was clear that most cases were concluded as not guilty. However, at least one year is lost in judicial proceedings. Cases that involve multiple defendants, appeal and/or petition in supreme court or above would take even longer creating burden such as loss of opportunities, money and time for the citizens and activists prosecuted.
Such judicial system that allows these types of cases to be on-going entail suppression. The troublesome consequences are reflected upon as laws are turning into a political tool through implementation and interpretation. As such, a system that lack any counter measure to the state power must continue to be examine for further amendment.