Political prosecutions continue to follow suit in the beginning of 2022, even though there has been no large activity or protest in January. The issuance of summon warrants for activities or rallies in the end of 2021 are still being sent out to activists who had partaken in rallies held in front of the courts, the prison, the UN Headquarter, or Din Daeng related cases.
According to TLHR, since the start of Free Youth's protest on 18 July 2020 until 31 January 2022, at least 1,767 individuals have been prosecuted from public assembly and expressing their political opinions, resulting in a total of 1,009 cases, including 273 youths whose age below 18.
When compared to statistics from the end of December 2021, this month saw a rise of 16 individuals prosecuted in 24 cases (this is the number of those who had not been prosecuted before). Though the number of the new accused individuals did not increase significantly , activists or those who have been "targeted" by authorities who also have been prosecuted previously, found that they perpetually received summon warrants in new cases.
If people accused in multiple cases are counted more than once, the prosecution will have taken place as many as 3,448 times.
Statistical numbers of people prosecuted under charges can be divided according to charges, as follows:
"Lese-Majeste" or Section 112 of the Penal Code: at least 169 individuals in 176 cases.
"Sedition" in the Section 116 of the Penal Code: at least 116 individuals in 37 cases
Violation of the Emergency Decree: At least 1,428 individuals in 617 cases (counting from May 2020, when the Decree was first used against demonstrators or political activity participants), which are divided in 24 cases during the declaration of a serious emergency situation in Bangkok.
Public Assembly Act of 2015: at least 107 individuals in 755 cases.
Computer Crime Act: at least 117 individuals in 133 cases.
Contempt of the Court: at least 31 individuals in 17 cases.
Of the 1,009 cases mentioned, 159 cases have been concluded. Most of these cases, the accused individuals settled for a fine in the investigating stage or in court, because the cases are punishable by fines in nature. Among the rest of the cases, 6 cases were dismissed by the court and were ordered non-prosecutions by the public prosecutors. These are a few cases out of all cases.
The significant trends of the prosecutions in January 2022 observed by the TLHR are as follows;
An increase of at least 5 additional cases of Article 112 and other cases presumed in trial continuously
It is reported that in January, 3 new individuals were charged with Article 112 resulting in a rise of 5 cases. Therefore, from November 2020, the number of accused individuals is at 169, including 13 youthes, totaling in 176 cases. In addition, 4 activists were held in detention and were denied bail in the charge. Meanwhile, the court granted bail to "Rung" Panussaya and Benja Apan under several conditions and time limits.
A new important case is "Big" Kiattichai Tangppornphan, a Thammasat University student and a member of the United Front of Thammasat and Demonstration (UFTD), who had been accused of violating Article 112 in his third case, stemmed from delivering a speech at the 45th anniversary of 6 October, which was held at Thammasat University, Tha Phrachan Center.. He acknowledged the charge at the Chanasongkram Police Station
Furthermore, police officers from Technology Crime Suppression Division (TCSD) arrested a 59 year-old man named "Phong" from Phuket and accused him of publishing 6 Facebook posts, which led to 4 days of detention before Phong was granted bailed.. Another case is "Arm" from Pha-ngan Island, who received a summon warrant for posting a TikTok from Kampangpetch City Police Department.
And finally, the case of "Tam," a psychological patient charged with violation of Article 112. Tam is accused of defacing a royal portrait in Amphoe Trakanpeutphon, Ubon Ratchathani, even though the police initially said they would only charge Tam with destruction of property.
Public prosecutors so far indicted 84 cases to the court at least 9 of which are cases derived in January 2022, and there has not been any case dismissal so far. This further intensifies the struggle to defend cases in witness examination which is soon to occurred after continuous review of evidence. Thus, the verdict delivered by the Courts this year should be kept an eye on.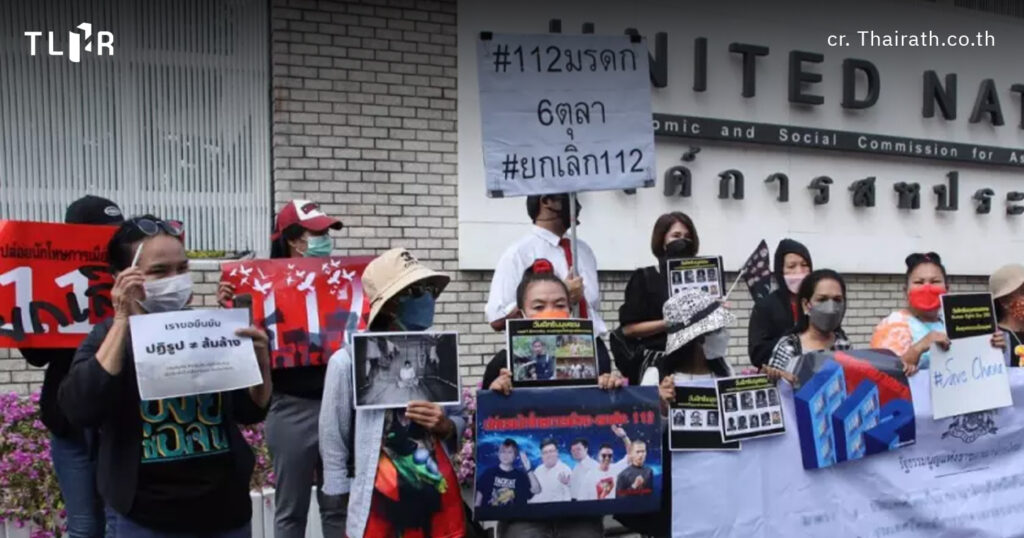 Various police stations perpetually prosecute charges relating to violation of the Emergency Decree.
In January, police officers from various police stations continued to prosecute demonstrators under the violation of public assembly in theEmergency Decree, which led to the issuance of the summon warrant against many speakers and participants in December 2021.
Many of the cases can be traced back to #ราษฏรพิพากษามาตรา112 (Article 112: the people's judgement) event, which was held at the Ratchaprasong Intersection on 12 December 2021. Among those accused include scholars, human rights lawyers, university students, and activists, all totaling 17 individuals, who later acknowledged their charges at Lumpini Police Station.
On 10 December 2021, demonstrators submitted a petition regarding the human rights violations in Thailand to the United Nations . This led to the prosecution of 6 individuals at the Nang Loeng Police Station.
Additionally, on the same day, the group named "People Go Network" organized a rally #ราษฎร์ธรรมนูญ (the People's Constitution) at the Bangkok Art and Cultural Centre in light of the Constitutional Day This led to the prosecution of 12 individuals.
Toward the end of January 2022, Prachachuen Police Station continued to issue summon warrants against participants of the Countdown activity which called for the release of political prisoners. The event was held in front of Bangkok Remand Prison at the end of 2021. Reportedly, there were 2 cases of summon warrants issued to 25 individuals and 9 individuals, respectively.
Meanwhile, Paholyothin Police Station continued to issue summon warrants for the violations of the Traffic Act, Cleanliness Act and Speakers Usage from the demonstration held in front of the Criminal Court during 23-24 December 2021. The warrants were issued to 20 individuals in 2 cases.
Finally, Dindaeng Police Station issued summon warrants to those who were found to partake in the Dindaeng rallies, despite the prolonged inactivity in the area. This led to some individuals, who were accused of participating daily, being prosecuted over 20 times.
This kind of situation reflects the authority's consistent use of the Emergency Decree to subdue demonstrations by using the pandemic as an excuse for the past 2 years.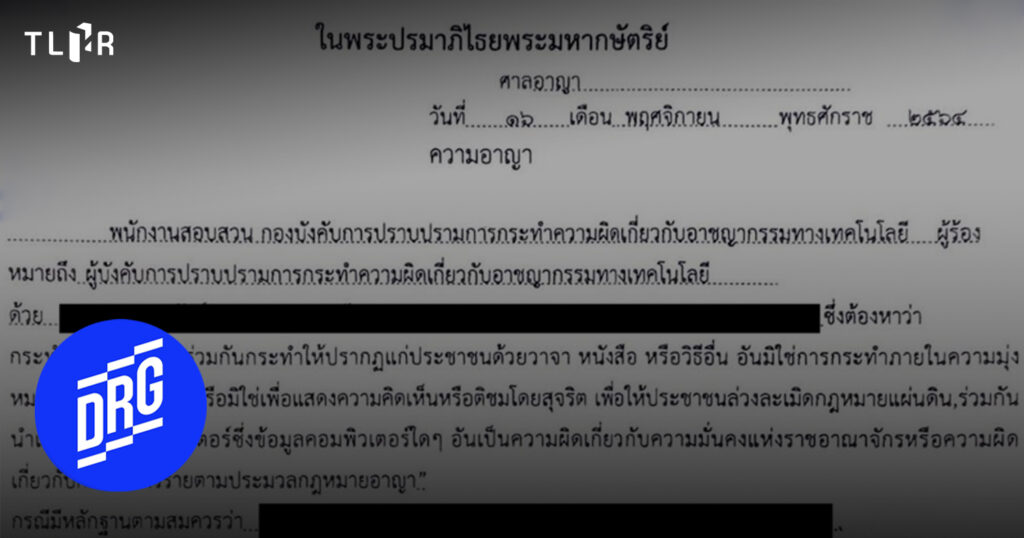 Article 116 used to accuse individuals of inviting others to politically assemble.
In January, there were reports of arrest warrants issued against at least 2 activists, who were accused of being the admins of 2 Facebook pages: Thalufah and Democracy Restoration Group (DRG). The warrants cited violations of Article 116, or "provocations," to legitimize the issuance that led to arrests. It is important to note that in both cases, "ordinary citizens" were the ones filing charges.
Both of the aforementioned cases were initiated by theTCSD. The first case, or the case of "Paan Thalufah," was filed by Nangnoi Assawakittikorn. The accuser cited two event announcements of the Thalufah group in August 2021 as the violations. The second case, or the case of "Phon," a member of DRG, was filed by Nakharin Inyam. The pursuant accused the DRG Facebook page of "inviting to assemble," citing two events in July and August 2021.
Violations of Article 116 is under a national security section, and were used heavily during the regime of the National Council of Peace and Order (NCPO) to suppress those with opposing political opinions or those who were against the NCPO, who staged a coup and usurped power. In most cases, the court usually decided to dismiss the cases, or the public prosecutor ordered non-prosecutorial order. In many cases, the court would rule, or the public prosecutors would consider, that the case is of criticism with pure intentions or peaceful assembly. Nevertheless, the cases could still be a burden for those who were accused. Even in the present, such accusations continue to play an important role as a "political tool."