• Since the outset of her political awakening, Sand (Pseudonym), a 15-year-old youth, has begun her involvement in pro-democracy activities in her hometown in Phu Khiao district of Chaiyaphume province and neighboring district Chumpae. Gradually, she expanded her activism into other areas. At times, she was a mere participant, whereas sometimes she would go up on stage and turn into a magnificent speech giver who puts forward solid demands from her commitment to democratic principles.
• In early 2021, Sand has become one of the suspects charged for joining the "Ratsadon On Tour" demonstration to call for Phu Khiao police officers to issue a formal apology for threatening students signing up for an educational camp to learn about the Wangsapung gold mine.
• Aside from this first case, Sand has been subject to five other charges after facing a violent crackdown on the pro-democracy Talu Fah Village camp. Her bail request was subsequently approved in a rough attempt to get out of detention to fight her lawsuits. Remarkably, she was not even informed which of her exact actions in expressing her political opinions led to the charges in both cases.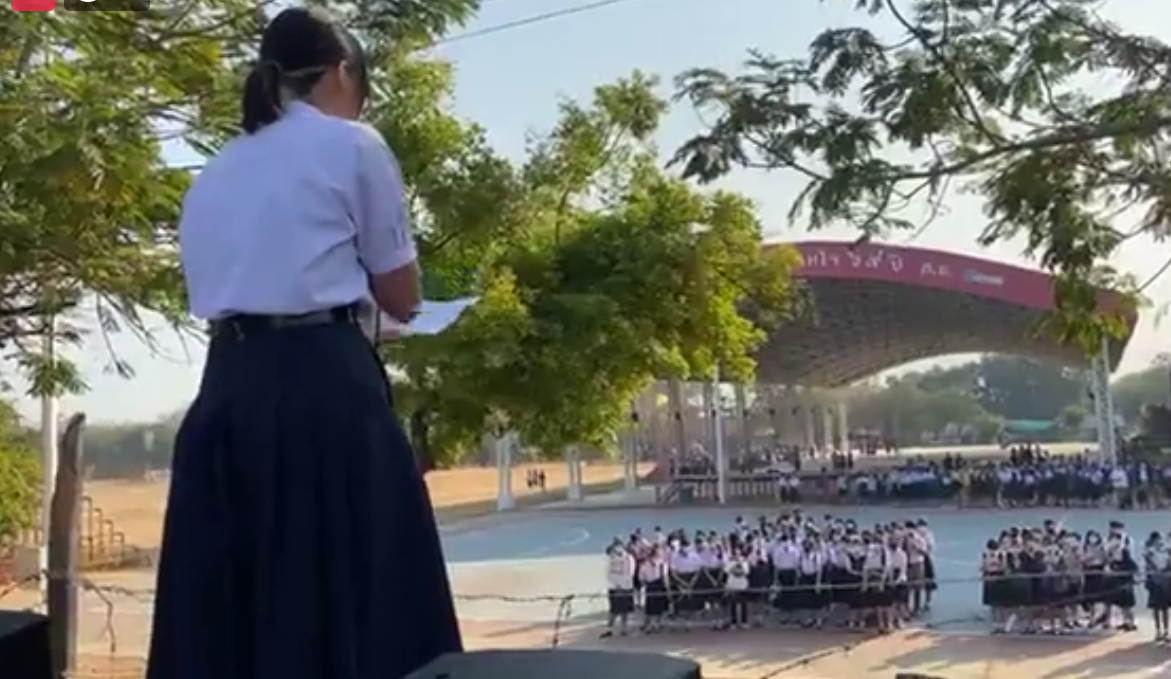 Typically, ordinary teenage girls at the age of 15 will start to develop bright and beautiful interests in many things in the world within the scope of their young imagination. Similarly, Sand, a Phu Khiao School student, spends most of her free time after school and flute practices with the school's marching band visiting museums, arts and culture centers, and libraries in big cities to seek inspiration for creating her own work.
After Sand finished reading Jit Phumisak's The Real Face of Thai Feudalism, she has crystalized the author's arguments and concluded that he was attempting to say, "Social changes should have taken place a long time ago, not over the past one or two years. There should have been some reform or revolution to eradicate outdated beliefs deeply rooted in our society and hindering development. Such beliefs have passed on their adverse impacts from generation to generation, and this needs to stop. It should even have been stopped during Jit's time. That is what Jit is telling me."
However, during her involvement in political activism in early 2021, Sand experienced delight in finding several like-minded people of the same age who share similar desires for social changes. However, she also had to bear the cost of facing charges in two cases. Instead of visiting places that could inspire her, she ended up having to frequent a police station, public prosecutor's office, and the Juvenile and Family Court.
As the police and relevant authorities launched a series of judicial harassment sweepingly against anti-government protestors in various forms, most people did not expect that they would also target the minors. The increasing number of cases and frequency of initiation of charges against children and youths engaged in political activism raised an even more alarming concern.
Sand has started to raise a question, "If my dream to get out of this place and its current mess, should it still be considered a dream?"
In Phu Khiao, the town whose Democracy Monument is not a mere mockup
Outsiders who pass by Phu Khiao district often perceive it as a large district. Located in the north of Chaiyaphum province, the city is a hub for offices of various state agencies. Its economy relies on sugarcane trades and the operation of sugar factories. However, to Sand, a youngster born in 2005 whose family runs a cable TV business, Phu Khiao is in a balanced space between urbanism and nature. While it is a peaceful town, its people never remain silent or inactive when it comes to political struggles.
The Phu Khiao Democracy Monument serves as clear evidence of the local people's contemporary political awakening. Built in 1941 and situated in the city center, the monument can easily be seen by students like Sand, who routinely walk past this symbolic structure every day.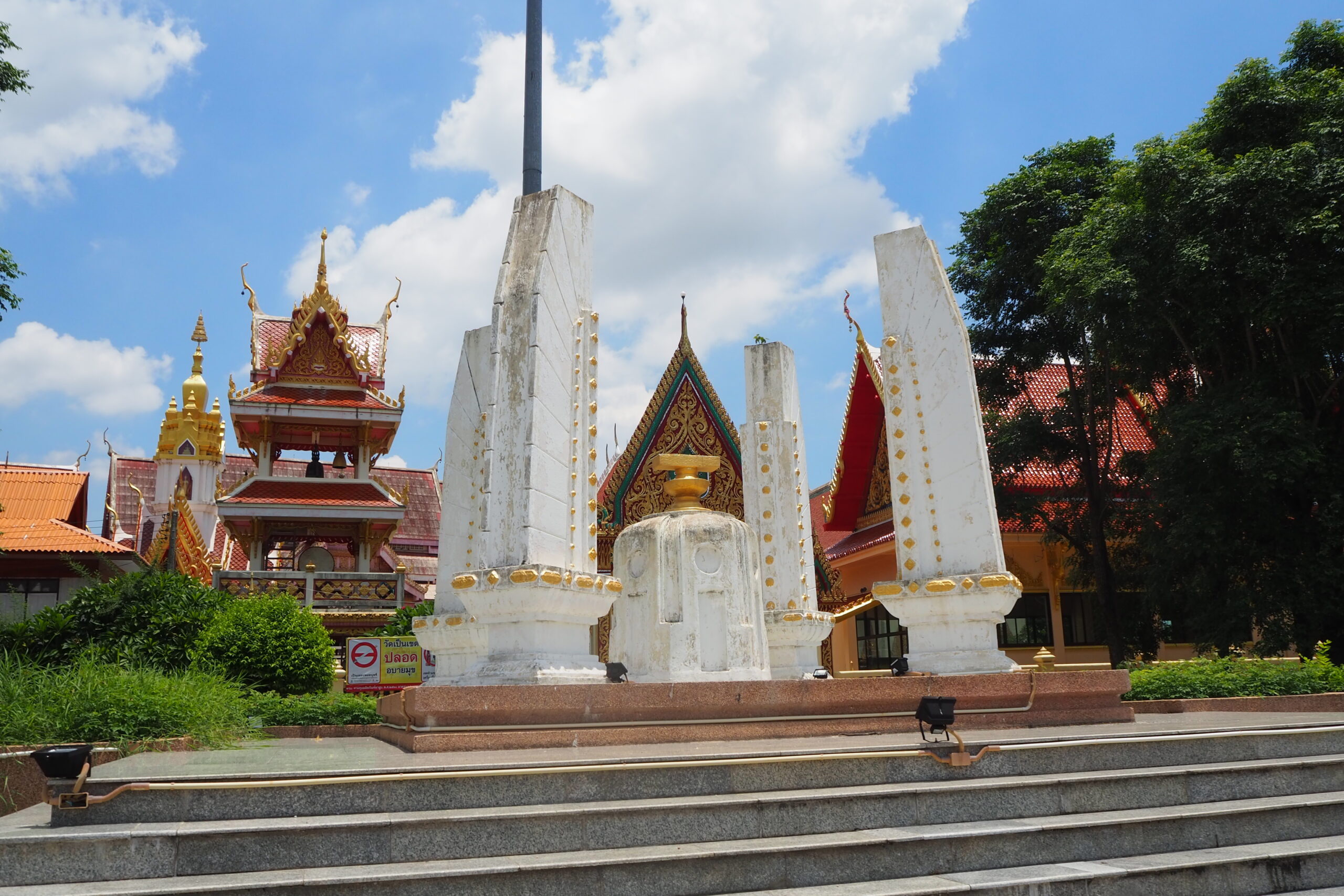 Phu Khiao Democracy Monument
"I tried to seek for answers when I was in Grade 3. My home is right across from the Monument (In front of my home). In the past, during the national day celebration, we would use democracy monuments as a background of the exhibition. Phu Khiao is one of the venues for exhibition, so civil servants and local people want to build a permanent monument as the one in Bangkok. Therefore, they raised some funds and made that wish happen. This story helped me understand the importance of democracy. Additionally, my mother has always been teaching me about politics since a young age. She told me that there are similar monuments only in Bangkok and few other places, such as Phu Khiao District, Chaiyaphume Province," Sand recounted her past.
Sand's first memory of her encounter with the political world and politicians dated back ten years ago. On 24 June 2011, Yingluck Shinnawatra, the former Prime Minister from Pheu Thai Party, visited Phu Khiao district for her campaign before the upcoming general election. As both of her parents are supporters of the Red Shirts movement, her mother often told her that Thaksin's premiership had alleviated poverty much more significantly than that of any other prime ministers. Importantly, he also followed through on his promises during the election and implemented policies to which he was committed. Previously, Sand's parents attended political demonstrations here and there, including the one held when Pheu Thai Party visited Phum Wittaya School. Sand, who was only a six-year-old girl studying at Baan Tubtim Kindergarten then, got her first taste of the pre-election political climate in Thailand at that time.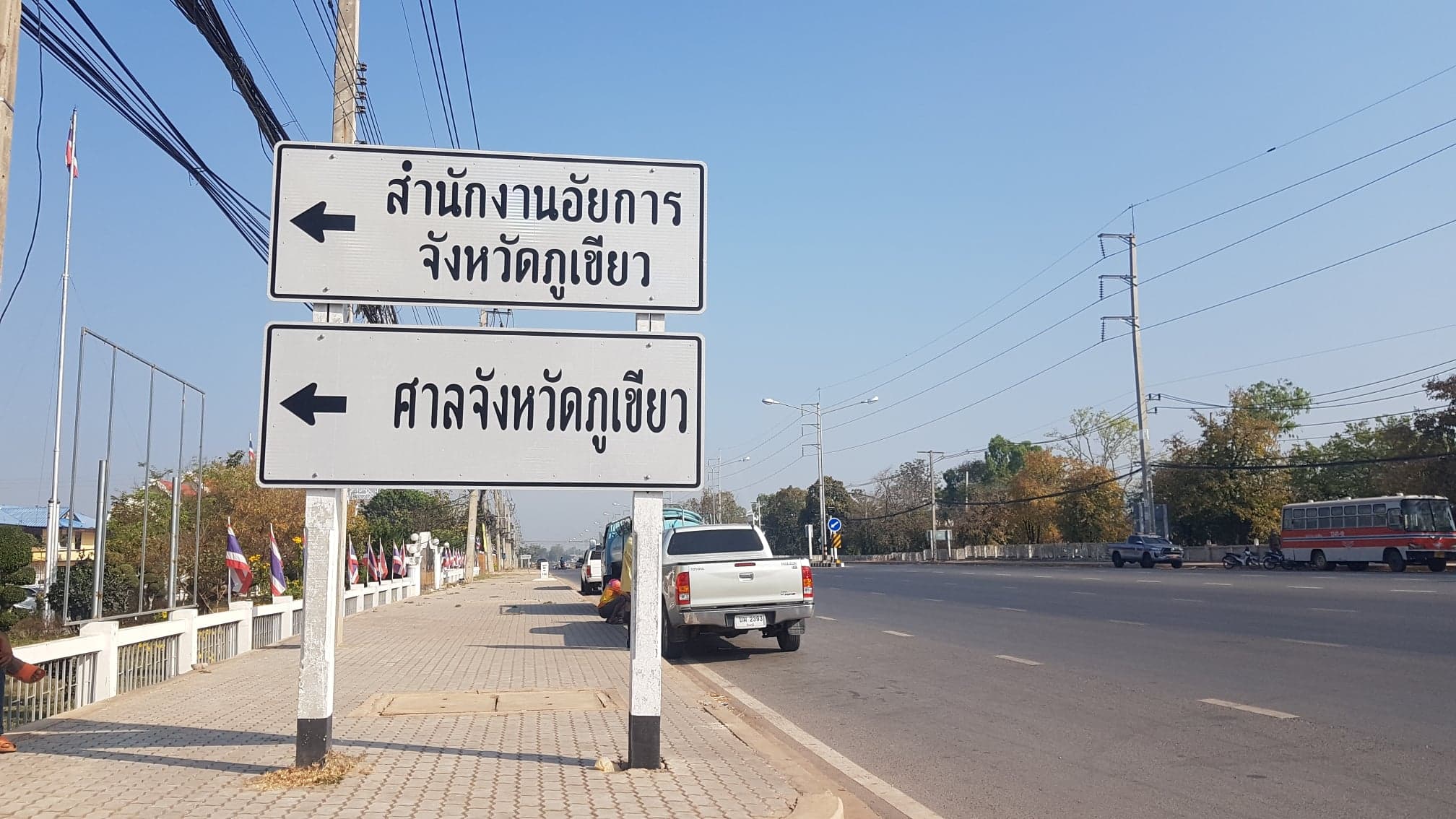 "There is a group of Red Shirts supporters in Phu Khiao. As far as I could remember, my mom used to put on her car Yingluck's campaign sticker when she used to be Candidate No. 1 for the general election. I found the former prime minister friendly, easily accessible, and attentive to local people's problems. When she visited the town to give speeches, her team did not put up a fence to guard the stage. People were allowed to ask as many questions about her proposed policies as they wanted," Sand told us about the past of Thailand's one and only female prime minister.
Meanwhile, Sand has a clearer political memory about what happened three years ago, towards the end of 2014, when the military staged a coup d'etat. Then, Jatupat "Pai" Boonpattararaksa, an activist from Dao Din Group, Khon Kaen University, was arrested for flashing a three-finger salute as a symbolic resistance against the coup in front of Prime Minister General Prayut Chan-o-cha who visited Khon Kaen for carrying out his official duty. When she watched a news report about this incident, she recognized certain braveness in this group of university students.
It was not until two years later that she found out the brave man on television was also from Phu Khiao. One day before the national referendum on 7 August 2016, Jatupat and Wasin "Palm" Prommanee, a student activist from Suranaree University of Technology, were arrested while handing out pamphlets outlining dissenting opinions about the draft constitution. They were subsequently detained at Phu Khiao Police Station, charged with alleged violations of the Referendum Act.
"In 2016, I was in Grade 5. Pai was taken to Phu Khiao Police Station, and many people were gathering to see the arrest. Still, I did not perceive them as criminals in the first place, so I never judged whether they did anything wrong. At that time, I did not even know what they did."
At Phu Khiao Police Station, Sand heard both good and bad things about Jatupat. Nonetheless, she was told by people who disapproved of Jatupat's actions that his activities would break up social unity and hinder the country's development. At that time, she began to question these rationales that adults often use to justify suppressing youth expression of dissenting opinions against the state.
"One teacher at school said he would no longer consider Pai his student. He may later come to a different realization and change his mind, but that is not my problem. He has the right to change or remain the same, as long as he does not impinge on other people's rights. I personally still view Pai as a respectable senior and model."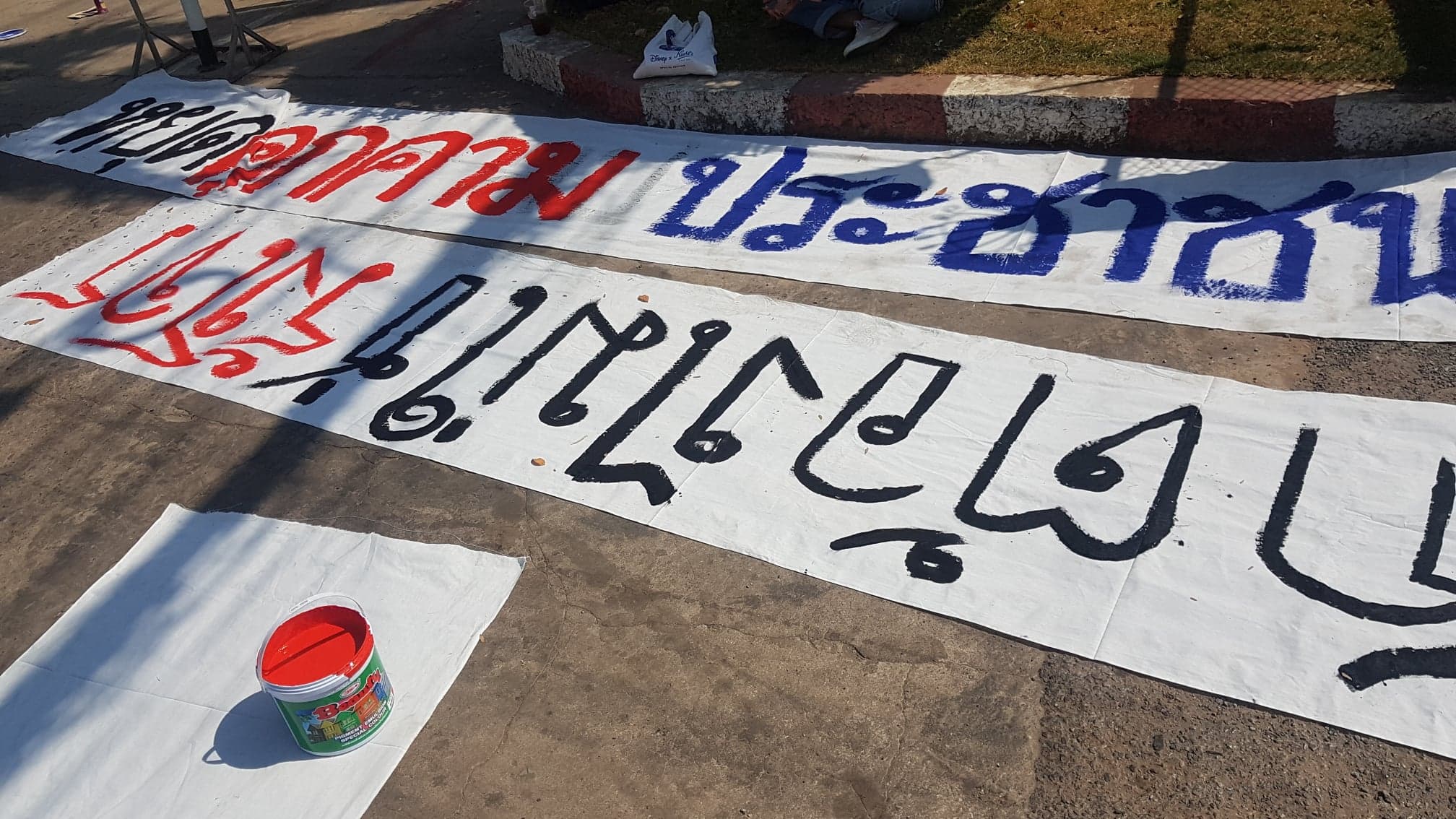 The expression of political opinions in Phu Khiao district, which resulted in the incident above, made Sand realize that her seniors at Phu Khiao school did not do anything wrong. It also made her idolize Jatupat as a thought leader for her. Further, as she went on stage and delivered her first speech during the #PhuKhiaoWillNotTolerateThis demonstration in early 2020 near the Phu Khiao Democracy Monument, she has truly become Jatupat's ideological comrade who shares the same political struggle and path of life as activists. Later, she has come to realize:
"It would not be unusual if I ended up facing a lawsuit once in my life, especially during our current time when judicial harassment is widespread. It should not be normal, but it has become so.
Classrooms, creative spaces, and dreams of a better place
The main demands of most university students in the 2020 anti-government movement resonate with the three principles proposed by the Free Youth Group. Such demands include: (1.) Termination of harassment against the people, (2.) Dissolution of the parliament, and (3.) A new constitution. Nevertheless, Sand views that other fundamental issues, such as authoritarianism and inequality in schools, should be tackled as well. Therefore, she decided to embark on activism to voice these issues out to the adults.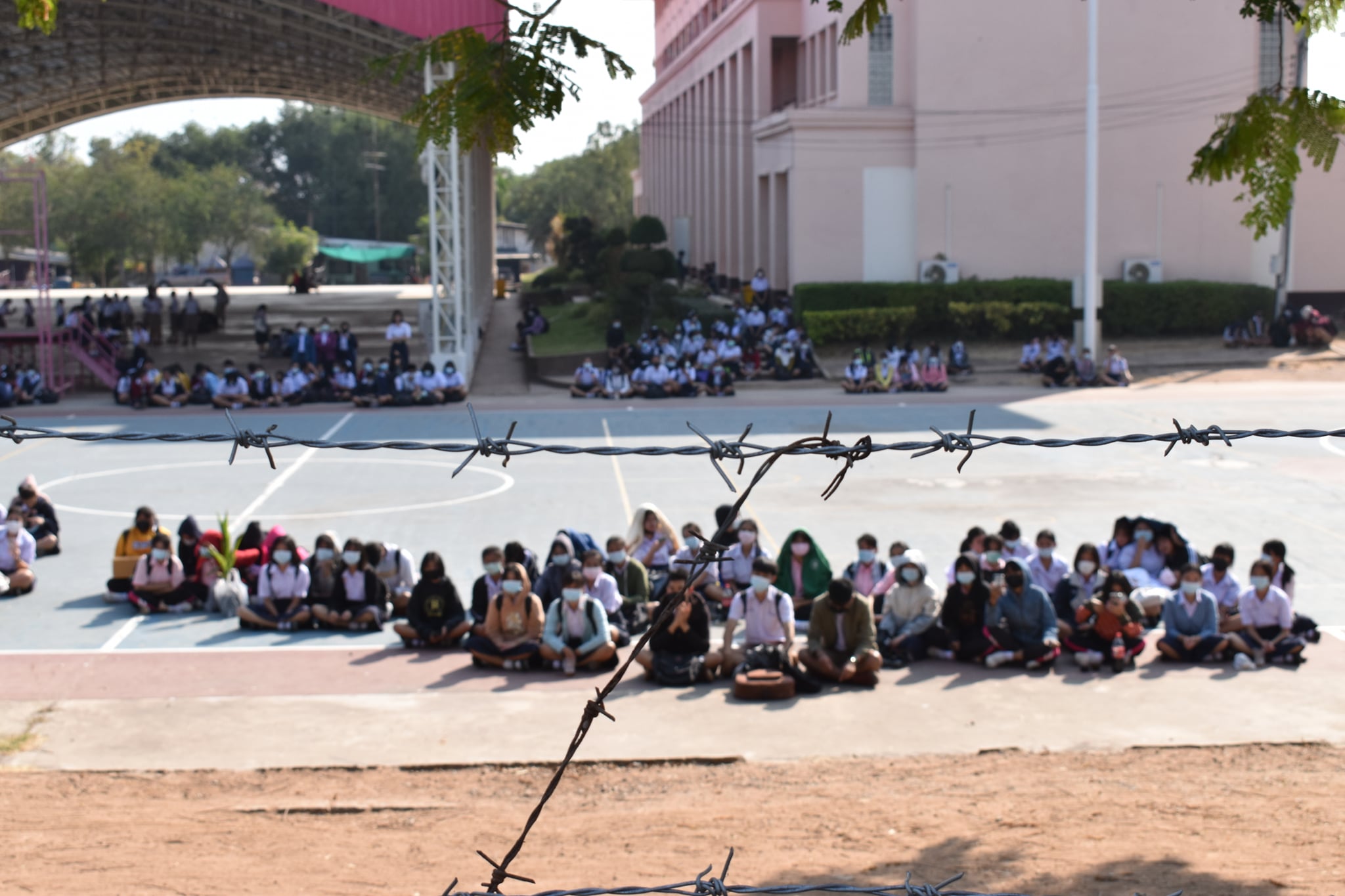 "Everybody has different potentials, whereas my school's system provides us with very few options that fail to cater to the students' diverse interests and aptitudes. Personally, I am interested in music and art, but my school only offers three tracks: Science and mathematics, Mathematics and English, and Foreign Languages. Most adults will encourage students to choose the Science and Mathematics track if their grades meet the criteria. However, I think if one performs badly and ends up getting bad grades, they would not be able to get into any universities in the end. It could also make our lives miserable, even though we are at the age when we should enjoy our lives. We could assess our own educational needs; the adults do not need to pre-determine a path for us," Sand offered her reflection on the problems with Thai education.
As a Grade 10 student in Phu Khiao School, Sand has developed interests in English, social studies, history, art, and music. However, she believes that the Thai curriculum fails to deliver knowledge in each subject adequately. For example, in art classes, students do not get to learn how to use an actual brush. Students are also taught one-sided history in history classes without any opportunities to assess the narratives critically or reflect on lessons from each historical chapter. To her, education can be compared to a vaccine injected into people's minds to have a uniform set of beliefs aligning with the State's doctrines.
While most of Sand's friends agree with her political stance and support her decision to become an activist, some of them have warned her that she should not be too involved. In addition, some questioned why she is not spending her time focusing on her studies. Still, Sand believes that she is fighting against the wrong. If possible, she would never have chosen to study in a Thai school.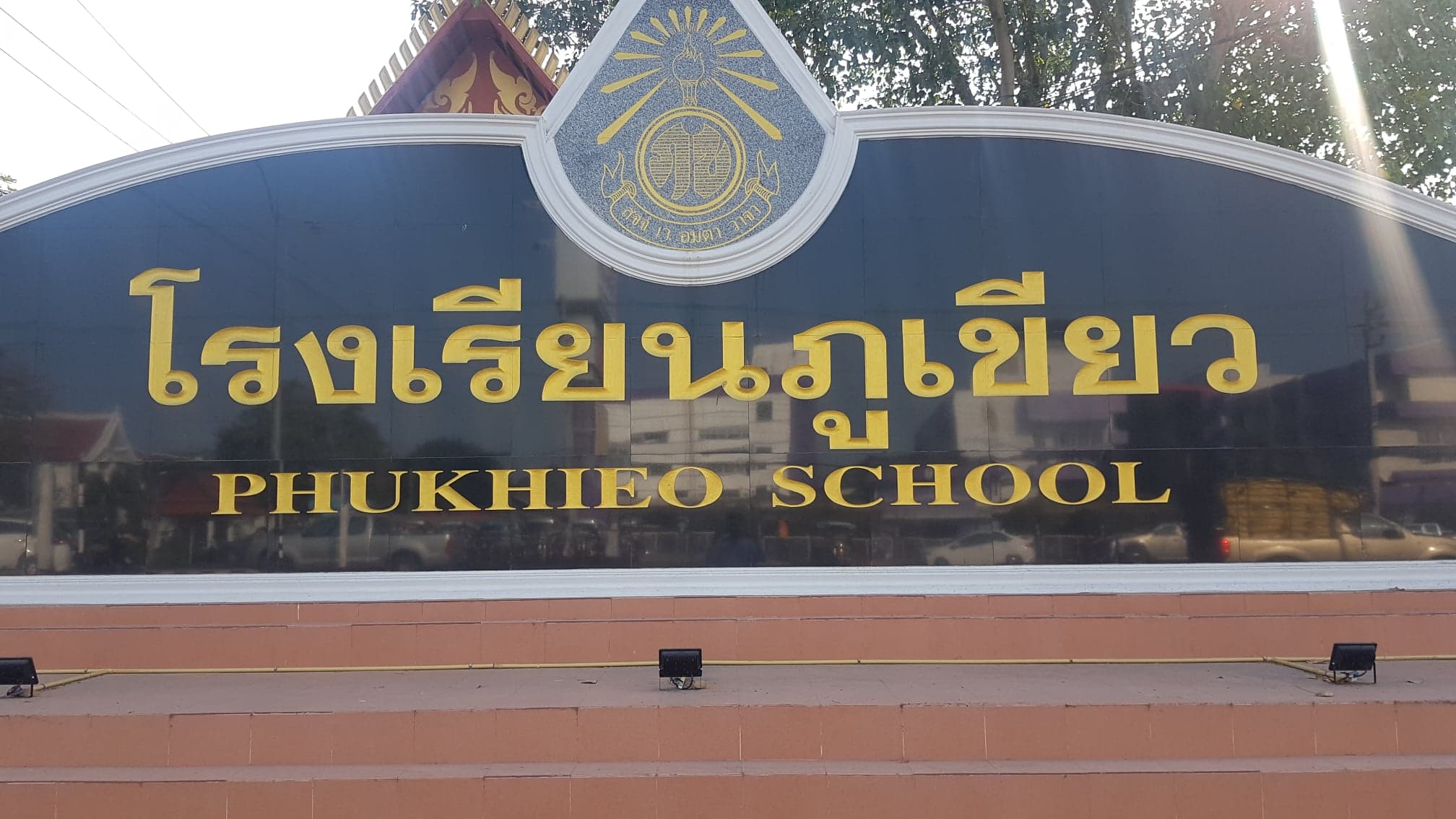 "I will answer when people ask where I want to study because the Thai educational system has been regressing continually. Many factors block me from realizing my full potential and contradict my passions. Thailand has an underdeveloped welfare system that disallows its people from dreaming of pursuing a career they love."
Sand thinks that if the politics is good and if Thailand becomes a welfare state with full equality among its people, youths will be able to imagine having a better life. Importantly, they will dare pursue a long-term profession that makes them happy and benefits the country.
"My dream is to get out of this place. Many children in my generation share the same dream. We do not know how fast or slowly the changes would come. As I get older, the quality of our political leadership continues to get worse. Perhaps I might settle down in another place and return to fight for changes later or choose to stay and continue fighting until the end. This is still undecided.
Living in Chaiyaphume province, Sand has an opportunity to see social issues outside the context of Bangkok. Apart from her interests in national politics, Sand recounted that she would like to contribute to the well-being of people in her local town. Her particular interests are in enhancing communications about land rights issues facing many villagers who fell victim to forced eviction by national park authorities. She is also intrigued by the establishment of sugar factories in Phu Khiao district. While the factories supposedly brought economic growth to the town, few people questioned potential adverse impacts on the environment, especially on the quality of water consumed by local communities.
"Ratsadon On Tour": Political school where disciplinary teachers act as state officials
During 29 and 31 January 2021, the UNME of Anarchy Group, led by Jatupat "Pai" Boonpattararaksa, Intira "Sai" Charoenpura, Chai-amorn Kaewwiboonpan, aka "Ammy The Bottom Blues," and other activists, organized the "Ratsadon On Tour" camp. Open for students from Grade 9 to Grade 12 in schools in Phu Khiao district, the camp allows youth participants to learn about the gold mine in Wangsapung district, Loei province. Sand did not miss the opportunity to apply for this camp. However, one day before the activity, there was an unexpected turn of events. Police officers from Phu Khiao Police Station visited the homes of Sand and two other students who signed up for the camp to ask for details about the activity. Moreover, disciplinary teachers also met with the parents of some students who will be attending the camp and alleged that the camp intended to brainwash the children. Subsequently, many students requested to withdraw their participation.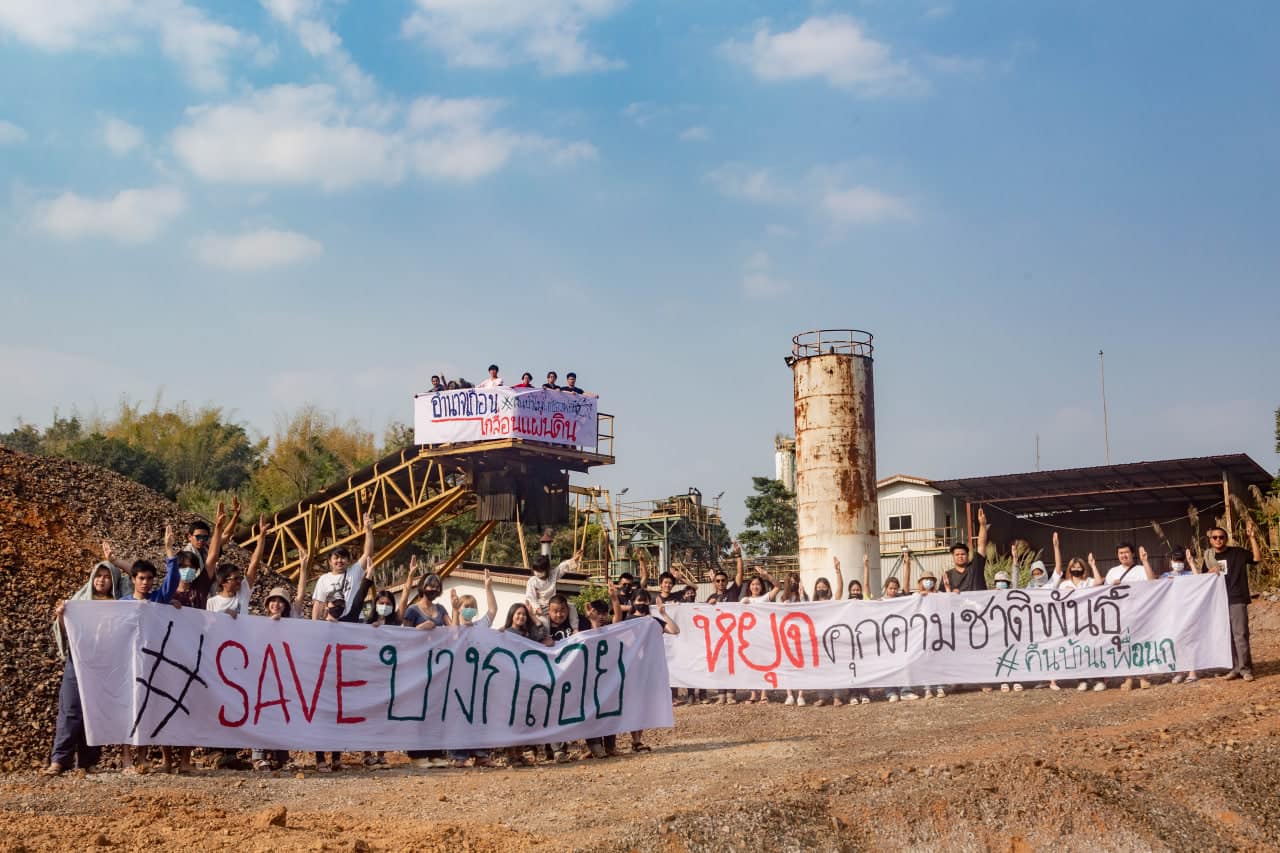 Photo of activity during the "Ratsadon On Tour" camp at Wangsapung district, Loei province. Source: the "Unme Of Anarchy" Facebook page
"The worse thing for me was that the police officers directly visited my house, and the disciplinary teachers spoke badly of the camp. While I still decided to go, other people withdrew their participation because their parents would not allow them to join the camp. My parents are also worried if I would face any charges in reprisal."
After the camp was finished on 1 February 2021, the "Ratsadon On Tour" organizers traveled from Wangsapung district to Phu Khiao district to organize a rally calling for the police officers to apologize for harassing the students at home. The rally was held in front of Phu Khiao School, and protestors marched to Phu Khiao Police Station towards the end of the activity on that day. However, they did not receive any apologies. Moreover, the Phu Khiao police also issued a warrant charging them for alleged violations of the Emergency Decree. Sand was one of the youths facing four charges for participating in this activity. Currently, her cases are still pending police inquiry.
"I could only tell my parents that I got charged, not because I did anything wrong, but because the police lacked ethical principles. I am not surprised that I received four charges for political reasons, but I wonder how they could prosecute me."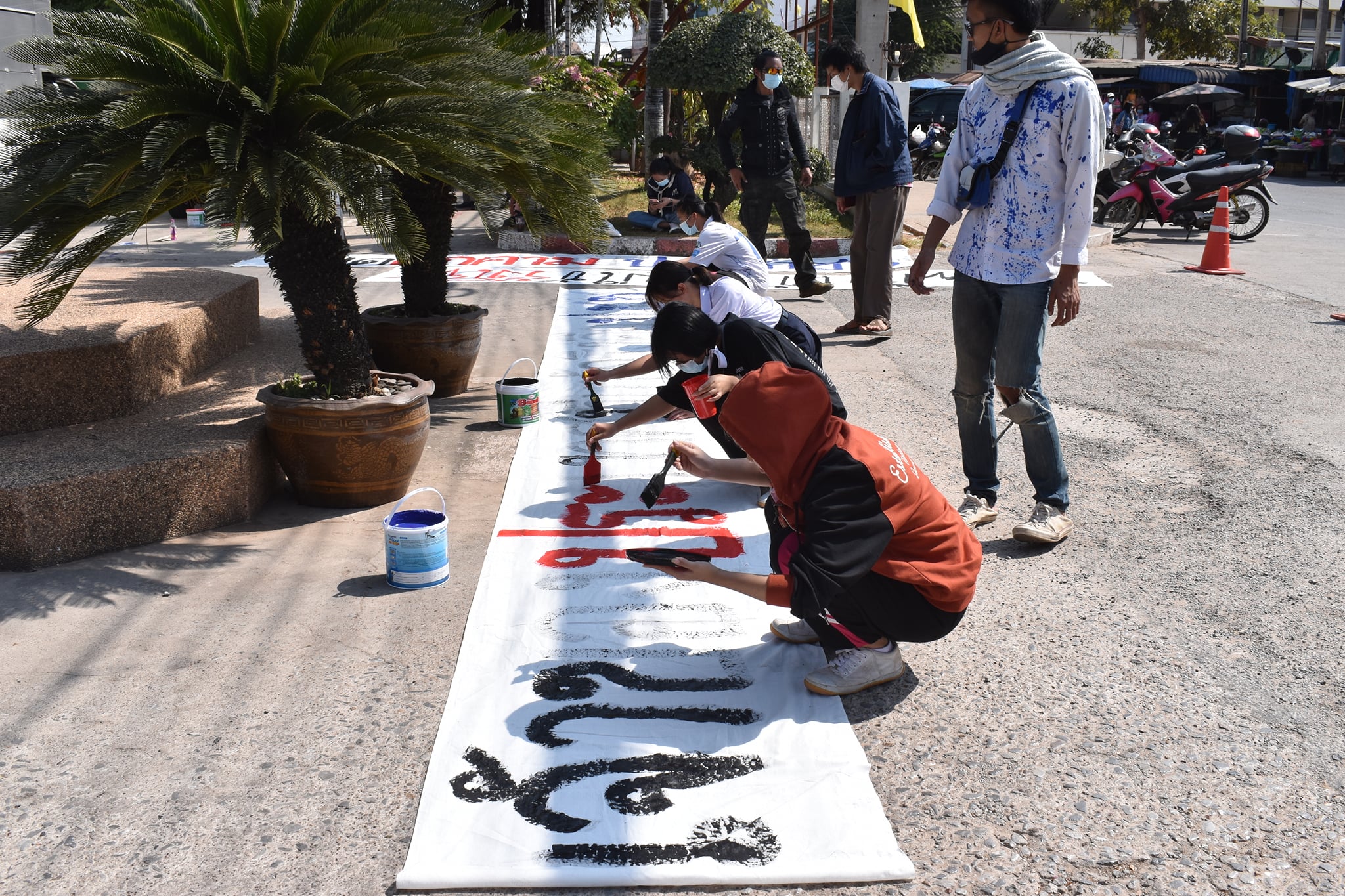 Photo of the rally calling for Phu Khiao police officers to apologize for harassing youths joining the "Ratsadon On Tour" camp. Source: the "Unme Of Anarchy" Facebook page
Regarding the allegation of being "brainwashed," Sand reflected, "The decision to join a camp should depend on the will of the participants, not any people in power. Those people should know that there are many things about our region that we could learn about, so this camp was a good educational opportunity. They should be more open to new ideas and permit us to decide for ourselves what is good or bad based on different factors."
In late March 2021, Sand traveled to Bangkok and joined the Talu Fah village activity organized by the Unme of Anarchy group. On 28 March, the authorities cracked down on the Talu Fah Village activity in which the protestors were camping outside the Government House. Sand and five other youths were taken to the 1st Region Border Patrol Police Bureau. This time, Sand faces five charges. She was taken to the Central Juvenile and Family Court in the evening for the arrest verification and bail application processes. The parents of four other youths picked up and bailed out their children. However, Sand was unfortunate because her parents live far from Bangkok.
"I was extremely worried that I would be held in a juvenile detention center because my parents live in Phu Khiao. They could not come to Bangkok in time, and no one could bail me out. However, eventually, a professor from Thammasat University used their professorship as a surety to bail me out. I felt relieved. However, I somehow came to terms with the fact that I might be taken away. When I was waiting for the Court to decide whether the bail would be granted, I stared out the window and saw a van from a juvenile detention center parked outside and waiting to pick me up.
From the day she learned about politics from her parents to the day she experienced it firsthand, Sand never expected police officers would be using judicial harassment against the youths. "As cases are filed against the youths, the civic space for younger people to exercise their freedom of expression continues to shrink further and further. We all should be able to express our opinions freely. Honestly, the ongoing prosecution of youths used to be unimaginable for me."
Although I prefer dark spaces, the spotlight keeps finding me
Aside from politics, Sand said she was interested in studying history, including mainstream narratives, such as one presented in Kukrit Pramoj's Four Reigns, and substream narratives that offer more critical perspectives. The latter has appeared more and more often on various Facebook pages.
"I am now 16 years old. At this age, I should be going to museums, arts and culture centers, or libraries in Bangkok to find inspiration instead of courts or police stations. Apart from history, I am also interested in sculpture, drawing, and abstract art.
In terms of student activism, Sand is connected with the Bad Students based in Bangkok and familiar with the KKC Student Network in Khon Kaen and their respectable political ideology. When discussing her future role as a political activist, she said that she was not keen on becoming a protest leader. However, if the movement becomes truly leaderless, she will reconsider.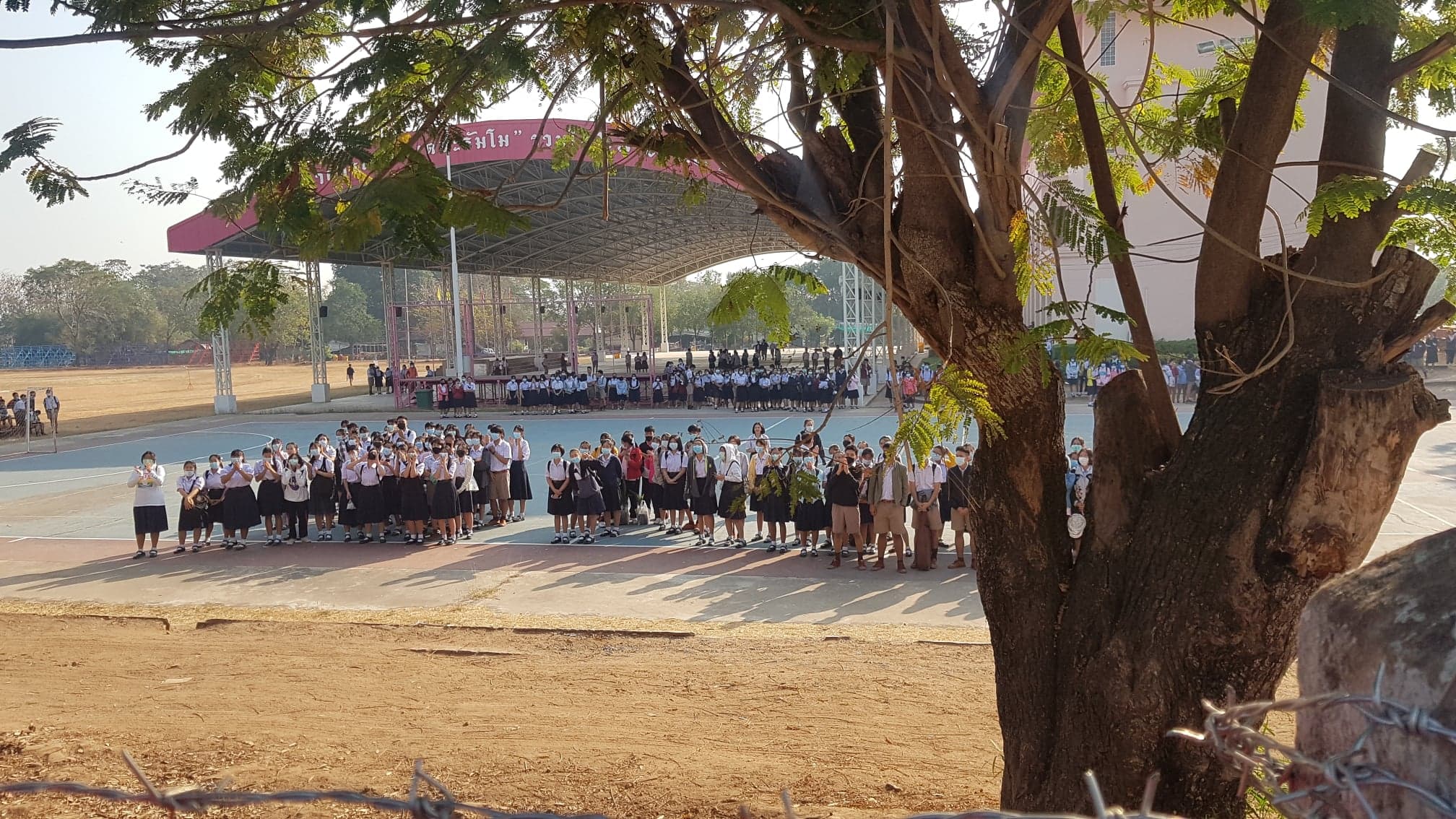 When it comes to self-assessment, Sand thinks that she should improve her planning process and become more agile. She must also take immediate actions to generate some consensus among people in the movement. She believes that all the children in her generation do not support dictatorship, but they have different ways of expressing their opinions.
"Although I prefer dark spaces, the spotlight always finds me. I do not want the spotlight on me for my own security in daily life. I just want to organize a camp where people can exchange ideas and have discussions," Sand stated.
As Sand is now fighting two political cases, she has to travel back and forth between Bangkok and Phu Khiao. She admits that this constant travel poses a lot of difficulties in her life. Once the semester begins, her life would be even harder. Sand is also concerned about plainclothes officers who continue to monitor her life or create other worrying situations.
"I was once driving around a public park. Then a plainclothes police officer beckoned me over, so I had to speed up and drive away. Sometimes, they approached me and said that I looked familiar. When a police officer says that you look familiar, what are you supposed to think?"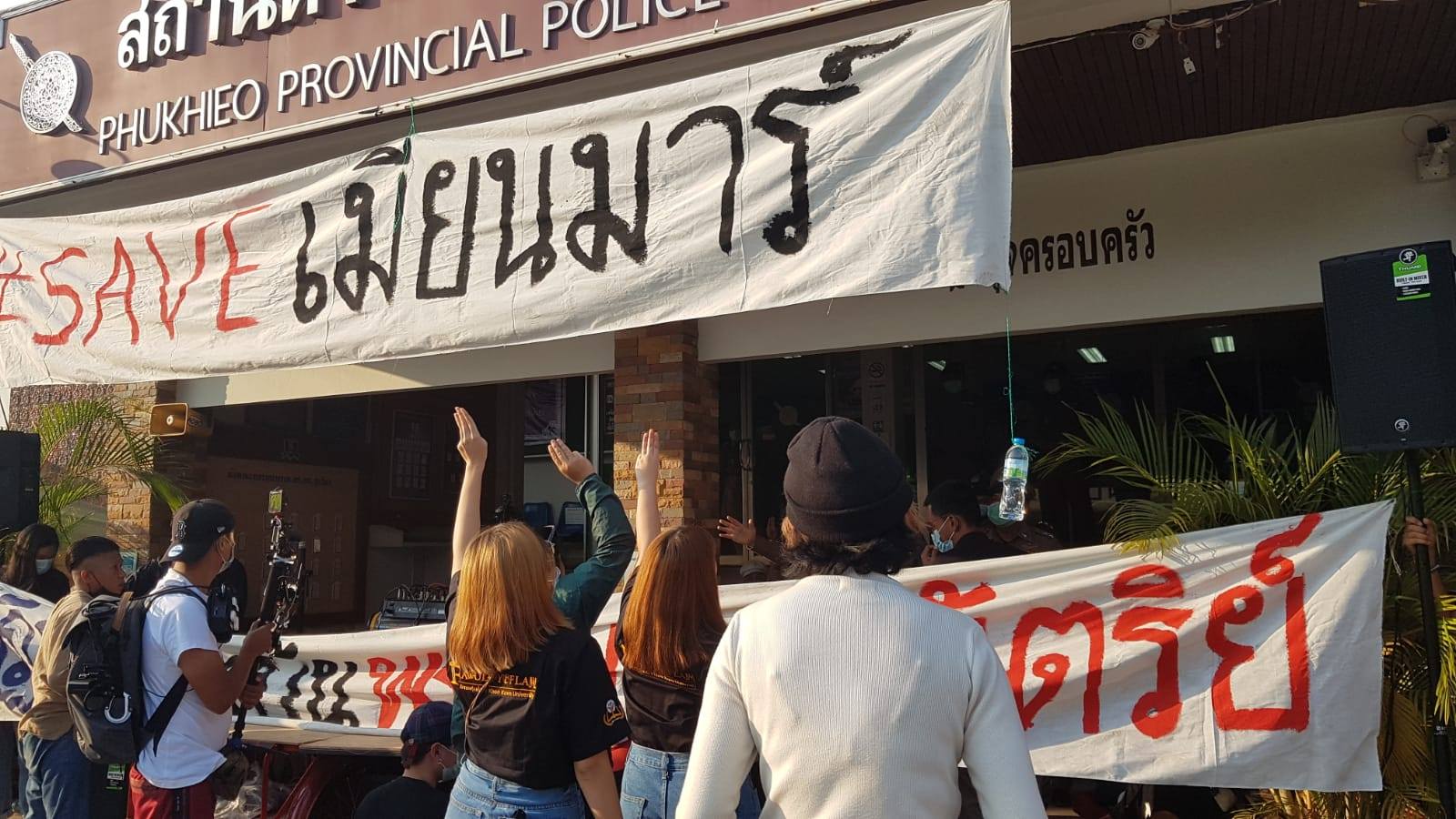 Still, Sand does not feel too isolated or lonely in her past struggles. Her friends at Phu Khiao continue to give her moral support and provide her any required assistance. It is undeniable that support from family members and school friends is a crucial factor that enabled Phu Khiao activists like Jatupat or Sand to thrive and engage in activism with grace amid the overall society where many adults disapprove of what they are fighting for.
"I personally do not only listen to political opinions from one side. I also listen to the opposite side and seriously think about their ideas. I want everyone to utilize the framework of human rights as a basis for our thought process. I do not believe it is reasonable to prosecute anyone- no matter how old they are- for expressing their opinions and beliefs.
For the current political issue in the country, Sand pointed out that everyone would eventually come to a certain realization once they are affected by the rampant inequality and authoritarianism. They would realize these problems that are right in front of them without needing to listen to anybody else's opinions. They would inevitably all see the issues because they are right in front of them.
"A democratic regime should allow the people to rule hand in hand with the government. However, under the current system, the government is the sole ruler over the people. Thus, I do not want to decide which political party is good or which one is bad. I only believe that all of them need to be transparent and open to criticism. People in my generation must be able to partake in politics and set up new standards," Sand remarked at the end of her interview.
• Sand and her friends were not only charged under the Emergency Decree, Maintenance of the Cleanliness and Orderliness of the Country Act, and Controlling Public Advertisement by Sound Amplifier Act. They also did not receive any apologies from Phu Khiao Police Station, who threatened them for signing up for the Ratsadon On Tour camp.
• After the authorities cracked down on the Talu Fah Village camp in front of the Government House, Sand received five charges on the same day under the Emergency Decree, Communicable Diseases Act, Land Transport Act, Maintenance of the Cleanliness and Orderliness of the Country Act, and Controlling Public Advertisement by Sound Amplifier Act.
• At present, Sand has to travel back and forth from Bangkok to Chaiyaphum's Phu Khiao district for the appointments related to her two cases.