A 30-year-old man delivered a well-paced, smooth speech with his pleasant voice that one could listen to all day long. He appeared on stage wearing a crop top with red sweatpants, looking entirely different from other Ratsadon protest leaders. His style resembled the well-known look of "Justin Bieber," an internationally renowned teenage superstar.
Because of his look, people have humorously dubbed him "Thailand's Justin." Very few people know that his actual name is "Nook" or Chukiat Saengwong, a cheerful activist from Samut Prakarn Province. At present, he has become a defendant accused of violating the lese majeste provisions under Article 112 of the Criminal Code for allegedly pasting papers onto King Rama X's portrait in front of the Supreme Court during the #20MarRally demonstration organized by the "REDEM" Group. Under this charge, he had been held in the Bangkok Remand Prison for over 70 days since 22 March 2021.
Since the beginning of the Ratsadon Group's movement in 2020, Chukiat has become one of the most prominent speech givers and protest leaders thanks to his distinctive characters. His iconic traits made him a target of the government's increasing surveillance, leading to lawsuits against him for his political expressions in 12 cases, including four cases under Article 112.
Most people only know Chukiat from his nickname "Justin" but not much more about his life, partly because he does not want to be known by the public. Time and time again, he has turned down media interview requests, even though many people would like to get to know him better. He even rejected an invitation to join a panel discussion, even though it came from high-profile activist Mr. Jatuporn Prompan.
Thai Lawyers for Human Rights (TLHR) invites everyone to get to know this "cheerful activist with his favorite crop top" better through our interview with "Diana," Chukiat's sister of choice. Even though she often bluntly describes her relationship with him as the "sister whom Chukiat used to work for," she has loved and cared for him as if he were her actual brother for more than ten years. Since his mother passed away, Diana has been the only person who plays various roles in Chukiat's life, including as his sister, parent, and teacher.
She has also played a key role in encouraging "Justin" to be a speech giver and leader of the protest movement he has become today. She has further sworn on her life that she would never abandon her brother no matter what happens.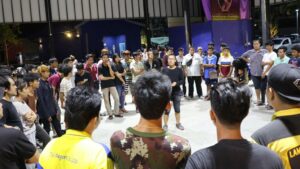 "Over ten years of taking care of Nook as his sister"
"Noor-Diana" or "Diana" came to meet with us in her hijab outfit that covered her entire body from head to toe. Even though she had to spend almost an hour traveling to see us, she refused to drink the water we had prepared to welcome her.
"I can't drink anything because I am currently fasting. Normally, I would return home to Pattani Province during every Ramadan month or travel to my resort in the North to observe the fast. Still, here I am in Bangkok because I have to take care of Nook."
Since Justin was arrested on 22 March 2021, Diana has been attending court sessions and filing multiple bail applications. Due to these tasks, she has been staying in Bangkok for two months already.
"I am originally from the Deep South of Thailand. My hometown is Pattani Province. However, I moved to Bangkok to run a business and got to know Nook's family. He was the only child. When we first met, he was still in high school. Shortly after he graduated, his mother passed away. I felt concerned, so I started taking care of him. I hired him to work as a receptionist responsible for taking care of guests at my resort in the North. It has been over ten years that I have been taking care of Nook as his sister."
"His actual father lives in Samut Prakarn Province. Nook does not talk to him much, partly because of their different political opinions. However, I regularly called Nook's father to check in with him. He did not abandon Nook or anything."
Even though both are not siblings by blood, Diana has been taking care of Justin as if he was her real family member.
"He has allergies that cause runny nose and shortness of breath – all the symptoms similar to having a cold. Still, he stubbornly brought home a pet cat and named him "Jao Dam" [Black]. I do not know where he found the cat. Recently, he said to me, "I'm excited to see Jao Dam once I get out." Well, it was Jao Dam who worsened his allergies! I got concerned, so I suggested that he should give it to someone else. I think he has already given it to his friend."
"He once called to tell me that he could not breathe. I told him to turn on the air conditioner for better ventilation in his room and use nasal spray. If he did not get better, he should then go to the hospital. After that, I told him to stop having cold carbonated drinks and ice and taking a warm shower. I also told him to buy a vacuum cleaner to clean his sofa and bed. I took care of him that much. As he is currently held in prison, the Department of Corrections informed me that they had been consistently giving him nasal spray, so that relieved my worries a bit."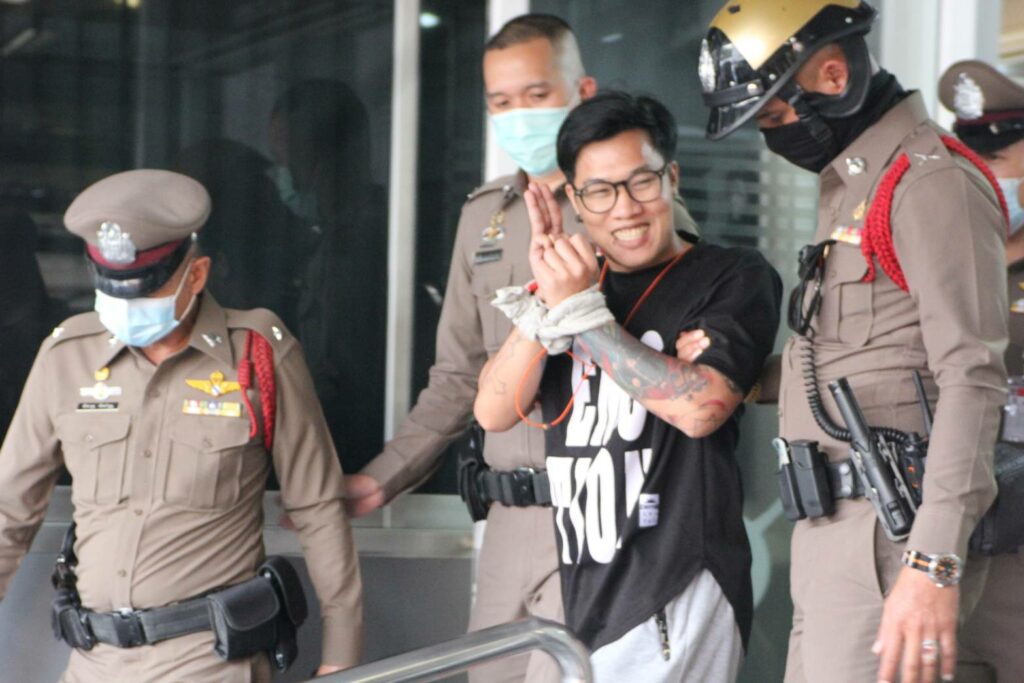 "I don't know how long my freedom will last"
"He said to me, "Sister, when I am done with the lawsuits, I promise that I will go live in the hills (At Diana's resort in the North). I will be a teacher for indigenous children living in the hills." I was happy to hear what he said and prepared to welcome him back. I intended to buy a motorcycle bike for him. I even already reserved one to give to him as a present on his birthday. Alas, he got arrested before I could give it to him."
"Aside from politics, Nook also loves music. He chose to study music because he really likes it. He particularly likes to play the drum. He used to play during charity events hosted by several foundations. He would perform in any events where he gets invited."
"Even if he seems a bit strange, he is a compassionate person. He likes to grow plants; he has so many in his room. Before he was arrested, he jokingly asked, "If I get arrested, who will water my plants?" It is a good thing that, at least, he no longer has to worry about the cat," she said and laughed.
Moreover, he is fascinated with the art of tattooing and asked for my permission to take tattooing lessons and buy tattooing supplies. I fully supported him and wanted him to master it. I told him that he should pursue his interests abroad and begin to take English classes. He then replied to me, "I don't know how long my freedom will last. With the charges I received, it probably will be difficult for me to travel abroad."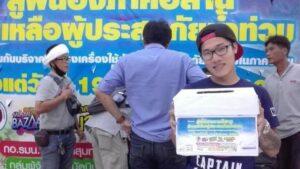 "His favorite outfit"
Since his mother passed away, Chukiat had been spending most of the time in his room reading books about democracy, politics, and society. The more he reads, the deeper his knowledge becomes. Once he finished his university degree, he has developed a firm ideological conviction that made him unable to witness Thailand's ongoing political crisis without taking any action. At first, he joined political rallies and listened to other people's speeches in Samut Prakarn Province. Then he began to host small public discussions and built more public visibility as an activist.
"Nook dislikes appearing in the media. After finishing his speech on the protest stage, he would go out to have some street food along the sidewalk in his favorite outfit. I once asked him, "Why do you want to wear this outfit?" "I think it looks pretty cool," he responded nonchalantly."
"'Do you think you look handsome in this outfit?' I poked him with another question. "Not really. I just want everyone to know that they have the right to dress up however they like," he said. "But you will have to wear that on the skytrain. Don't you feel embarrassed?" "Others may think that it is weird, but I don't care."
"It's his favorite outfit," Diana reiterated with a grin.
"When he put on a crop top, sweatpants, and fabric headband to prepare for a rally, he would say to me, "Sister, today I am attending a rally with my favorite outfit." When he said, "favorite outfit, I would instantly understand and think 'oh yes, that favorite outfit,'" she laughed.
"I never stopped him from pursuing his activism. I am happy when he is happy. I once joked with him, "Don't wear this favorite outfit too often. Wear normal clothes sometimes. When the situation escalates, your clothes will bring a lot of attention," she recounted the story with laughter. He then responded jokingly, "I would sacrifice my life."
Later, he began to wear normal clothes to rallies. Still, he would have to pack his favorite outfit in his bag and take it with him every time."
"His speeches resonate with a wide range of people"
"Nook likes to complain about social issues. He would question why our society is facing problems and why inequality is so high. I would always listen to him. When he speaks, he will not yell or use vulgar language. He always speaks rationally.
"From my observation, what he said on stage often resonated with many people. Perhaps his friendships with people from all backgrounds have helped him understand different social issues well-roundedly. He even successfully persuaded some motorpunks to engage in activism to help persons with disabilities."
"He has always been a leader since a young age, despite his personality trait as an introvert. Once he joined the Ratsadon Group, he seemed happier — as if he had finally found a purpose of living."
"I used to listen to his speech. He delivered the words very smoothly in a non-aggressive manner. That is because I always told him, "When you go on stage, do not shout. People would not understand what you are trying to say. Those who come to listen to speeches will pay great attention to your content. You do not have to give long speeches. Keep it concise."
"I could provide him with some recommendations because I am also a professional public speaker. During the Red Shirts demonstration in 2010, I drafted speeches for many activists who went on stage. Thus, I turned that experience into insights and suggestions for him. When I could not attend any rally to listen to his speech in person, I would watch video recordings and help him identify what he could improve."
"If you ask me whether I am also an activist fighting in today's pro-democracy struggles," she firmly said.
"I have been in this fight since the establishment of the Democratic Alliance Against Dictatorship in 2007. That was before the emergence of the United Front of Democracy Against Dictatorship. I also attend the Red Shirt demonstration that faced a violent crackdown in 2010 and witnessed all the losses right in front of me. Many of my acquaintances died during that incident. I could vividly remember that a person next to me got shot to death. That image continues to haunt me until today.
"The current movement has an advantage, that is, the sympathy from the younger generation. In the previous struggles, we were attacked and accused of many horrible things. University students despised us. If we had support from the university students during that time, it would have been much better."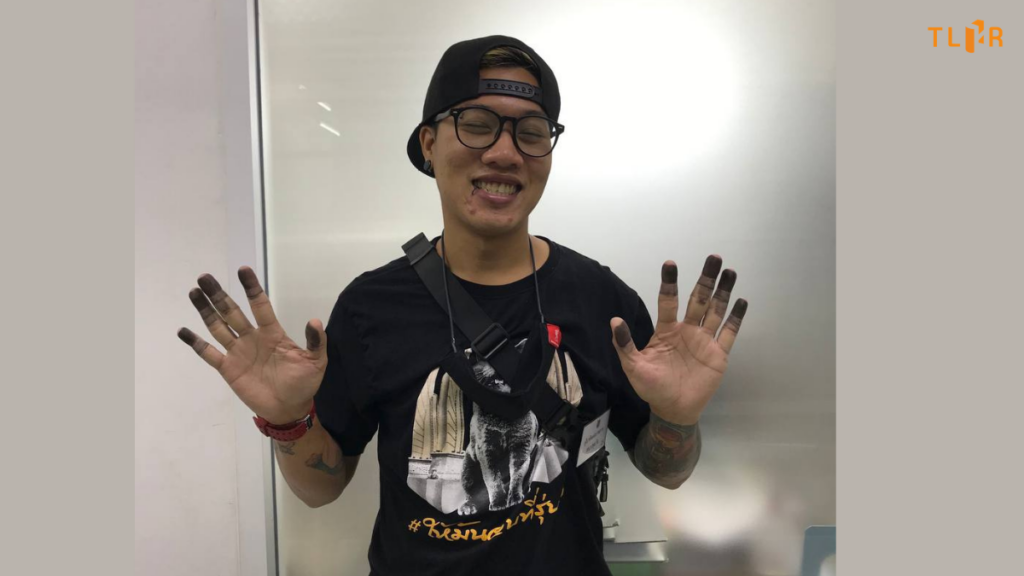 "I consider this his honor"
"Are you proud of your brother?" we asked.
"Of course, I am proud," she said confidently with a big smile. "Nook's arrest has been making me worried. Still, after talking to many friends, I have begun to consider this his honor. My friend told me that I should not pity him. On the contrary, I should be proud that he has chosen this path. I know all too well what types of obstacles and rewards await him. At the moment, moral support is the most crucial thing for persons like him who pursue this path.
"I, as his sister, cannot burst into tears and cry because my brother would then see how saddened I am. I also want him to be strong and refrain from showing his weakness."
"He had accepted these difficult conditions when he made up his mind to become an activist. He knew that one day he would have to encounter these hardships. However, now I only want him to be freed and have a chance to fight the lawsuit. Whether he loses, wins, or is sentenced to imprisonment, I would like to have some time to come to terms with the outcome and plan for the future. I would never abandon him no matter what happens."
"I think he even loves the crowd more than me"
"As he remains in prison, he always asked his lawyer to tell me, 'Don't worry too much about me. I can still bear everything, and I will get out soon.' However, I still feel concerned about him. In my eyes, he would always be a child. I am worried about his mental health. When he was in the outside world, he only enjoyed two things: going to rallies and helping others. He never did anything selfishly. Typically, anybody at his age would begin to have a family, go out for dates, and seek happiness for themselves.
"I think he even loves the crowd more than me," she said and laughed.
"When he went to a rally, I would tell him, "Wear sneakers, so that you can run away." Even if he wore sneakers, he always left a protest venue lately because he wanted to help other protestors in the crowd first. I once saw a news report about a protest crackdown, so I called to ask, "Did you come back home? Get out of the protest venue immediately." He told me, "I am running away, but I have to help others first. Your call is wasting my time!" I was like, "What? Are you nagging me?" she said and laughed.
"That is why I said he loves the crowd more than me. I want everyone to know that he is fighting without expecting any selfish rewards. He is really undertaking his activism with a splendid fighting spirit," Diana said and ended her interview with a big smile.