*Translation by: Ann Norman
An admin of Facebook Page: FreePortFaiyen 
At the rallies of young people protesting for democracy happening throughout almost all of last year, songs were used as tools to propel society while at the same time creating a fun atmosphere for the crowds. Many of the songs blasting out of the amplifiers were not from the [musical] mainstream. [If] the lyrics alluded to politics in a direct manner, disguising their meaning [slightly] by asking questions and taking issue with "the system," "the high classes," or the "Sakdina" [nobility at the top of an ancient feudal system], there is a strong possibility these songs were by the band Faiyen.
The band "Faiyen" was established from group of people demanding democracy beginning in 2011. They first became known from their participation in musical performances, on speaker stages and at forums, in the political activism during the age of Red Shirts. And as of today, they have three albums and altogether 101 songs in their catalogue, which have received some popularity and may sound familiar to many ears—for instance, ไม่รักนะ [I Don't Love (Them)] ระวังติดคุก [Watch Out, You'll Be Stuck in Jail], ปลดปล่อย เปลี่ยนแปลง [Let it Change!], and ต้นมะขามสนามหลวง [English title is "Hanging Tree"] for starters.
At this time, three of four members of Faiyen have fled to France, leaving only Parinya Cheewinputhomkul, or Port Faiyen—age 36 years, a lead and backup singer, bass and guitar player—because he was getting treatment for pancreatitis, diabetes, and peripheral neuropathy in Thailand.
But Port was then arrested this past March according to a warrant of the Bangkok military court from  August 1, 2016 for an infraction of Article 112 of the Criminal Code [the lese majesty law] and the Computer Act, arising from 3 Facebook posts in that year. Just that caused all this. Port remains in detention at Bangkok Remand Prison and has been denied the right to bail.
The Thai Lawyers for Human Rights invited his family and an older close friend of Port to tell the story of this young man's life so we can get to know him better—this person who fell in love with music and has dedicated his life to using music to demand a restoration of the legitimate rights of the citizens.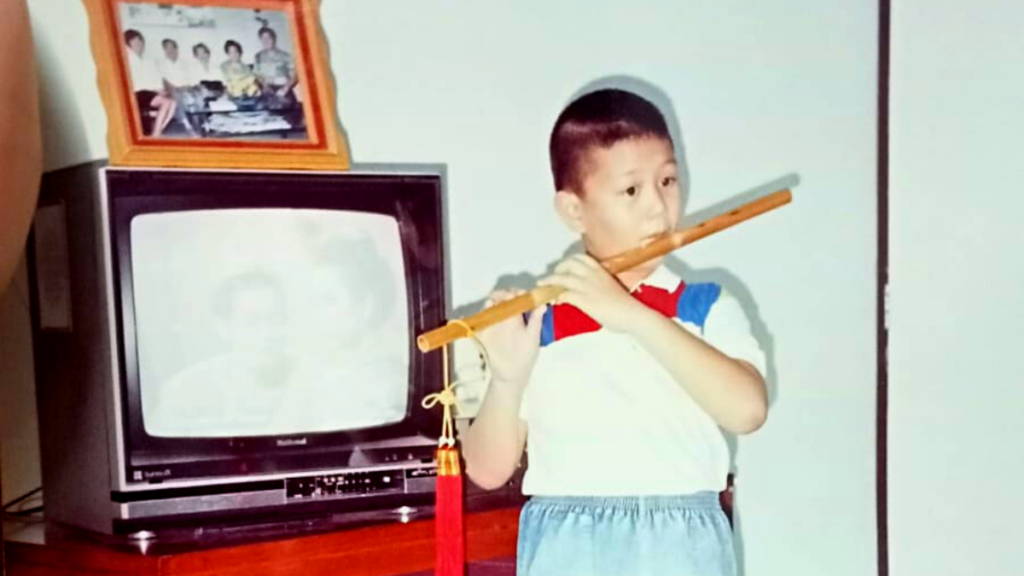 Intro
Music Resounds through the Bloodline
Port grew up in a Thai family with Chinese lineage, with a father, mother, and one younger sister. The two-story townhouse where they all live seems to be perfumed with music. Along the walls are attached posters of bands from many countries, including Thai, Chinese, and international bands. Electronic musical equipment, and a mic cable, are still set up on the floor. Seeing it, you'd guess this is a house where the family likes to sing karaoke in their free time.
Port's mother and father are over 60 years old. They still look strong and healthy, and their eyes are clear. They both receive me warmly before sitting down to tell the story of Port's childhood
"He was a cheerful child, a talker. When he was a child, both his father and I liked to sing songs and play the guitar for him to listen to. And so he liked music from that time. When he grew up, he would go practice playing the guitar with friends in the area. He'd come back and practice playing with my guitar, which I'd already bought when I was a girl. He practiced on his own until he was really good. After that, he would buy many song books and read them from beginning to end. He told me he would compose songs; he would make his own songs. He was a person who had a special gift, although he never studied anywhere."
It looks as if Port got his artistic DNA from his mother.
"I am a person who loves art. But I must work, so I don't have that much time. I can't do the things I like. But today, he [Port] can finally do it now, like playing guitar, composing songs. He does the things that I used to dream of doing and becoming successful at," Port's father added with pride.
"As his mother, I used to ask him, 'If you like doing [this], why don't you go study it seriously? When you grow up, you can work in the field of music.' But he didn't go. He said, 'I don't want to waste your money, Mom, because our family isn't that rich."
Port resisted the coaxing of his mother who wanted him to go study music seriously. And he turned to the field of software, going on to study business administration, focusing on computer business, till people around him asked, 'Since when were you interested in computers?' But [his] mother says that aside from music, he also loved numbers and calculating, so it didn't seem that strange, because writing computer programs has the same foundation in mathematical skills, which Port has.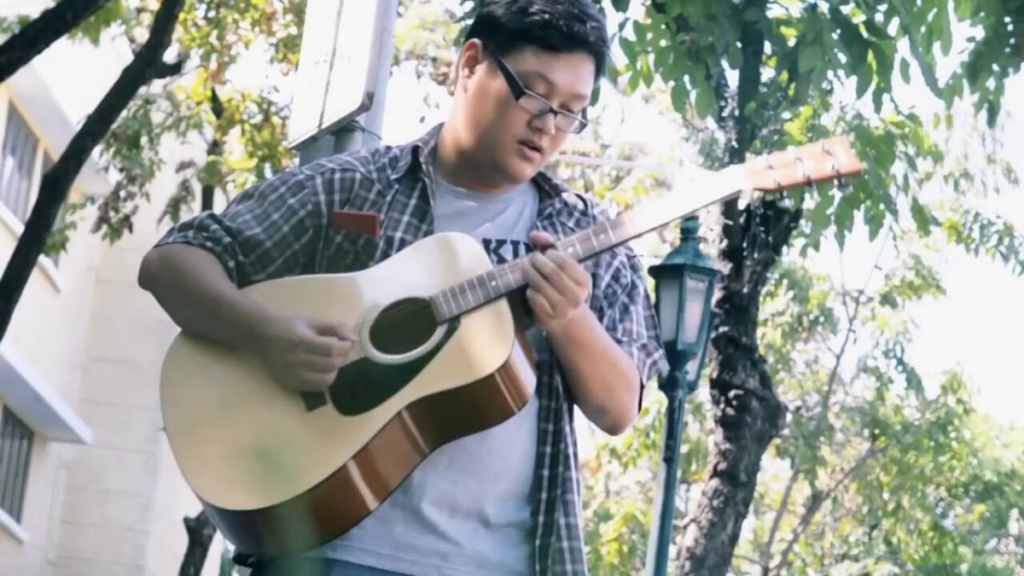 Pre-Chorus
The Rhythm of the Path to Being Port Faiyen
When he finished college and got his bachelor's degree, Port started work as a software developer at a software house in the area of On Nut, where Boht was a boss at that time. Both Port and Boht had one thing in common: an artistic spirit. And it was Boht who caused Port to walk into the ring of political struggle by means of music.
Besides Boht being a programmer, he was also an amateur composer of many songs that he would record and upload to the internet. Port, who is naturally shy, observed this and began to feel brave enough to produce musical works himself.
"When he came and applied for work with me, he wasn't yet involved in politics. At that time, in the year 2012, the Red Shirt group had already begun to come out demonstrating. There was a search for signatures to propose draft legislation to fix Article 112 of the Criminal Code [the lese majesty law]. At that time, there were often forums organized. Professor Waan, or Suda Rangkupan, leader of "The Group Declaring in Front of the Court," said that she was organizing a forum to fix Article 112 and asked me if I would help her find a singer to go perform at the event. And so I invited Port to go sing songs and play guitar at the event that day with me."
Performing that day with the others counts as the first time that Port used music to join with others in political expression. After that event, the young man was likely to be always using his free time to go join in playing music and singing songs at political activities for the movement. He went using the name "Taptim Siam," and he also began composing his own political songs.
"Back when we worked together or back when I would take him to play music, he wasn't yet a liberal like he is now. How he presented himself then, and up until today, was as someone who viewed everything critically because a democracy must be open to review. He criticized Yingluck [Shinawatra], the PDRC [the People's Committee for Absolute Democracy with the King as Head of State], the Yellow Shirts, and the social structure, and his criticism extended all the way to matters of religion."
Going to play music at the Red Shirt demonstrations is how Port had the opportunity to meet Faiyen band, who had a role at that time. He even often joined them in singing songs. But he still hadn't joined their band officially in any way.
After the coup, one time in 2016, Port went to perform with Faiyen band and sell CDs of songs at the October 14th Memorial at the event "August 7 Marking Democracy: Music Poetry Art." It was this event that was the cause of his first arrest. The officials claimed that the CD of songs that he sold were copyrighted, but then they went on to investigate him regarding the content of the songs he'd sung on stage at the demonstration as well.
After he bailed himself out in that case, Port continued to work his regular job. And when he had free time, he would go out and play music occasionally. Until one day, the company executive where he was working at the time heard about something and wasn't happy. He claimed that Port used work time for personal business, and that [Port] having a non-center political viewpoint and then going out campaigning like that might have after-effects for the company.
After being warned by the executive that time, Port decided to quit and definitively go be with Faiyen band because he wanted to earnestly devote himself to the political movement.
"The main idea of his leaving, we know now was that he had to focus on politics with his whole being. [But] his leaving at that time wasn't about politics. He had previously told me that the work of writing programs gave him a headache," Boht said with a laugh.
After being arrested at the October 14th Memorial, Port became someone known amongst the group of activists that came out demonstrating together. Among them was Khun Yohnok, a lead singer with the band Faiyen. He pulled out, and so the band was short a guitarist. Port therefore came in to officially be a lead singer and additional guitarist for the band at the persuasion of friends who were Faiyen band members.
"Port became an important person who helped to change the style of the band's songs from their former luuk tung [Thai country] or Indie style to something looking more current, with increasing use of pop."
"When he decided to go all in with Faiyen band, it was like it his latent talent or potential showed itself fully. And maybe it was because he was doing what he liked. It's not very often that we people have the opportunity to choose our own path in life. And Port was so certain about going down this path all the way to its end.  He performed the duties of composer, lead singer, backup singer, bass player, and guitar player. He was able to do many kinds of things, and he did them well," Both said of his friend.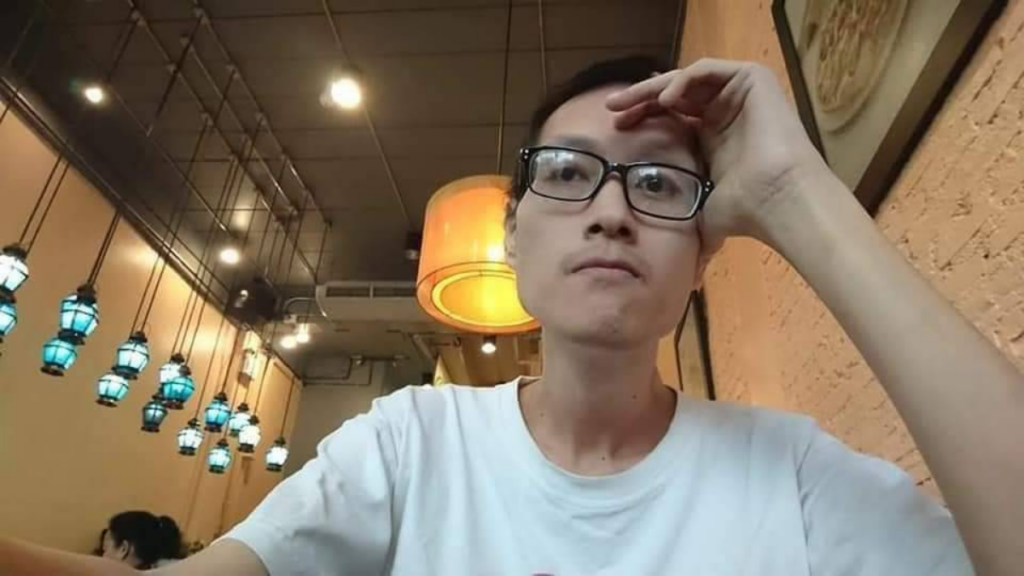 Chorus 
The Hook: A Life That Changes Beset by Various Diseases
"When I next met him it was when he was very sick in the hospital in Nong Khai. I remember that it was the period before Christmas 2019. A friend of Port's called and told my daughter that Port was very sick, that I, his mother, should hurry up and see him because he might not survive. As soon as I arrived, I saw him, and at that moment it looked as if he had no energy left. He could walk okay, but he was so weak, and had thinned down. After the X-ray and second CT scan, the results came out. The doctor came and said Port has pancreatitis," his mother said, once again having to explain the events that changed the life of her son.
"The doctor when on to ask if we should do surgery. Port would then be cured of the pain in his stomach, but the chance of survival was 50/50, because the pancreas is very deep, not like the organs that are on top. When we heard that we were scared. [His] father and I therefore didn't want him to have the surgery, and Port saw it the same way. He was also scared. All three of us therefore decided together that it would be best [for him] to endure [the pain] and do some treatment without surgery.
"After skipping the surgery, he suffered with a lot of stomach pain. He had to have injections of morphine all the time. As soon as the medicine wore off, he would be in pain again. He couldn't eat anything. He could only eat two whole fruits. Any more than that and he would throw up. As his mother watching over him, I almost couldn't sleep.
"At that time, when he was at the house, he was more than 100 kilos [220 lbs], but after he was sick his weight dropped to its lowest, only 50 kilos [110 lbs], so skinny. People who'd seen him before wouldn't believe he could be as thin as this. It was so scary, and so pitiful."
After a long period of treatment in the hospital in Nong Khai province, when his condition improved, the doctor had Port come back and get treatment at a hospital near home in Bangkok. And going back to examine him, they found diabetes as one more complicating condition. Because his pancreas had a problem, this caused the sugar in his blood to rise also.
"As his mother, I had to inject him with insulin all the time, even though I had never injected medicine before. So I had to hold my breath and inject it for him. In that period, he would often have stomach pain. Sometimes the pain would return to the point that he needed to go to the emergency room. I would say, in that period, we had to go to the emergency room almost every week. When the doctor would give him a shot, his symptoms would gradually improve so that he could return home."
But it wasn't long until he began to experience the symptom of numbness in his feet. He didn't have much feeling. It was a side effect of the medicine he had to take to treat the pancreatitis for so long all that year. This caused him to have "peripheral neuropathy." This second complication caused trouble with walking. He tripped over things. Even trying to play his favorite musical instruments, like the guitar, he might not have enough strength to strum a song anymore.
"This large bottle of water, he couldn't even lift it. I had to lift a small bottle for him. It was difficult for him to go upstairs. To go anywhere, he had to wear shoes that fastened on his heels [not flip flops], or his shoes would fall off. Because he didn't have the strength to walk, sometimes he had to use a wheelchair.
"When he was really sick, he was really stressed. I (his mother) was afraid he might be clinically depressed. He would always say, 'I probably won't survive. I tried to give him encouragement, saying don't think too much [don't get ahead of yourself], gradually you'll get better, soon you'll be recovered."
"Even if we had a gold card, we still had to buy the medicines that were outside the account [not paid for by insurance?], special food, and sometimes go get an MRI. So, we necessarily lost so much money. Once he coughed up blood. We hurried to take him to a private hospital that was very near. He was laid up there 4 days, and it cost us more than 100,000 baht [3,200 dollars]. In the two years of treating him till now, we've spent no less than 300,000 baht [9,600 dollars]. I was shocked. I have no money now. I'm so worried. Sometimes I secretly cry."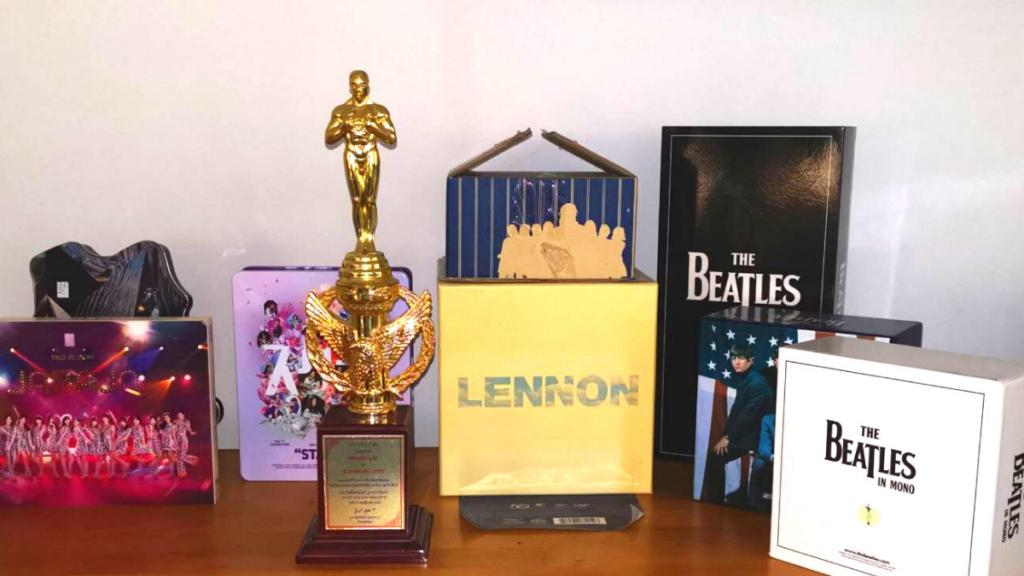 Bridge
Complete Key of the Song of Life
"His friends contacted him to have him flee with them to France, because his whole band was going together. When his weight was only 50 kilos [110 lbs], he still couldn't really walk. And he was going to have to travel alone. But he still was intent on going, and I, his mother, went along with that. I prepared all his stuff so it was ready. At noon that day at the house, we took him to a farewell party. When we were sitting together eating, he spoke up saying he wouldn't go after all. He didn't want to go be a burden on anyone over there. With him sick as this, the band probably couldn't help him. Furthermore he would be causing difficulty for other people who would have to come look after him," Port's mother said of his new decision. 
"He was always thinking, I don't want to be a burden on anyone. At home, he couldn't work. Even though his symptoms had improved some at this point. The only thing he could do was play music as therapy. He continued to be stressed out every day. Whenever we went out together to eat, he liked to say, 'All my mother and father do is waste their money looking after me.' But he was totally unable to make money to support his family—to the point that he wanted to kill himself," said Both who had been sitting listening intently and now spoke up. For such sensitive matters about his mood, Port would often vent to Both. 
"That he still had [any] spirit was because he liked Khun Oom BNK [singer/dancer in the group BNK 48] a lot. Port once went to an event to shake hands with the BNK artists at BITEC [The Bangkok International Trade & Convention Center]." Both knew because he was also a fan and had gone with him.
After he fell sick, Port decided to withdraw himself from politics and de-stress by using his time in hobbies that he enjoyed like composing songs for BNK48 artists and being a video gamer for a little income during the period that he had to recuperate. 
Port switched from doing satirical political songs to doing "fan songs," meaning songs that the fans lovingly composed for the artists that they liked and admired. So the artist turned back to doing the thing he preferred again. Young men did songs for artists in the girl group BNK48 which many people like, especially the favorite artists like Oom BNK48.
His peripheral neuropathy made it so that Port didn't really have the strength to play guitar well like before. And so he turned to doing songs with a program on the computer instead, and the results exceeded expectations. The songs sounded beautiful, rivaling the live recording. And he had new tricks/methods, so he would go have fun with them. Many of the songs in his catalogue of fan songs became extremely popular with the fans of BNK48. Some songs were top songs viewed, reaching 30,000 times [viewed]. 
Another hobby of his was playing the game, "Heart Stone," with Port using the player name "Yang Jeu Tian." "He played really well, at the top levels in Thailand. If people play this game in Thailand, they are familiar with the name Yang Jeu Tian. He plays so well that kids into gaming call him 'Instructor Yang' and hold him up as being like the top guru in the game. And so he announced that he would sell his ID, and he created a new ID. And then he sold that also," Both related excitedly.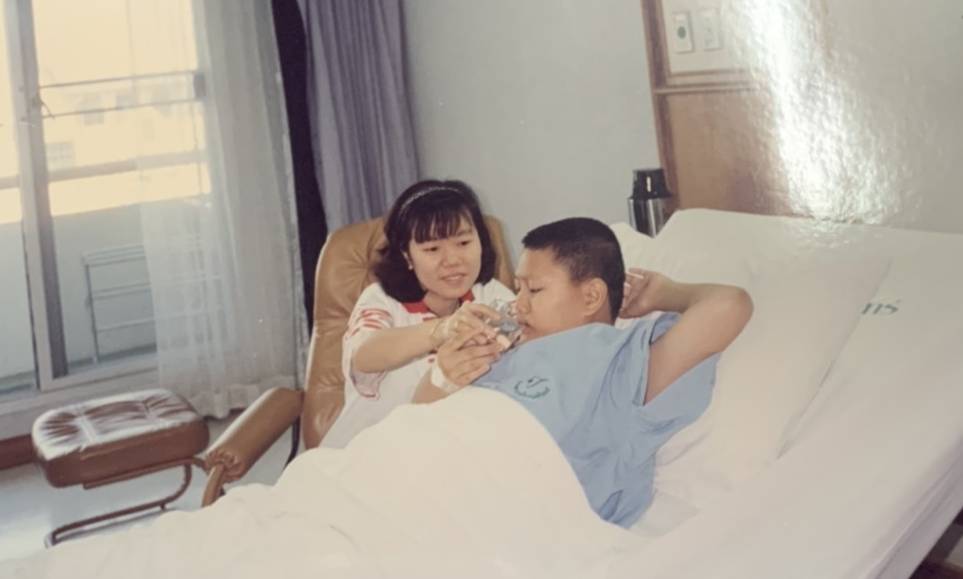 Breakdown
The Melody of Concerns of His Family
These days Port this must take regular daily medicine to treat his peripheral neuropathy and diabetes. As for the pancreatitis that he used to be sick with, at this time, the symptoms have improved to the point that the doctor isn't giving him medicine for that now. 
After Port was taken away and jailed in Bangkok Remand Prison at the start of April, last month, his mother bought medicine from the hospital, enough for 5 months, and the doctor insisted to Port's mother this this next time, Port must come back be examined by that doctor only, so he can be prescribed medicine based on his health conditions at that time. 
"After Port was taken away and jailed in Bangkok Remand Prison at the start of April, last month, his mother bought medicine from the hospital, enough for 5 months, and the doctor insisted to Port's mother this this next time, Port must come back be examined by that doctor only, so he can be prescribed medicine based on his health conditions at that time. 
"And with the diabetes that he has, the doctor has advised him not to eat too much food with flower, sugar, or fat. He should eat a lot of fruit and vegetables. In there, I don't know what he'll be eating, or whether it will cause the symptoms of his disease to worsen, or not. 
"I want to go visit him," she says for the fifth time. 
"Can we at least know how many kinds of food, how many meals, what all he has to eat in there?" 
 "I can't really sleep. In my mother's heart, I see the news of many people who were kidnapped and disappeared. And will it happen to my son also, or not? I can't know. I can only hope that his symptoms improve and that he will be able to look after himself." We've been speaking together until now tears begin to pool in the eyes of the one who is a mother, and she tries with all her ability to restrain them from flowing. 
"Port isn't a bad person in any way. He didn't go kill a person or do anything immoral. It's only that his thought differs from the law of the country. And so he was arrested. So I am not angry or disgusted with my child—because he didn't do anything wrong. All he did was go sing a song," his mother says, alternating her speech with sighs. 
"The thing that Port is demanding is accepted in some countries. But our country still doesn't accept it. It's only that," said by Port's father, finishing with a smile.