Amidst the searing heat of March 2010 which competed with the incumbent political heat, a massive number of members of the United Front for Democracy Against Dictatorship (UDD) took to the street in downtown Bangkok to demand a house dissolution while the country was ruled under the Abhisit Vejjajiva-led coalition. They claimed the government had been formed in a military barrack with military backing and hence the nickname of the incumbent Prime Minister.
The then government responded by establishing the "Centre for the Resolution of the Emergency Situation (CRES)" mobilizing military forces from various divisions to contain the situation. Two armed operations were launched in a bid to disperse the demonstrations. CRES called the operations 'reclamation of public spaces', the first of which took place on 10 April and the second of which, the 'tightening of spaces', from 13 -19 May. It has led to nearly 100 deaths including the UDD supporters, local residents and some public officials and more than 1,000 injuries.
In its finale, the evening of 19 May 2010 which saw the impending end of the months-long demonstrations and the use of lethal military forces against the people, Natthathida Meewangpla aka 'Waen', a medical volunteer, was busy tending to the wounded demonstrators who were gathered inside Wat Pathum Wanaram about to be evacuated and return home. The reasons they were there was an announcement had been made earlier to declare the Buddhist temple a 'sanctuary' making the demonstrators think it was safer to take a refuge therein. The surrounding areas saw deployment strong military forces since 13 May and rows of the troops were squeezing the main demonstration site at the dawn of 19 May to disperse the demonstration.
Waen bore witness when military officials stationed on the BTS Skytrain track between Chid Lom and Siam started firing lethal shots from their war weapons into Wat Pathum Wanaram. She has thus later become a star witness in the ensuing inquest hearings concerning the deadly incidence that happened inside the temple.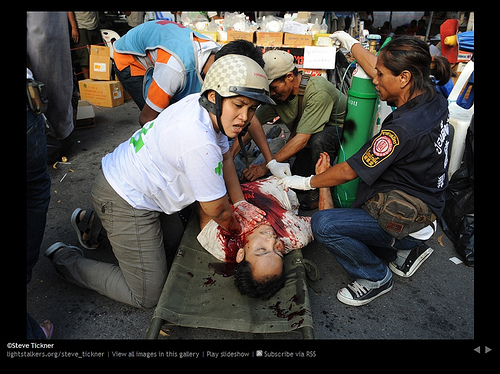 Waen (woman in nurse uniform, on the left), tending to Atthachai Chumchan, photo courtesy of Steve Tickner
Waen bore witness two of the six deaths inside the temple. She was the person who attempted a resuscitation on Atthachai Chumchan and saw Kamolket Akhad, another medical volunteer being shot down under the medic tent. In her testimonies to the Court, Waen said that evening she spotted military officials on the BTS tracks in front of the temple while they were shooting at the demonstrators inside the temple. Her evidence coupled with evidence from other eye witnesses and other convinced the Court of what happened and eventually, the Court ruled that the six individuals inside the temple were gunned down by military officials and there were no "men in black" (armed men clad in black suit as claimed by the prosecution) in the temple.
Evidence from three key eye witnesses in the 6-death-case inside Wat Pathum attesting to fires being shot from military officials on BTS tracks and columns
Court ruled six individuals in Wat Pathum gunned down by military officials and no men in black involved
3 years 5 months and 18 days
Six years later, from a star witness in cases concerning the dispersal of the 2010 demonstrations, Waen has been tuned into a defendant in a conspiracy behind an attempted terrorist offence. She was accused of being part of the plotters to throw a hand grenade into the Bangkok Criminal Court on Ratchadapisek Road on 7 March 2015. The only incriminating evidence against her was her being part of a Line group chat of the Red Shirt supporters.
Moreover, Waen has been charged for royal defamation, an offence against Article 112, after she had just been arrested in the first case. This subsequent charge was believed to be a tactic to continue holding her into custody after she had been bailed out from the first case.
Most importantly, the two cases are tried in the Military Court, which has been used against civilians since the day after the May 2014. And it was later decreed that defendants in terrorist cases would be barred from appealing to the court of higher instances as the offences took place while Martial Law was still effective.
3 years 5 months and 18 days were the number of days recounted by Waen for the time she was incarcerated pending trial in the two cases. The Military Court eventually granted Waen bail but demanded as high as 900,000 baht for bail bond. No one is sure if she would be put into another custody again or not.
Waen told us that unlike several other people, prior to these prosecutions by the NCPO, she had never been summoned by the NCPO. There were just uniform and plainclothes officials being sent to approach her. Some came brandishing their ID cards, while others approached her claiming faintly that they knew her from someone. Some approached her claiming to collect information that could be useful for solving the nation's problems. After all, they tended to focus on inquiring her about her experience during the dispersal of the Red Shirt demonstrations and whether she sighted the 'men in black' or not.
"A lot, dozens of times. They called to ask for an appointment, they called just to talk, they called to threaten me, they called asking me to meet with them. I declined and insisted that I would only meet them with the presence of a lawyer. I was so scared." Replied Waen, when asked how often she got contacted by the officials. She also revealed how they asked to meet with her at home, but she refused to do so out of her fear. Still, the officials seemed knowledgeable about her personal information; how many children she had, where they were studying, etc.
On 11 March 2015, it took Waen by surprise that she was nabbed by around six or seven uniform military officials and plainclothes officials inside her cousin's home in Pra Pra Daeng. The officials simply invoked Martial Law to have her arrested. But during the arrest, they did ask her if she knew anything about the bomb attack at the Bangkok Criminal Court. Waen said she was only aware of it from news report.
"They said it's good, then let's go. Please cooperate with the police. But they showed me no arrest warrants or anything. They just barged into my residence and abducted me. They asked me to pack up my clothes and seized my five mobile phones I used for my emails, Facebook, and Line. They took all of them away and even forcefully asked for the passwords while I was driven away."
Inside the car, they blindfolded me, so tight. I had no idea where we were heading to and what they were doing inside the car. One of the men tried to roll up my short sleeve and I remonstrated 'You can't do this to me'. He then said "Don't act like you have never had a husband. I just wanted to see your tattoo.' I felt it was not right and tried to protect myself since then, but I was unable to do so. They infringed on my body. They just pulled open any part of my body. I was a clown to them. I was there and treated as an object to fulfill their gratification. They could do whatever they wanted."
Waen said she was driven for nearly 30 minutes. Upon arrival at the destination, she was taken down and brought to a detention cell. The condition of the room was far removed from the term 'convenient'. What stressed her out even more was inside this square room lied two beds side by side with a fan and CCTV. All the windows and doors were locked down. She could not get a glimpse of light outside and there was no clock in the room. The fluorescent bulbs were put on 24 hours and there was not built-in bathroom. When nature called, she had to knock on the door for the official and then would be blindfolded and escorted by an official with a schematic mask to the restroom. This holding cell was also used when they questioned her.
"About four or five men came to sit by me. Leading questions were everywhere 'You must know. You must give us everything we want to know. You have no right to know who we are.' No one was there to help remove the blindfold for me. They tied the clothe so tight around my nose jobs, so much so I could see nothing and could not hear clearly."
Every question asked was a leading question and I was compelled to answer them. 'You must know this' they said. 'If you don't answer, if you don't know, your family, your children, your relatives, your parents are doomed.' 'Watch them out.' They threatened me.
'I could invoke NCPO Orders, Martial Law. I could do anything.' The questions were like who was the perpetrators? Where did they do it? How many target sites? Who do you know? I was bombarded with leading questions, like, do you know Dear? Do you know Suraphon? (One of defendant charged with terrorist case) Do you know this or that guy? When my blindfold was removed, I was instructed to look down on the floor. Then, they would show me photos of three or four persons. I just said I knew none of them.
I told them if you want to ask me about paracetamol or antihistamines or wound dressing or even about snake bite, I can give you an answer as to how to treat the wound. But if you ask me about a bomb, I could give you no answer. Then they said 'Let's not quibble, how come you know nothing about this.'
The interrogation Waen subject to continue into wee hours. I had no idea what time it was, I only knew I was so exhausted and was overcome by my allergy. My eyes started to get swollen. They threatened me in every way, restlessly. They took a dig at me on this and that issue. I was allowed to rest for about 20 minutes to one hour at a time, then got woken up and blindfolded again. It happened like that on and on and sometime I would only get to rest 2.00 or 3.00 in the morning. The inquiry started from one o'clock in the afternoon and each round lasted about 3-4 hours."
Apart from being blindfolded during the interrogation to prevent her from seeing the whole surrounding, she was also subject to intimidation and threat.
"Their hitting was not meant to kill me. They patted me on my shoulder to remind me that they had guns in their hands. They tapped me on my neck with a gun. 'Just give us all the information. Tell us who they are. How much did Thaksin give you? Why did not you speak?' I just said no, I have never received anything from him, I have never talked to him, I have not even known him personally."
"They threatened to harm my family, my close friends and all the older persons I respected if I refused to cooperate with them. They said they would bring trouble to all those names in my phonebook. They would charge all of them invoking Martial Law. My family, my children would not be spared. They said they could not even guarantee if I got to see their dead bodies."
According to Waen, during the first three days, she was subject to the same old questions. They were repeatedly asked dozens of times to make her confused. Still, she insisted she knew nothing. On Day 4, she was transferred to another room she would share with Wassana Buddi, another suspect in this case. Even though the questioning time was reduced, still, she was slapped with the same questions time an again.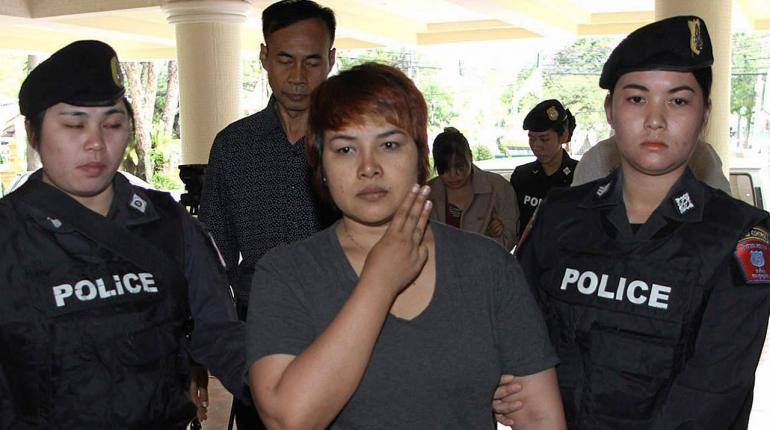 Waen being transferred from the 11th Military Circle to the Metropolitan Police
From her arrest until 18 March 2015, it was reported that Waen was then transferred from the 11th Military Circle to the Metropolitan Police Bureau where she would be formally charged by the inquiry official. Her request to have access to a lawyer was denied. Even though there was a lawyer present during the charging procedure, he was arranged for by the authorities, not the lawyer of her choice or the one she could trust.
"The questioning took place without a lawyer even though Pi Winyat (Winyat Chartmontree; a human rights lawyer and Secretary General of the United Lawyers for Rights & Liberty) was there already. They (the police) refused to let him in, and only allowed their own lawyer to be there. I was forced to sign off a paper, in front of the lawyer arranged by them, declaring that I had not been subject to intimidation. They said they had never threatened me, but I dd need to sign my name there in front of the lawyer arranged by them. They said they would not let the lawyer of my choice come in. This is the reality in Thailand and how a government official has treated the person who pays them their salaries!"
Waen recounted how she was verbally abused in many ways by a police general who was present during her answering to the charges and when she was forced to sign off many papers prepared by the inquiry official. She insisted on signing none of them since she had not committed any offence. Eventually, they asked her to sign a paper that reads 'I do not know." And they told me to fight the charge in the Court. After signing all the papers handed over by the police, she was allowed to meet her lawyer briefly while she was brought for arraignment at the Military Court.
Since then, Waen has been remanded in prison from the police level to the trial. After being incarcerated for some time, the police visited her in the prison asking for information regarding the case in which she was accused of sending a message to defame the King, an offence against the Penal Code's Article 112.
On 24 July 2017, after being remanded in prison for over two years, Waen was bailed out along with three or four defendants accused in the terrorist case. But that very night, when she was about to step into temporary freedom, Waen just realized that she was to be further remanded for another case when plainclothes officials identified themselves at the Central Women Correctional Institution where she was remanded in custody.
"Waen was handcuffed and then put into a black Toyota Fortuner by four individuals in civilian clothes, two of whom looked more like junkies and the other two with guns in their hands. They did not look like police officials. They handcuffed me claiming they came from the Crime Suppression Division. En route to CSD, they asked me 'will your relatives be there to meet you?'. When I said no, I have no idea if anyone would be waiting for me there. I felt I could not say anything since it might bring trouble to more people."
Accidentally, we ran into Ball and Tol (the nickname of Lawyer Winyat Chatmontree), my two lawyers, at the security guard box. The officials drove me from inside the prison. Attorney Tol waved for the car to pull over, then he brandished his attorney card at the windshield. 'Is this guy your relative?' I said no, he was not my relative, but my lawyer. They then said 'Well, if he is not your relative and is a lawyer, I cannot let you talk with him."
Lawyer Tol then said "My name is Winyat Chatmontree. 'Could I see if the person in the car is Ms. Natthathida Meewangpla, my client, or not?' 'If you get out, I will surely shoot you. Don't pound the car like this.' The attorney was patting the car by his hand asking to see inside the car. When the car was about to accelerate, I decided to tap the side of the car with the handcuff and shouted 'Pi Tol, I am in here. Pi Ball, I am in here. After tapping the car one time, they dragged me inside again."
The incidence when the police took Waen from the Central Women Correctional Institution, the night of 24 July 2017, video by NOPPAKOW KONGSUWAN
Waen continued that she was extremely upset and aggrieved to have been brought back to the prison. She cried for two days before she could make do with it. She had never thought she would have been brought back in. Luckily, the prison wardens seemed to understand her, while some fellow inmates showed her their sympathy.
Being remanded again has further extended Waen's incarceration to more than a year. Altogether, she had been languishing in jail during the remand in custody for nearly three and a half years before the Military Court allowed her another bail which she had to place nearly one million baht as a bail bond on 4 September 2018.
After being temporarily released, Waen recalls how she has to rely on sleeping peels to put herself to sleep. The experience while being held in custody in a military barrack still haunts her. She could not bring herself to stay in an apartment without very good security system.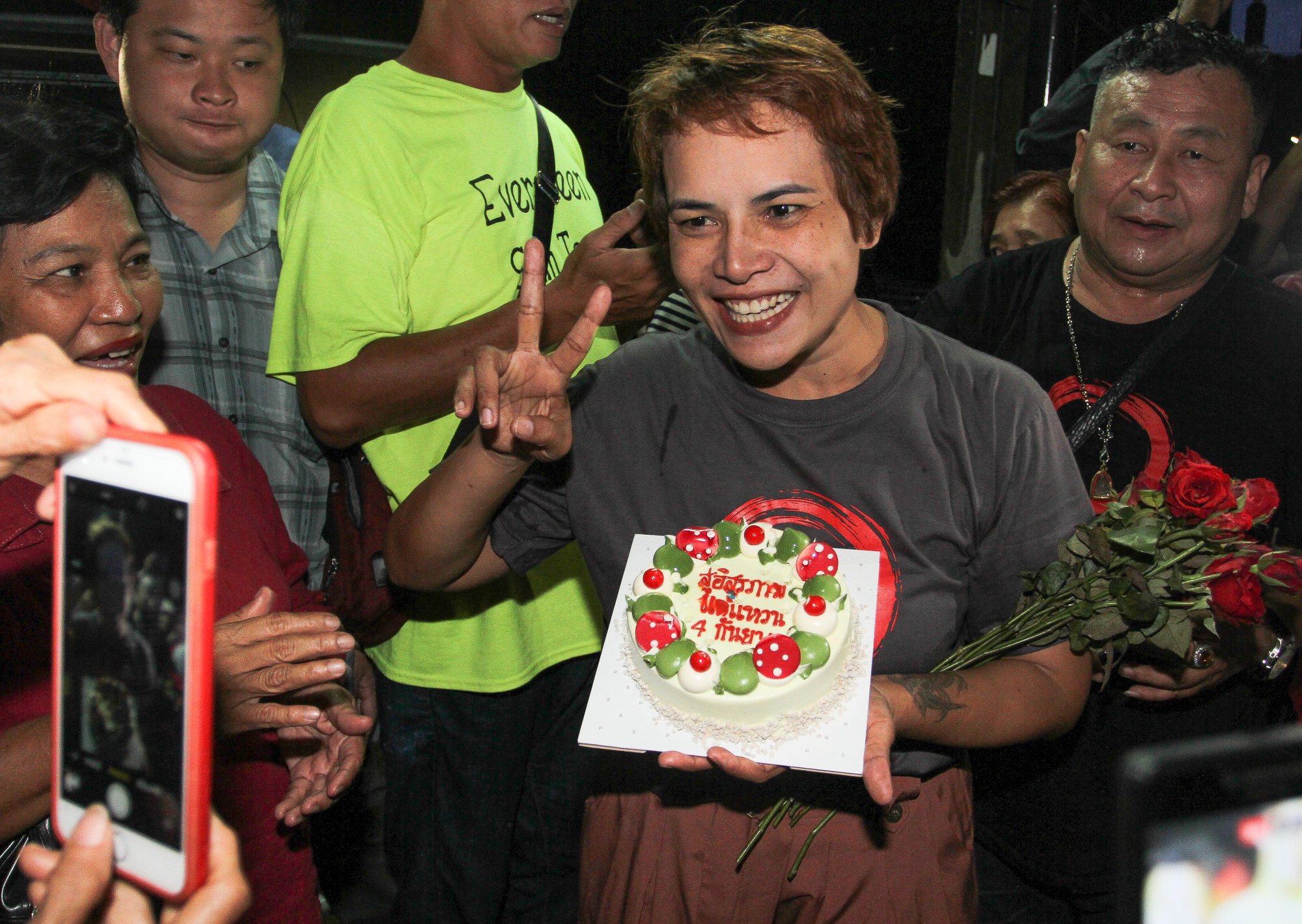 The Red Shirt supporters were there to wait and welcome Waen who was released from the Central Women Correctional Institution the night of 4 September 2018 after the Military Court granted her another bail. Photo courtesy of Banrsdr Photo
Why are you interested in politics?
Prior to her exposure to politics which has brought her all these bad predicaments, Waen was working as an assistance to a pharmacist in a drug store for four years. It helped her to acquire knowledge about drugs and medical equipment. After quitting the job, she found a friend of her was working as a medical volunteer, so she decided to help her friend. She did not do the job every day. She only worked on certain occasions, i.e., during floods, on important days like Father's Day, Mother's Day. She did not join any group and was not affiliated to any of them. She and her friends just formed their own group calling themselves "Green General Group" using red as its symbol.
Waen recalls that she had never participated in any political gathering prior to March 2010, a few days after the UDD supporters started taking to the street. She happened to go to the demonstration site as her mother asked her to look for her brother who had vanished into the sea of the demonstrators for several months. Even though, she could not find her brother, she happened to have visited the demonstration site several times getting to meet her relatives or people from her hometown who joined the demonstrations there. It was an opportunity for her to make use of her skill.
"The more I have gone there, the more I have sympathized with them. I know that what they need is medical treatment and first aid to tend to wounds, snake bite, bruises, headache, fever, allergy, and diarrhea. Waen spent her own money to buy basic drugs, paracetamol, and antihistamines to give to the people there."
"I did not know exactly who they are, Nattawut Saikua, Jatuporn Prompan, Veera Musikhapong, even on 10 April, I had no idea who these people are. I was there just to talk with people who came from my hometown; I have been back to my hometown for some time. I have gone back to the province once every two or one year. So I felt elated getting to meet up with them and started to sympathize with their difficult living. I was impressed by their determination and felt bad for the way they had been treated. It was not that I had had no knowledge in politics. But I had no idea what they were fighting for. I only knew they were treated so unfairly and I could not tolerate their being abused. They just wanted to cast their votes in the ballot box and did not want a funerary box. Why did they have to fire tear gas from helicopter? Why did they shoot at people this way? I started to feel the bond with them and worry about my relatives and teachers."
After the event in 2010, she has become more engaged in politics becoming a board member of a Red Shirt village in Udon Thani, joining the People Power Network (PPN), offering training to community leaders and other core members countrywide. The training was meant to nurture their leadership and educate them about democracy and Thailand's constitutions. She insists that these activities have been conducted legally. But right after the 2014 coup, all these activities have been banned by the coup makers.
Asked how did she become interested in politics? Waen said she had had some idea about politics, but not so engrossed with it. She has found the most concrete policies being developed during the reign of Prime Minister Thaksin Shinawatra. Them she ran three businesses and employed many workers. With good cashflow, she even had enough to hire a babysitter to look after her two sons. It enabled her to have free time to use to acquire more working skill.
The 2012 deluge left her businesses in tatters. She started to have some quarrel with her husband as she has since come out to speak about what really happened during the dispersal of the demonstrations.
"In 2012, all my businesses were gone. Businesses of the whole family were devastated by the floods. The floods spared nothing in my beauty salon. I could manage to sell nothing after the water subsided. I could not rent the shop out, too. I managed to sell my cosmetic business to a friend. I ran into a problem with my friend on our joint investment in a milling factory with bounced checks. I could manage to keep just some machine. My mother in law was not so happy with my outspoken personality and publicity. She and my husband's sister were mad at me for speaking out too much. They offered to pay me one hundred thousand baht to sever relationships with my husband. I refused to take it but wanted to talk this over peacefully. But my husband refused to break up with me. I eventually had to tell him I was seeing another guy, he then decided to break up with me in 2012. But he denied my visit to our two sons, 16 and 8 then, who were living with him then. I also broke up with my second husband who was not so helpful and even criticized me."
Even she can now enjoy freedom outside, all the prior events have estranged her and her ex-husband even more. As her ex's family refused to allow her to contact her sons, she is too scared to contact them. It is not possible for her to restore her stable job. Travel expense incurred from the legal cases also takes its toll on her.
The two cases against her proceed slowly. In the bomb attack case, the military prosecutor has failed to get their witnesses to give evidence on time and the hearings have to be postponed more than ten times. Unlike the civilian court, the Military Court cannot fix the hearings to take place consecutively. Witness examination can take place probably two times a month, each lasts half a day. The procedure is so protracted and as the prosecutor often fails to get witnesses to give evidence on time, it has even caused more delay and incurred even more expenses for defendants in such cases.
As to the lese majeste case against Waen, the first witness examination only commenced on 20 July and in this case, she is barred from appealing to a Military Court of higher instances. It is likely that it will take some more time to complete all witness examination given that there are 20 persons to be examined by both parties. Until now, only three persons have given evidence to the Court. So the second case against Waen will certainly last not a long time, just like the first case.