Since 13-14 October 2020, the demonstration of "the People's Party 2020" has become more intense along with the greater level of "suppression" by the government officials including the mass arrest since 13 Oct: the declaration of severe state of emergency, the detention of protest leaders for longer than 2 weeks, and the ceaseless issuance of arrest warrants to prosecute the cases involving the demonstrations.
Thai Lawyers for Human Rights has previously reported the statistics of cases since the demonstration of Free Youth's rally on 18 July until 10 October 2020. It is reported that at least 65 people were prosecuted in a total of 23 cases related to the political demonstrations.
However, the number of cases has changed dramatically from October to the beginning of November. According to the data, documented by TLHR, from July 18 to November 13, 2020, there were at least 174 people in 75 cases were prosecuted for political demonstrations. (Including those received arrest warrant but have not yet to be present at the police station to be informed of allegations)
Within one month, there were 52 reported cases, or three times greater than the reported statistics from July to September. While the number of people being prosecuted is 2.7 times greater. It has not included the various cases of the protest leaders and participants being prosecuted over the past months.
Despite the increase of statistics on the number of lawsuits and people charged from political gatherings in October, the arrest and the issuance of arrest warrants were from the previous demonstrations since July. For instance, on 6 November, the protestors have just been informed of charges from the rally on July 27 in Samutprakarn province. As of November 15, there were at least 19 cases charged in relation to the demonstration from July to September. Some were also arrested or received warrants in October from previous demonstrations since July.
It is reported that since the demonstration on October 13, 2020, the officials prosecuted at least 33 cases related to political demonstrations. The tendency of prosecutions was that the small and large demonstrations held in Bangkok and its vicinity is greater than the demonstration held in the provinces. However, there were reports on the numbers of prosecution on those participating in the demonstrations held in other provinces.
The political cases can also be considered in several issues as follows: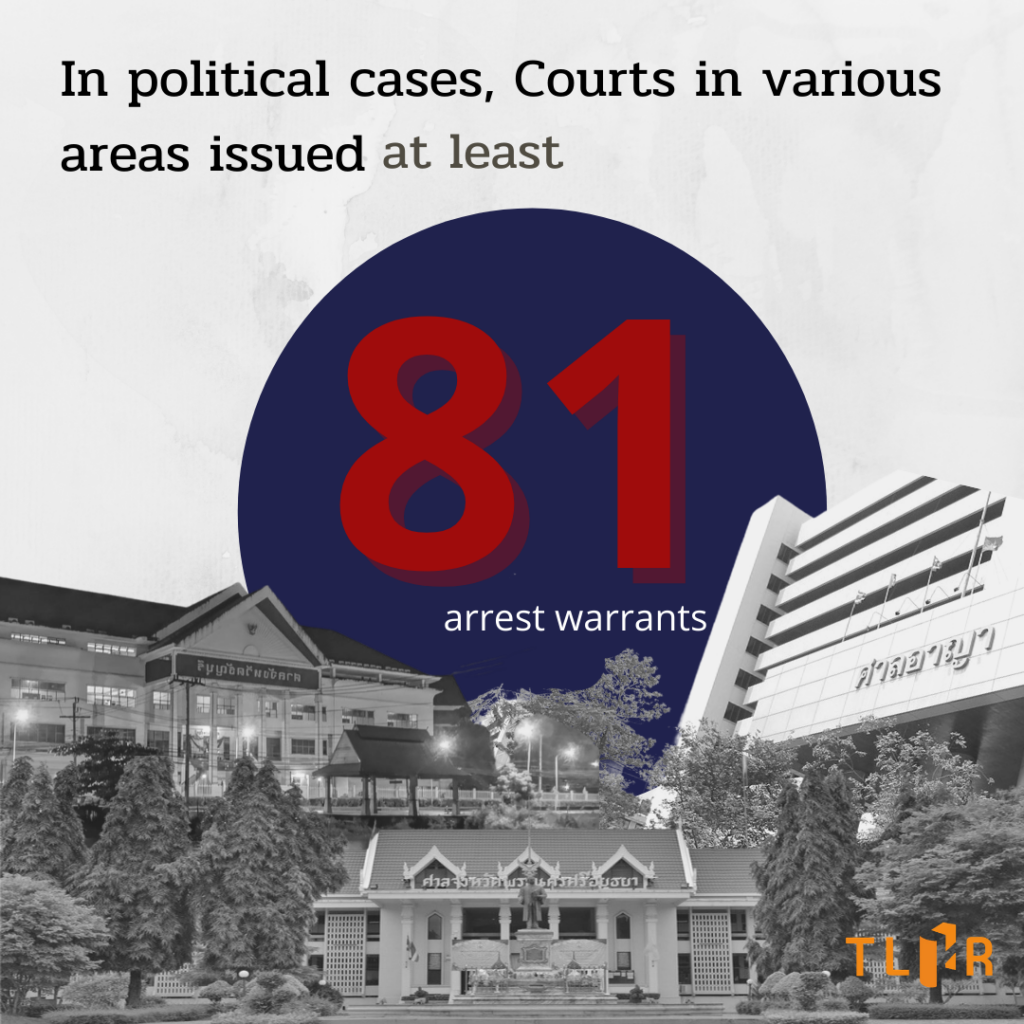 If considered the news stating that the National Security Council (NSC) had made assessment on the demonstration on November 10 was weakened, along with the proposal to the government to allow the demonstration and then "use the law to prosecute the participants which will weaken the demonstration later," it can be said that this framework resulted in the prosecution, as mentioned above, characterized as the use of "law" and "judicial process" as political tools in response to the political goal. It is to suppress and to stop political expression and demonstration by putting burdens on those who oppose the government. The processes are similar to the NCPO era. Thus, this practice is neither "law and enforcement" under the Rule of Law nor using the judicial process to create "justice."