On 19 May 2017, Ms Sirikan Charoensiri, human rights lawyer at Thai Lawyers for Human Rights (TLHR), received the Lawyers for Lawyers Award in Amsterdam, the Netherlands.
The prize is awarded to a lawyer/group of lawyers who had been threatened or suppressed as a result of their working to promote the rule of law and human rights. Lawyers for Lawyers, an independent non-political Dutch foundation, first introduced the biennial award in 2011. The foundation works to protect the rule of law, and freedom and independence of the legal profession, through providing moral, financial and legal support for lawyers who are facing prosecution on the course of their work. Their aim is to conform with international law and standards, including the Universal Declaration of Human Rights, the Basic Principles on the Role of Lawyers and the Declaration on Human Rights Defenders.
In 2017, lawyer Sirikan is selected among the shortlisted nominated 18 lawyers and organisations from all over the world for her courage and dedication to providing legal service to her clients, and to raise awareness of human rights situation in Thailand, unknown to the West. The Award was presented to her at the end of the seminar "The Voice of Rights" on harassment and threats against lawyers and freedom of expression in countries including Colombia, Turkey, United Kingdom and Thailand. Iyad Alami, a Palestinian lawyer, and Dr. Mohamed al-Roken from the United Arab Emirates were as well mentioned as the jury's short list during the presentation of the Award.
For the occasion, Sirikan had been invited to deliver an acceptance speech regarding the ongoing human rights violation in Thailand after the 2014 coup and the important role of human rights lawyers during this critical time. Sirikan also extended her gratitude to those fighting for democracy, human rights, and the rule of law under the military regime.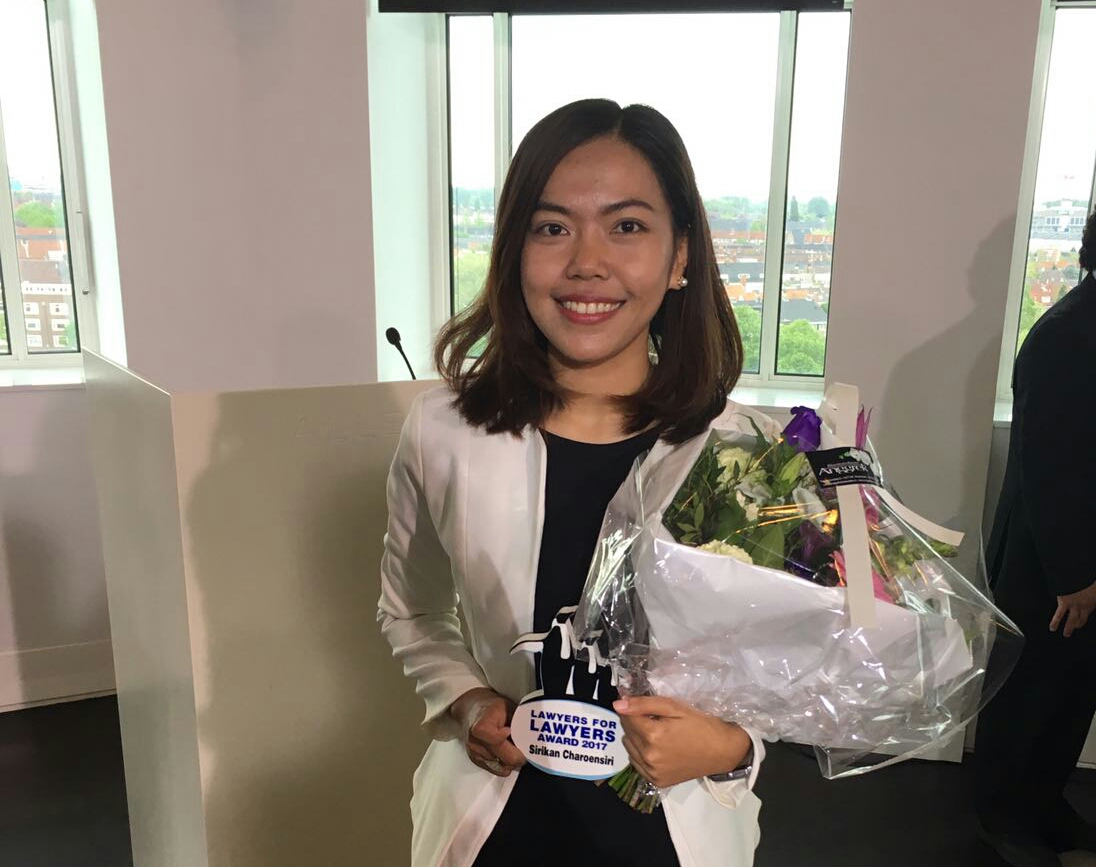 Acceptance speech delivered by Sirikan Charoensiri (June)
at the Lawyers for Lawyers Award 2017
19 May 2017
President of Lawyers for Lawyers and the Board Members, distinguished juries, colleagues, ladies and gentlemen,
On March 27, three weeks after I arrived in Tilburg under the Shelter City's three month program of Justice and Peace in collaboration with Dutch cities, I received an email informing me that I was awarded the Lawyers for Lawyers Award for 2017. I spent about half an hour reading and rereading the email to make sure it was not or a mistake. My first thought was 'Really?, but I am still young and inexperienced! [to carry this heavy award!]' But then, I felt honoured and humbled to accept this Award, an Award which recognises the perseverance of lawyers in upholding the rule of law and human rights, while continuously being threatened.
I stand before you today to convey my deepest appreciation, and on behalf of my Thai lawyer colleagues, in being honoured with this award. Thank you, Lawyers for Lawyers, and everyone for supporting us.
I would like to draw your attention to the human rights situation in Thailand, which, as the jury stated, is relatively unknown to the West.
On 22 May 2014, the Thai military staged a coup, replaced civilian power with military rule, among other methods, by: implementing Martial Law throughout the country; suspending the Constitution and replacing it with an interim constitution that gave the military ultimate power over the country; granting military officers the power to arrest and detain a person for up to seven days without charges and without access to lawyers; imposing a ban on political gatherings of five persons or more; and extending the jurisdiction of the Military Court to civilians for certain offences including the crime of lese majesté, or defamation of the Thai monarchy, which carries a punishment of imprisonment of 3 to 15 years per count.
The situation prompted me and my colleagues to react. It was a mutual agreement among not just human rights lawyers, but our friends, including human rights defenders, activists, and volunteers who have long worked in the human rights and social justice fields, that in this time, human rights lawyers must step forward to be the forefront to protect the rights of people. Therefore, on 24 May 2014, we set up an organisation called the Thai Lawyers for Human Rights or TLHR, to help people who were arrested and persecuted by the military regime. We thought the situation would return to normalcy in 3 months' time, but we then we realised that the military would remain in power for longer. They remain in power until today and the human rights situation remains unchanged.
During the past three years, TLHR has assisted in at least 110 court cases in military and civilian courts in cases related to freedom of expression, freedom of assembly, and for others in need to ensure basic access to justice. At the same time, at least two of my TLHR colleagues who monitor and document human rights situation are facing charges and subject to military court prosecution for doing their jobs.
Nevertheless, they have not given up and continue to give their best to their work.
Ladies and gentlemen,
Since the military coup in 2014, Thailand has put in place a repressive legal framework that is inconsistent with the rule of law. The interim Constitution gave the Head of the junta sweeping, unchecked powers to issue orders, which cannot be judicially reviewed; the new permanent constitution, promulgated on April 6, leaves these orders intact.
As a lawyer, I cannot accept such a repressive framework and system which undermines the system of checks-and-balances, democracy, the rule of law, and guarantees of rights and liberties. Simultaneously, the military junta and their agents are immune from legal accountability for their actions. How can any legal professional, who must uphold and protect the law, accept this? Are we not the protectors of justice?
In 2015, I faced a significant challenge in my professional life, a real test of whether I am a dignified and proud lawyer who can defend the rights of others. This happened when the Thai authorities attempted to search my vehicle at night, without a court warrant, in the area of a military court. They claimed that they were going to seize my 14 student activist clients' belongings and mobile phones. All I could think about was that what kind of lawyer would I be if I let this illegal search happen? What I would tell my clients when I visited them in prison? I thought it would be unethical and a breach of my clients' confidentiality, and, importantly, would signify my consent to breach the legal integrity of justice and allow an attack against the independence of lawyers. My answer was no. I refused to comply with the authorities and their breach of the law. Although this incident has led me to face a raft of criminal offences, including refusal to comply with an official order and sedition, which subjects me to military justice, I have no regrets.
I have to say, apart from having principled and courageous colleagues with me, my decision was inspired by the brave hearts of young activists who peacefully speak out and protest against the unjust system and the illegitimate, undemocratic regime. One of whom is currently detained and has been in prison for more than 5 months under the lese majeste offence for sharing a news article of the Thai King's profile on Facebook. I hope that we will extend our thoughts and attention to them, the peaceful defenders of freedom of expression and democracy, and all those who stand up for rights of others.
The courage that many may admire in me in the course of my legal work and defending the rights of others is the collective strength and shared commitment of the many people in my life. It is impossible to name everyone. Among others, I would like to…..
Thank you to my family for raising me with passion for life and human dignity, for always advancing me with better education regardless of financial difficulties, and for giving me the freedom to be myself, follow my life purpose, and do what I love. I am thankful for their endurance and strength to stand with me along this challenging road.
Thank you to the human rights community in Thailand, international communities and organisations, and everyone who sees the importance of human rights. Thank you for your continued support.
Importantly, thank you to my colleagues at TLHR. My courage and unwavering commitment are a reflection of my team mates, as well as other colleagues who have long struggled with hope for fairness and justice. I cannot thank you enough.
If you are watching and hearing this now, I hope you feel my support and the support from many people around the world who admire your work and your commitment.
As this is an endless struggle, I would like to also encourage my colleagues and the new generation of young lawyers, and human rights defenders to not give up and be hopeful and proud of what you are doing.
The Lawyers for Lawyers Award indicates the solidarity and integrity I have received from colleagues of my profession, and that I am being told firmly that 'June, You did the right thing, This is what a good lawyer must do!'. It means that when our friends face problems and threats for defending human rights and protecting the legal system, they are to be encouraged and supported so that they can continue to function independently, without fear and harassment.
In light of this, I truly believe that the Award is dedicated to many other deserving lawyers and human rights defenders, some are here with us today, who have never given up their fight for justice and for rights of others, not only in Thailand but elsewhere.
The Award is not a personal recognition of winning the prize, but the collective recognition of the great work of everyone in this never-ending fight and our common struggle for fundamental rights and justice. Let us not forget that our work is far from over! Keep it up every day!