22 June 2018 — Thai society has been "wrecked" by the National Council for Peace and Order, Thai Lawyers for Human Rights (TLHR) has said in its newly released report on four years of military rule in Thailand.
The report, which was launched on Friday at the Foreign Correspondents' Club of Thailand, warns of the long-term consequences of creeping militarization under what is now the country's second longest-running military dictatorship.
"The military government has set out to establish its own version of political order and to do so through legislation that will continue to have consequences for Thai society long after the junta itself has withdrawn from office," TLHR says in the report.
Soldiers are now integrated in national administration at all levels and in all branches of government, the Bangkok-based legal and advocacy group notes.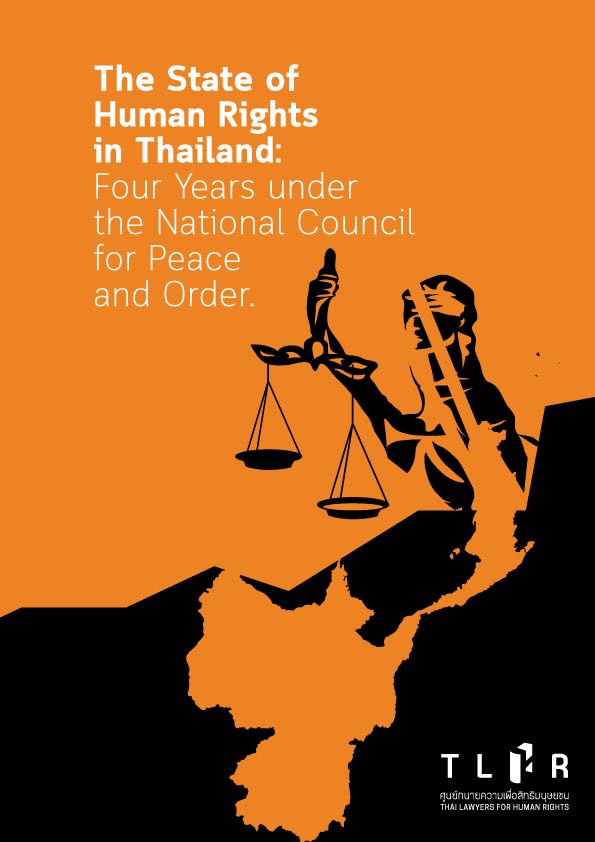 It calls attention to the trial of civilians in military courts and urges that the practice be stopped at once. It also demands the revocation of orders that give soldiers oversight of public prosecutors and the police. And it urges that judicial orders that have the effect of giving the military impunity for its actions during and since the coup be set aside.
A distinctive characteristic of the new regime is its "constitutionalization of absolutism", TLHR says. This characteristic not only gives the regime's antidemocratic project its strong legalistic quality, but also makes "evident the NCPO's intentions to leave its mark on Thai society for the long term".
Any new civilian government will have to act decisively to address these intentions by ensuring that military personnel are weeded out of legislative, judicial and civilian administrative offices.
Legislation and orders passed by the regime will also have to be reviewed, and if found to be inconsistent with democratic principles must be amended or revoked, the group says.
Since the 2014 coup TLHR has represented 303 persons in 151 political cases. Of these, 54 are cases of lese majeste against 64 accused, out of which, 25 accused are being prosecuted in military courts.
The group's report points to a sharp rise in prosecutions for other political offences, with at least 92 persons charged with sedition and 378 for violating bans on political gatherings of five persons or more, as well others for alleged computer crimes, and in contempt of court proceedings.
TLHR has further documented instances of at least 876 individuals summoned by the military to participate in "attitude adjustment" sessions, while at least 417 individuals have been threatened, harassed and followed.
The targets of cases and harassment are not only politicians and former Red Shirt and Yellow Shirt leaders but include a variety of "students, activists, academics, politically active individuals, and people with prominent online profiles", as well as community leaders who are organizing on environmental, public health and labor issues.
Human rights abuses committed against these and other people include arbitrary detention, torture, and violations of rights to freedom of expression and assembly, and to fair trial.
"To date, no independent, impartial body has investigated these allegations, while the suspects have not been provided with effective remedies," TLHR emphasizes, in calling for steps to be taken to these ends.
A new civilian government will have to ensure that people who have had their rights violated by military dictatorship get redress, it adds.
The full report, and further information, can be found on the TLHR website :