In the morning of 23 January 2023, the lawyers traveled to the Central Women's Correctional Institution to visit "Tawan" Tantawan Tuatulanon and "Bam" Orrawan (last name withheld) who are entering their 6th day of dry fasting.
The lawyers learned that, on the night of 22 January 2023, Tawan was so weak to the extent that she fainted in the toilet, her head hitting the floor. Tawan, however, continued to refuse medical treatment and a CT scan to check for any abnormalities.
Currently, Tawan and Bam's lips are pale, dry, and chapped. Both of them feel weak and are unable to fall asleep. Tawan lost almost 5 kilograms while Bam lost around 6 kilograms.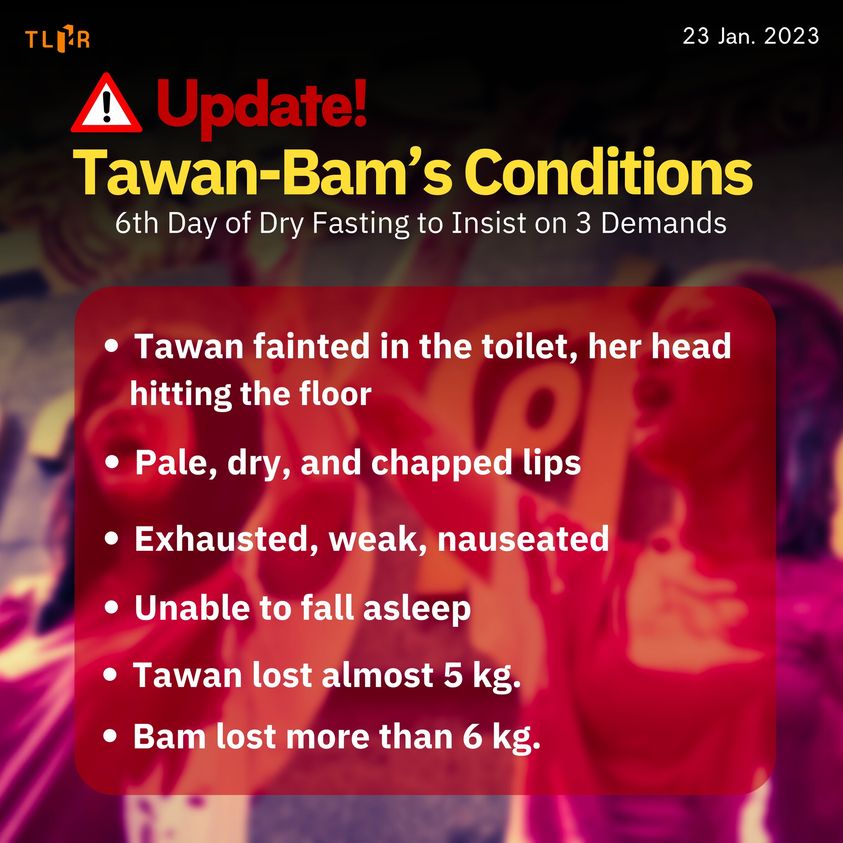 During their conversation with the lawyers, the two had difficulty sitting upright. They had to lean on each other. Tawan rested her head on Bam's shoulder and Bam, in turn, rested her head on Tawan's head. Throughout the conversation, the two used cold compressing gel on their foreheads, necks, and faces, so that they would feel awake to talk to their lawyers.
Both Tawan and Bam expressed their intention to not be forced to remain in the Medical Correctional Hospital. They want the authorities to take them back to the Central Women's Correctional Institution or a medical facility that is not under the responsibility of the Department of Corrections. This is because they are concerned that information about their physical conditions as a result of dry fasting disseminated to the public by the Medical Correctional Hospital will not be consistent with reality.
.
Tawan and Bam will continue their dry fasting until their 3 demands are met:
1. the justice system must be reformed. Courts must take into account human rights and the right to freedom of expression before other matters. They must be independent and free from external forces. They must protect the rights and liberty of the people, and the courts' executives must not interfere with trials;
2. cease the prosecution of people who came out to exercise their freedom of expression, to protest, or to express themselves politically. [Political] prisoners must be released; and
3. every political party must propose policy to guarantee the rights and liberty of the people to be involved in politics by abolishing Sections 112 and 116.
.
It should be noted that protesting the bail revocation of "Get" Sopon Surariddhidhamrong and "Baipor" Natthanit Duangmusit by the Bangkok Criminal Court, on 16 January 2023, Tawan and Bam— both of whom were charged under Section 112 of the Criminal Code for a Facebook live speech in front of UN buildings and conducting a public opinion poll at Siam Paragon shopping mall in central Bangkok about royal motorcade, respectively—traveled to the Court to revoke their own bail. In the evening of 18 January 2023, Tawan and Bam announced the start of their dry fasting, which they said would continue until their 3 demands are met.
.
.
Read more on the background of arbitrary detention and judicial harassment of "Get" Sopon Surariddhidhamrong and "Baipor" Natthanit Duangmusit, pro-democracy activists
.
The Urgent Appeals of the Human Rights Organizations can be seen below:
https://www.fidh.org/en/issues/human-rights-defenders/thailand-arbitrary-detention-of-two-pro-democracy-activists
https://www.hrw.org/news/2023/01/20/thailand-free-detained-critics-monarchy