Series: YOUNG มีหวัง
Seventeen years – the age of "Thanakon," the first youth charged with violation of Article 116 of the Criminal Code and "Sainam," the first youth charged with violation of Article 112 (lèse-majesté) of the Criminal Code.
Sixteen years – the age of "Nat," the youth who experienced the longest period of detention because he did not have parents to bail him out.
Fifteen years – the age of "Warit Somnoi," the youth who was shot and killed during the #16August21Protest.
Fourteen years – the age of the three youngest youths charged with violation of Article 112.
Thirteen years – the age of the youngest girl who has been intimidated by the authorities for joining protests and observing royal motorcades.
Twelve years – the age of the youngest boy who has been arrested at a protest, merely because he cycled from his home to observe it.
The number of youth prosecuted and harassed has increasingly grown while the their age is younger and younger. Between 2020 and 5 May 2022, at least 280 youth have been prosecuted in 204 cases for their participation in political demonstrations. The increase in the number of youths charged reflects the intensity of repression by the state.
A 12-year-old boy was arrested and charged with violating the Emergency Decree due to passing through the #13September21Protest in Din Daeng while cycling home. And on 5 May 2022, he went to hear another accusation brought against him in a second political expression case only half a month after his 13th birthday.
A possible maximum sentence of 2 years imprisonment is the gift given by the Thai state to this child on his 13th birthday.
Let's get to know "Eia," a sassy kid with likes to stir people up, especially the police. Previously, he proudly proclaimed that "I love Uncle Tu." However, being arrested with his beloved bicycle, being prosecuted for the first time due to observing the Din Daeng mob, and seeing the officers respond to Thalugas with excessive violence, he started to comprehend politics. He sat down to listen to speeches at protests again and again in the hopes of understanding what is happening.
Now, age 13, Eia, agrees with the movement's demands for the prime minister to resign and the institution of the monarchy to be reformed.
1.
His beloved bicycle is a blue-green and "SPEEDLY TURBO" is printed on the steel bar between the seat and the front wheel. It is the appropriate height for youths who are around 140-150 centimeters tall. This bicycle carried Eia to play, fish, visit his friends' houses, and head home at Tao Poon. He cycles an average distance of no less than 10 kilometers per day, with the energy of a growing child.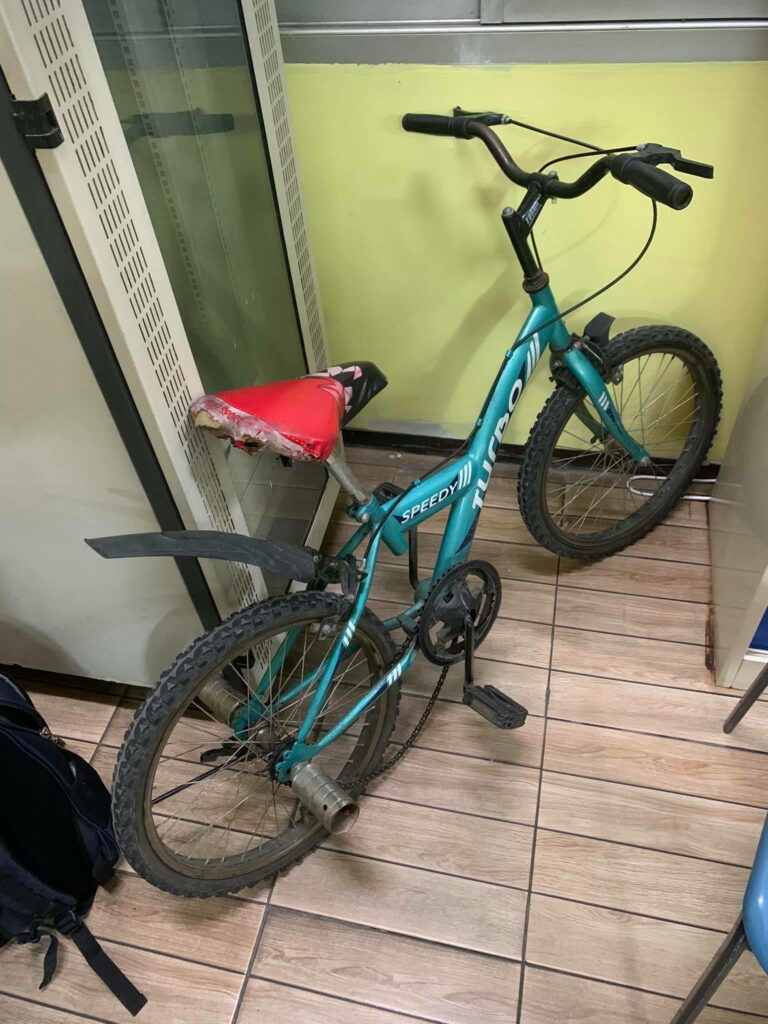 On one evening in September 2021, after protests had been held continuously at Din Daeng for more than a month, the Thalugas Facebook page announced a temporary halt to reflect on their strategy. At the same time, unaffiliated protestors continued to gather at the Din Daeng intersection to demand the prime minister's resignation and justice for the demonstrators violently responded to by the authorities in previous demonstrations.
It was just another day, like any other days for this boy who cycles on this road to get home on his beloved bicycle. But, despite being only 12-years-old, he was arrested and is being prosecuted for cycling home that day.
"That day, I was on my way home. When I passed the Royal Thai Army Band Department, I heard the police count to five. They said, 'Anyone who does not leave will be arrested.' Then I hurriedly cycled in the direction of home as fast as I could. But the chain just came off with no warning! Suddenly, a police truck hit me and I fell into the canal on the side of the road. The police called me to come up and I slowly stood up. The police walked down and took my bicycle."
"He said he would arrest me because I came to the protest. I responded that, 'I just passed by. Don't arrest me. I am still a kid. I am on my way home, and my mom is waiting for me to return home.' Yet the police didn't listen and took the bike and me together to the truck."
"At first, the officer said he would let me go. But his boss showed up and said, 'Don't let him go,' and ordered him to take me away before the reporters arrived. So he took Opal (Ratsadon News' reporter) and me to the Royal Thai Army Band Department."
"I heard them consult with each other, 'What are you going to do with this kid – let him go or what….' Then, after a while, someone who seemed to be his boss drove up, opened the window, and said, 'You don't have to let him go, take him to the Phahon Yothin Police Station instead since Din Daeng Police Station will be surrounded by people."
That night, the boy's hands and wrists were bound with cable ties and he was taken to Phahon Yothin Police Station.The police tried to prevent his parents from meeting him. He refused to sign any documents.
In the end, the police officer instead had to take a photo while handing them a copy of the arrest document copy along with video and audio recordings during the interrogation. The boy was charged with violation of the Emergency Decree. The public prosecutor has postponed the hearing of his indictment at least three times, arguing that the case file remains incomplete. To date, the public prosecutor has not indicted him on any charges.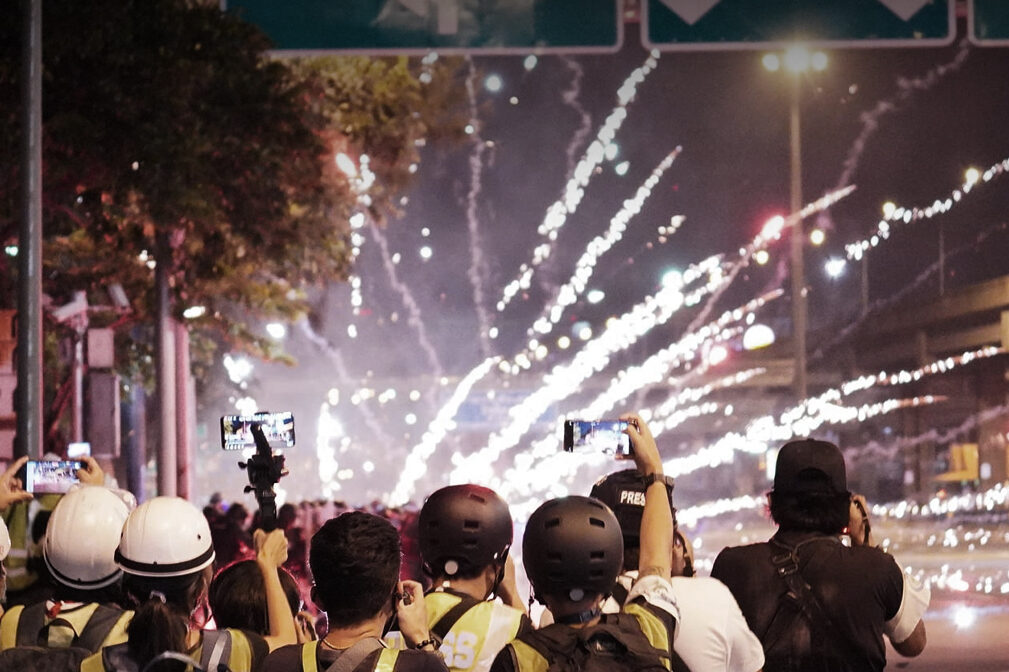 "Why did they use violence to arrest me? Why do they want me to be imprisoned? What will my future hold?"
"I begged them over and over again, 'Please let me go. I did not do anything wrong,' The officer said, 'OK,I'll let you go…' but then he didn't. No matter how nicely I spoke with him, he would still not let me go."
Eia – " I was released at almost 5 AM that night."
Eia's Aunt – "The police asked me for Ea's phone password, too."
Did Eia give them the password?
Eia – "YES" (laughs).
Eia's Aunt – "They think the kid was hired to join the protest.'What were you hired for? What are the police going to find when we search your phone?' They couldn't find anything. The police finally returned the phone because there was nothing. After that, he went back and prepared to clash with riot police every day (smiles). He takes pot lids to go fight with the police." Eia's Aunt laughs while Eia blushes and quickly raises his hand to hide his face.
Eia's Aunt – "The public prosecutor has continued to postpone the hearing on the case. All they say is, 'It is not ready yet.'"
Do you know why people go to protest?
"I watched the news and they said they were protesting to demand that Prayut resign because he has damaged the country. But, of course, I did not know much then, since I wasn't really into politics.
"But as I watched more news and saw the police using violence against the protestors, I also began to want Prayut to resign. Prayut likes to use people's taxes to buy random things and put the country in debt. My neighborhood doesn't like him. He likes to lie since he has promised to improve the country for eight years and has done nothing. So why does he have to lie?"
"At first, I loved him, but later I hated him." (laughs)
2.
His arrest in Din Daeng on 13 September 2021 has caused Eia's mother to be more strict with him. He hardly stepped outside for months. Then, at the beginning of 2022, there was the #P-Move rally by the People for Social Justice Movement demanding fairness concerning the problem of arable land and the #farmersmob, which urged the government to create a moratorium on debt and help the falling rice prices.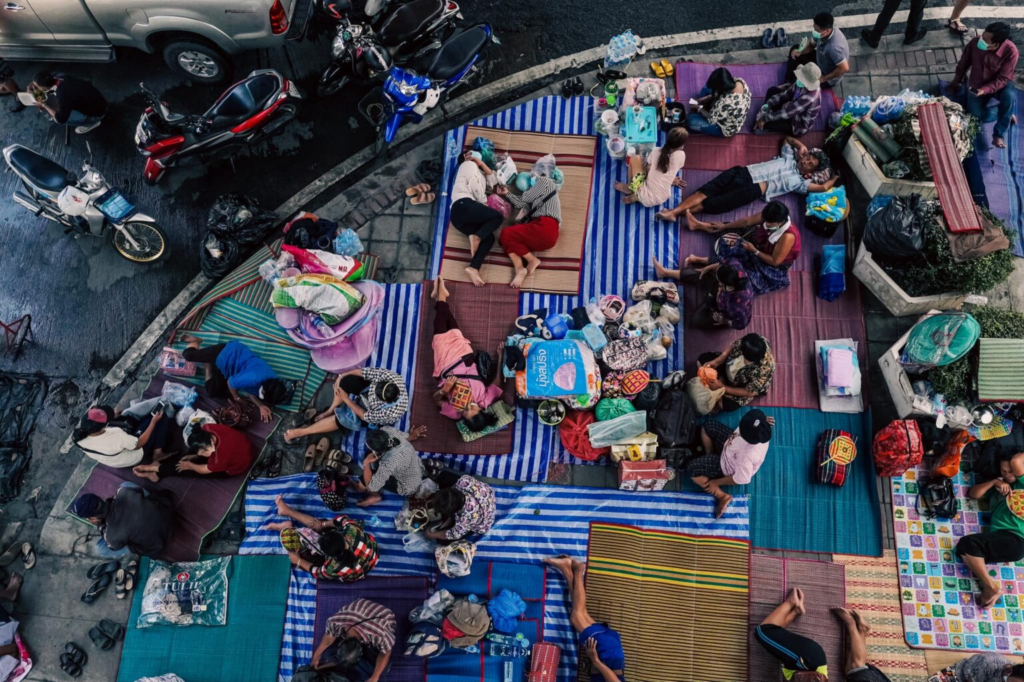 Eia – "Once my mother permitted me to leave the house, I went to every protest. I frequently went to the P-Move and the Farmer Protests."
Eia's aunt – "He was very into the P-Move protest. He returned and told the neighbors, 'Did you know that some people are chased off their land?' He likes to find people with whom to unite."
Eia – "Prayut likes to take advantage of people in remote mountains to build factories. There are many other places such as Bangkok, but he refuses and continues to invade those remote mountain areas…" the boy says in an annoyed tone.
Eia's aunt – "He often talked with the villagers in the protests. He was worried for the villagers. He asked the people from Chana, 'Can you guys go home?' 'If they take over, where will you guys live?'"
Prayuth still does nothing. He still sits in his chair, keeps giving orders, and refuses to allow his work to be audited. He always exploits peasants and refuses to negotiate.
Wherever he goes — the protest in front of Government House, the Victory Monument, or Wongwian Yai — Eia rides his bike from his home in Tao Poon to the destination.
How can he do it? How can he bike to far-off places, with many cards and a high risk of accidents? Plus, Bangkok is not cyclist-friendly because there are no bike lanes and the roads are full of obstacles.
"It's no big deal! I've been a racer since I was born!" He gives a short reply and sports a proud smile.
However, for some destinations that are too far, he opts to travel by bus or taxi.
3.
The P-Move and Farmers' Protest is the first political rally he goes to on purpose. He said that he went there out of curiosity. He wanted to listen to the speeches so he could understand current politics better. However, after his confusing arrest and prosecution in relation to the Din Daeng protest, all he knows is that what has happened is related to 'politics' and the prime minister named Prayut.
Eia sat and listened to speeches time and time again. Then, he started following the protests closely as a major fan until he came to know many activists, including "Tawan" Tantawan Tuatulanon, an activist who is currently being prosecuted in an Article 112 case and "Pim" Pimchanok Jaihong, an activist from the Dragon Revolutionary Group. He refers to these two as 'His favorite older sisters.'
Eia's aunt —"He loves Tawan and Pim so much. He wrote a letter to Tawan (when she was detained in the Central Women's Prison), and I suggested he send her words of encouragement. But he ended up insulting Prayut. It was more about scolding Prayut than encouraging Tawan. So, I don't know if the letter reached Tawan (laughs).
"The day Tawan's bail was revoked, Eia went to shout in front of the prison with others. He told me that he would break her out! He talks just like it is a movie (laughs). But it is impossible! – I teach him to not just do what is gratifying to him, because it will create problems down the line."
Why do you love Tawan?
Eia – "I like older sister Tawan because she talks about politics. Now I'm worried, and I feel sorry for her. So I want her to get out."
"Have they requested bail for Older Sister Tawan yet?" Eia turns around and asks his auntie.
Eia's Aunt – "They have already requested it, I guess…."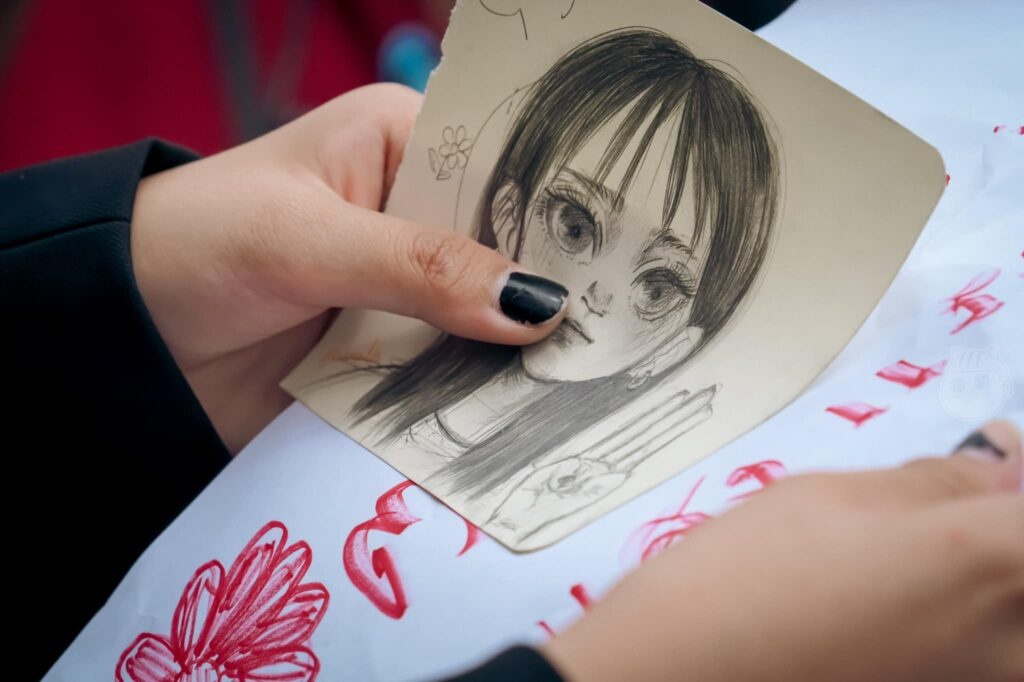 We explain that the lawyer has requested bail ever since it was revoked. Recently, the lawyer objected the police's request for detention and will do it again on 5 May 2022.
Eia's Aunt – "It's the same day that Eia has to go to Nang Loeng Police Station to acknowledge the accusation in his 2nd case."
Eia – "Older Sister Tawan has not eaten anything. She is probably smaller than me now. I feel sorry for Older Sister Pim, too. She has not slept because she is worried about Tawan.
Eia – "It's impossible to live in this country now. You go to jail just for saying little things." Eia says in an angry tone.
At the same time, he said that sitting and listening to speeches, and discussing and debating with activists in the protest, taught him to become more knowledgeable about politics. He started with, curiosity about the television news of the Din Daeng protests and the use of violence and prosecution by the state. He came to agree with the need to get rid of Prayut. Today, he mentions to TLHR that he understands and agrees with the demands to reform the monarchy.'
'A 13-year-old youth wants to reform the monarchy.'
4.
Eia became well known to many people after confronting and trolling the police in the #6AprilwhokilledKingTaksinprotest. The Mok Luang Rim Nam group organized this rally on 6 April 2022 at the King Taksin Monument at Wongwian Yai, to call for correction of the historical record and fairness to King Taksin in the case of power being taken from him in a coup d'etat.
After that day's rally began, the director of the Buppharam Police Station announced via megaphone that the protesters had to stop the rally as it might be in violation of the Emergency Decree. As the police continued to tell the protestors to leave, Eia walked over to the police to troll them with facial-mocking expressions and gestures. He pretended to put his head into the megaphone, pulled his t-shirt over the policeman's megaphone, and blew a raspberry at the policeman.
After the humorous pictures were released, people on social media loved it. Eia became a superstar that day.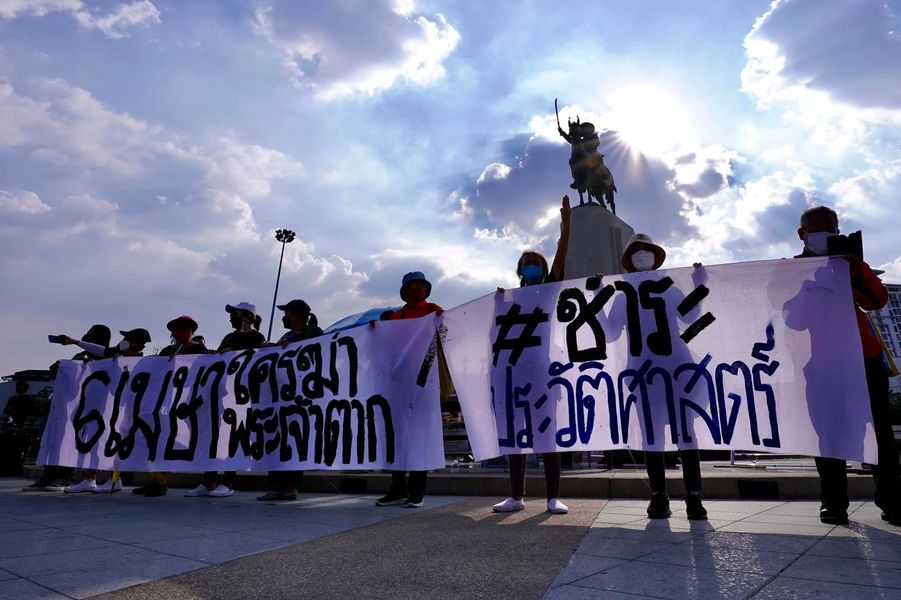 How did you dare to tease the police like that?
Eia – "To me, they are talking nonsense, so I said, 'Everything they say is nonsense and makes no sense.' Every sentence from the police is without truth and so I do not want to listen. So I decided to cover the police megaphone with my shirt. Then he dodged away, so I put my head to the megaphone, then he dodged away again and repeated. After a while, he pushed me. I kept pretending to put my head in new locations. Further, I picked up a traffic cone, pretended it was a megaphone, and shouted out as they did to us. Then another policeman walked in with an unsatisfied face, like he wanted to punch me in the face."
"In the end, the police probably couldn't stand it, so they stopped talking and left (laughs)."
Eia's Aunt – "That day was the rise of Eia, the day he put his head over the police microphone and put a shirt over it (laughs). Someone put it on Tik Tok and it went viral."
"Very naughty" many people told him so. On that day, the so-called protectors of the people, the police created fear among people. However, there was still a 12-year-old boy who dared to face and strike back against the khaki-clad police, even though his height barely reached their chests.
5.
It is clear that Eia is a strong young person with an awareness of rights and knowledge of politics beyond his years. But he has already let his tears come out in the protest. This led to the second legal case in his life. During the #15April2022Rally, the Revolutionary Dragon Group called an event Welcome to the Chakri Dynasty" in the area of Wat Phra Kaew.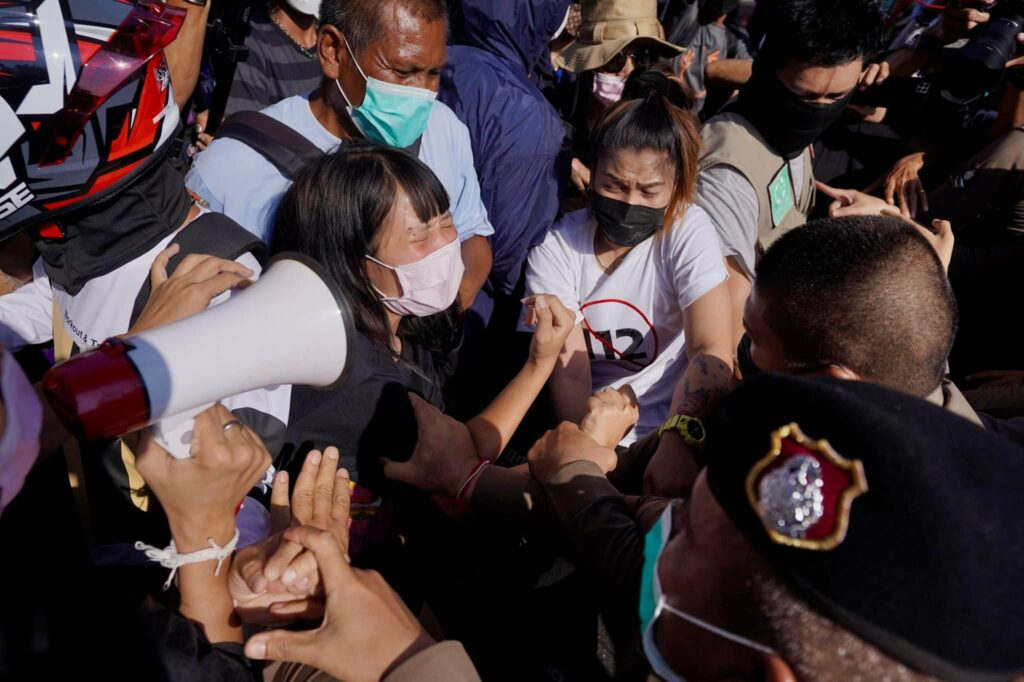 However, at nearly four o'clock in the afternoon, the police officers blocked the road to try to stop their activities until the activists were injured. On that day, Eia shed his tears for the first time.
Eia – "That day, Older Brother Eye was punched in the chest while Older Sister Tawan got punched in the face. Therefore, I ran to help. Plus, I was kicked in the leg."
Eia's Aunt – "Then, he cried."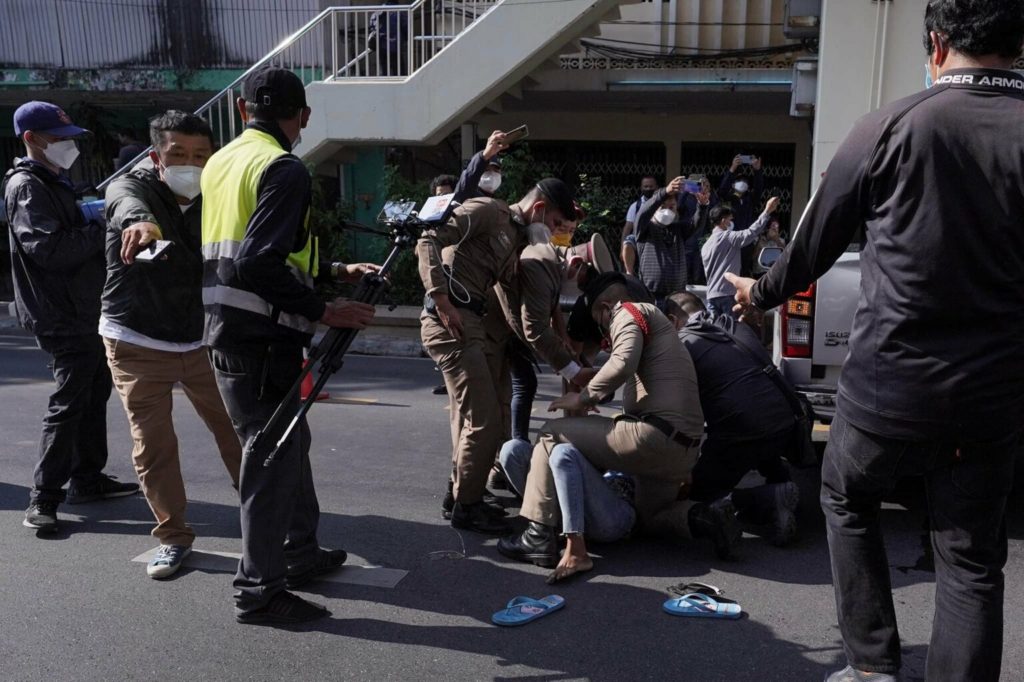 Eia – "And then an old police officer pulled my collar and asked me who I was. He pulled me into the police car, and I tried to run away. After a while, Older Brother Eye pulled me out. The police told me to go to the hospital and check if I got injured. Then he took my name. I didn't have any wounds, just bruises on my heels and knees. The pain took many days to go away."
Several people were injured that day. Some protestors were pressed to the ground until their glasses shattered. Their teeth also hit the ground, and some were trampled. Finally, the Dragon Revolution Group stopped the procession to Wat Phra Kaew.
"Now I'm not going to protests that often because I have football matches."
What do football matches have to do with it?
"It cannot happen. What if I was in a match and the police came to arrest me? What if they come to arrest me and the game is not over yet (laughs)?" But the truth is, he says that going to protests carries a risk of injury. This would make it impossible to compete in football matches.
"Aunty, when will you take me to buy new shoes?" The boy turned around, frowning at his aunt to ask again about buying new shoes for the upcoming big football match. Throughout the conversation, Eia turned around and asked his aunt about 4-5 times, "The shop is going to be closed. What time is it now?"
6.
On 23 April 2022, three days after Eia's thirteenth birthday party, police officers from the Nang Loeng police station notified him of charges for participating in a protest and physically assaulting the police at the protest. This is the second case pressed against him.
The white paper lists the maximum sentence he could face in prison, as up to two years. This reinforces this 13-year-old that he won't have fun like other kids anymore.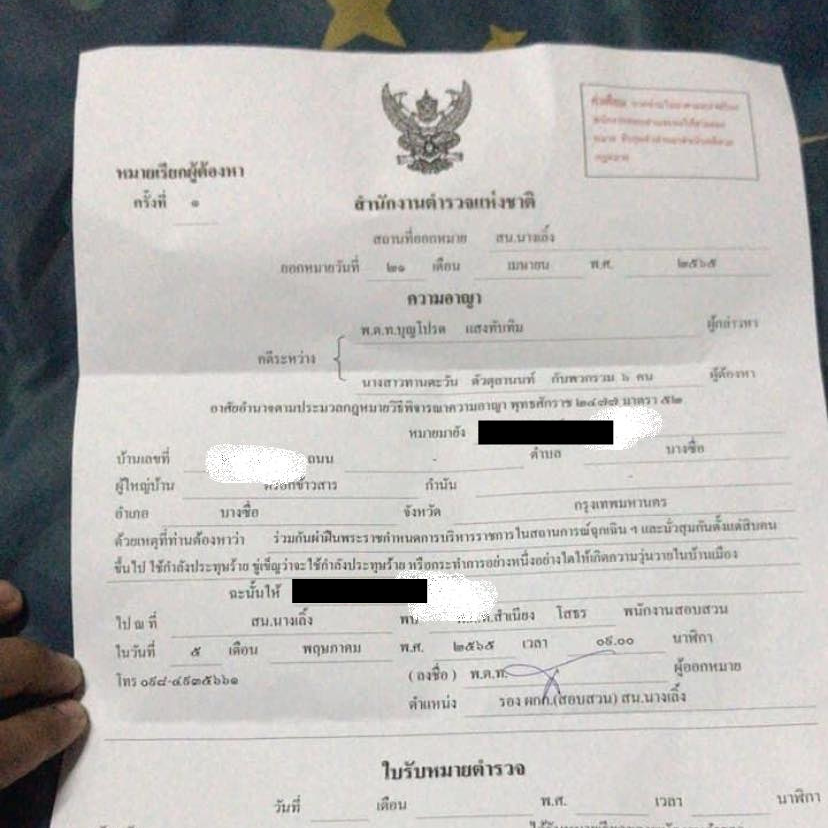 Were you surprised?
Eia – "I was like, 'How could they do this to me?!' The day I was notified of the charges, I was sad. I didn't cry, but I was glum because my mother scolded me."
What did she say?
Eia – "Mom said, 'What have you done? Have you caused any chaos? Let's change your last name then' (laughs). But I'm fine. This problem has become small for me."
Eia's Aunt – "Someone said that you were so glum yesterday."
Eia – "I was not that glummmm! REALLY!" He vehemently denied it but with a high-pitched voice.
"Why did the police charge me? I'm only 13 years old and have not done anything wrong. It was the police who attacked me first. After that, the police kept arresting people, setting up checkpoints, and only focused on arresting me."
Eia's Aunt – "He understands that the police extort money from villagers and gives it to their wives (laughs)."
Eia – "There was news that police stomped on children in Din Daeng mob. They punched Older Sister Tawan and used excessive violence, and I saw the news that the police like to arrest people as a scapegoat for extorting."
Eia's Aunt – "There are only bad cops in the news. So kids do not like the police."
7.
Many children who are the same age as Eia are probably running around on the school playgrounds – having fun with games – waking up to watch cartoons on holiday mornings. They can spend the day playing around, eating snacks, and learning new things, but Eia has to go out to face reality. He was arrested by the police twice, which carried a total of four years imprisonment.
Even so, he has another side just like any other normal kid. He spends his free time playing football. He dreams of becoming a professional footballer when he grows up. He also watches cartoons, plays games like other kids, and has spent most of his free time earning money from "lion dance" and "fishing."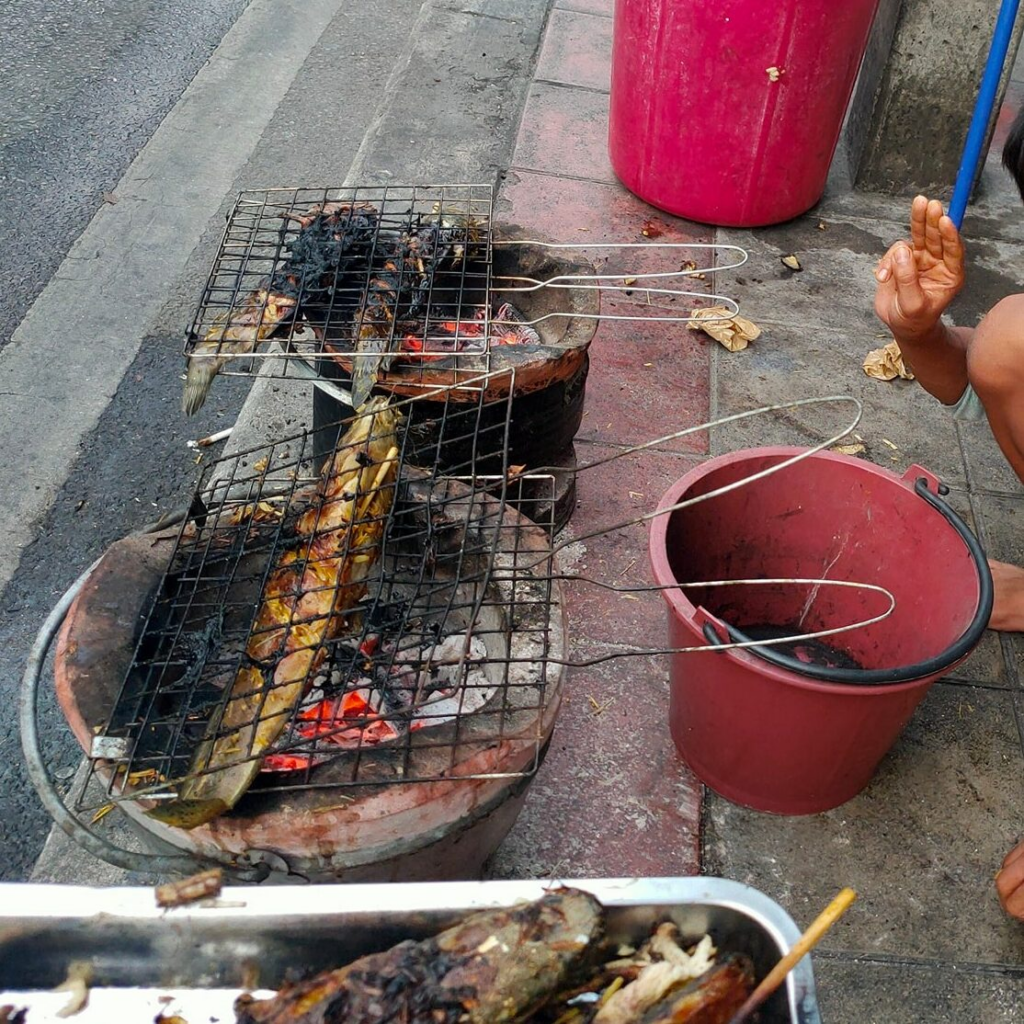 Eia caught catfish, Striped Catfish, and many more and sold them at the market. Lately, the customers tend to be his fans who know him from the mob. In addition, sometimes there are queues in advance across the day. Since he started fishing, Eia now has money to help his family as he has become "The Master of the fishing rod."
However, money from fishing has not been sufficient to improve his family's status. Eia's mother also has to work to feed other six people in the family. Eia has two younger siblings, one older brother and one older sister. There is also another grandmother in the house. All of these are reasons why he could not continue his Grade 7 education after almost a year has passed since he completed Grade 6.
Do you want to continue studying in Grade 7?
Eia – "Not sure; I need to consult my mom about the tuition fees first. And there will be travel costs since my old school only went up to Grade 6. The new school is located more than 10 kilometers away."
Eia's Aunt – "Actually, tuition fees are not that expensive. He is afraid that there would be no money left to spend. He also worries about using the money."
Eia – "Actually, I want to study. But, it might not happen in time this year. So I have to wait for next year."
What is your dream country like?
"A good country for me is one without threats, a country that is prosperous, and the economy is good, but Prayut is not capable of making it possible. The country remains the same. Wages are also lower, and taxes are higher and higher. There are only 'drugs' with high prices. I want people to be equal. I wish they could use taxes correctly and not buy useless things – like submarines."
"Dedicated to the state causing chaos, letting the police do the wrong things, and allowing police to use violence against people who came for help in peace. So why only use violence against them, against us, against me…."
Eia, a 13-year old boy, the youngest minor to be arrested in a political case.