Abuse of authority continues to be conducted by government authorities. Harassments of citizens and activists at their homes, offices, and education institutions without any warrants regularly occur, thereby normalising the situation. Moreover, the authority of government officials in such operations cannot be verified.
Base on the TLHR database, since the beginning of 2022, citizens and activists have been harassed at home or summoned to talk – 83 between January and February (including 9 youths), 66 between March and April (including 8 youths), and 42 between May and June (including 4 youths).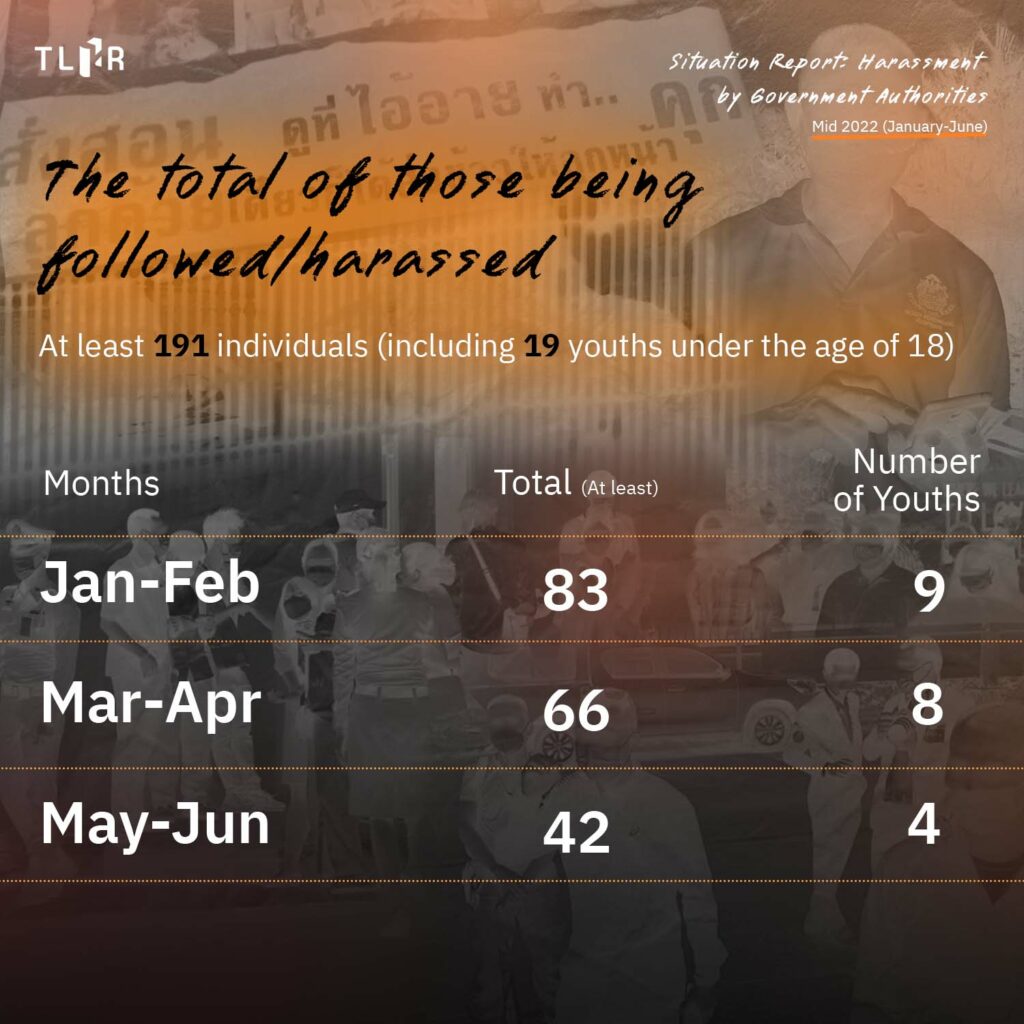 Geographically in May to June, the Central region has the greatest number of individuals being harassed (16), followed by the North-eastern region (13), Northern region (10), and Southern region (3).
Thus, between January and June 2022, there are at least 191 individuals being followed/harassed. Among this number, there are 19 youths under the age of 18 (two of which are only 13 years old).
Nevertheless, this is only the data collected by the TLHR. The actual number of people being followed/harassed is expectedly higher.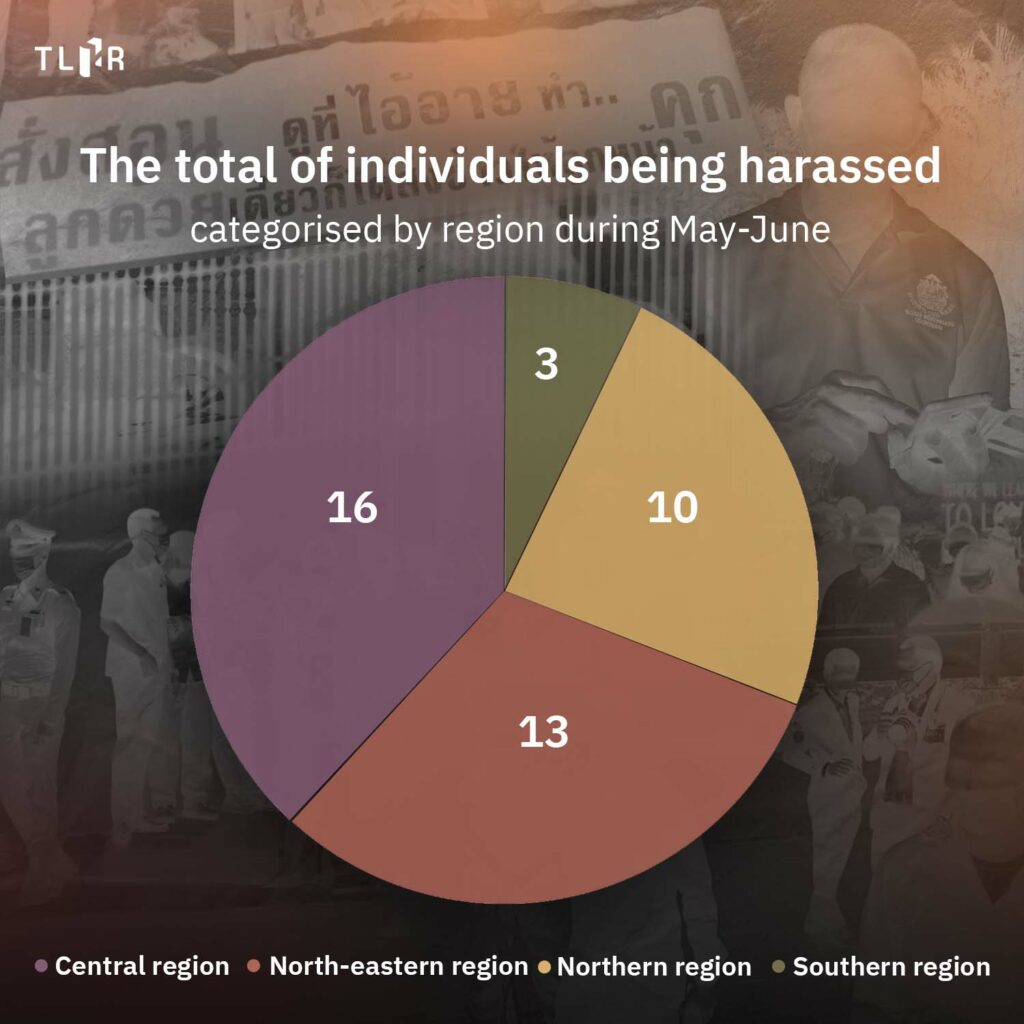 Being harassed Due to High-Level Visits or Royal Procession
Overall, one of the main reasons for these individuals being followed and harassed was due to high-level visits in the area including government officials or members of the royal family. The authorities followed and harassed citizens or activists who have previously expressed their political opinions to monitor and control their actions.
At Ubonratchathani province in the North-eastern region, during the royal procession of King Rama X and the Queen, the authorities harassed and arrested activists even though no one has announced they would conduct any activities. The authorities would follow and take pictures of them to verify their whereabouts.
There was also another harassment incident when King Rama X and the Queen visited Tham Klong Plae Temple in Nong Bua Lamphu province in the same region. The TLHR received information that student activists from Dueng Din or Udon Por Gun Tee Groups had been harassed. Their education institutions as well as parents were pressured to give information related to their names, addresses, as well as their whereabouts during the royal procession.
In the South, on 25 April 2022, Prime Minister Prayuth Chan-ocha visited Songkla and Pattalung provinces. The police visited at least 7 activists at their homes – one of the activists was arbitrary detained for two hours, just because they wanted to submit a letter to the prime minister.
In the North, a former red shirt leader in Chiang Mai province was appointed by the police to discuss any movements prior to the visit of Deputy Prime Minister Prawit Wongsuwan in mid-June.
Being Harassed Without Known Causes
There are other citizens and activists that were harassed without any known causes.
In the case of Supreeya, a former activist from the Chiang Rai Liberation Group who was accused with lèse-majesté after posting a label "royal budget>people's compensation budget", she revealed that she was regularly followed/harassed by the authorities. In April, she was informed by her neighbours that there were 4-5 police both in uniform and in plain-clothes coming to her house by car, inspecting her house, and taking photos without any warrants or informing any reasons of such inspection.
In the case of Posh, a 17-year-old youth, who was visited by plain-clothed police at home more than eight times within a week. They took photos, videos, and inspected his home, as well as talked to members of his family. Posh stated that the police said they were there because it is their job, and to ensure safety. However, the police verbally threatened his grandmom, telling her to urge Posh to stop his activities otherwise he will need to be careful. Posh is unsure why he is being harassed.
As for Thongsaeng, a member of Uttaradith Liberation Group, the police came to take his photos at his home. The police stated that he is a patrol police and so he was taking photos of different houses. However, when Thongsaeng asked to see the photos, there were only picture of his house as well as his car's number plate. Thongsaeng does not know the reason for this operation. He feels unsafe and does not trust the authorities.
There were also arbitrary detentions of two activists in Nakorn Sawan province in late May. The authorities detained the activists from their education institutions, went through their phones, before taking them for interrogation without their lawyers presented. While there is a known cause for this incident, and the police informed them that they had been invited to a talk to identify who is an admin of a Facebook page "revolutionary dragon", the police presented no legal warrant.
Even Symbolic Expression is Prohibited
Since January-June 2022, at least 26 individuals had been followed/harassed by the authorities for expressing themselves symbolically (i.e. signing their names for petitions, holding and posting labels)
At the graduation ceremony at Thammasat University, which was taking place during 27-29 May, participants were prohibited from expressing themselves symbolically, including wearing symbolic clothes, or holding up political labels.
In Prae province, a label "This country belongs to the people" was posted on a building on the occasion of the 90-year anniversary of the 1932 Thai revolution. The police pressured the people of the building to take the label down on 24 June 2022.
Citizens who Shared Online Posts related to the Monarchy are Being Followed
Those who have shared online posts related to the monarchy have been followed/harassed constantly. In the last two months, at least 6 people in the Central, Northern, and North-eastern regions have been visited by the authorities at their homes. Some of these people have shared online posts from the Facebook Page "Thai people in the UK" and the page of Pavin Chatchawanpongpan.
The authorities told them to delete the shared posts and had them sign a document, admitting that they shared the posts and confirming they would not do it again. There was one case where the police came to a person's house and summoned them to the police station the next day to sign a similar document.
The Most Common Pattern of Harassment – Home and Office Visits
While the patterns of harassment are similar – the most commonly used pattern is that the authorities visit the homes, offices, and education institutions of targeted persons. Between January-June 2022, such a pattern has been used at least 140 times. Not only such a conduct creates annoyances and affected the daily lives of those targeted, it also leads to their friends and families being concerned and stressed for them.
The overall situation of harassment by the authorities during the first half of 2022 remains intense. Thus, the human rights situation must continue to be monitored throughout this year.
Anyone who has been followed/harassed by the authorities due to their political expression can notify and report the incidents to the TLHR through all available channels.
Read more:
At least 291 people have been monitored and intimidated by state authorities over the course of 2021.
One Year After Anti-Prayuth Car Mobs: At Least 109 Cases Nationwide, Five Dismissals by Courts and Four Non Indictments by Public Prosecutors
Human Rights Situation Report June 2022: A total of 1,832 individuals in 1,095 cases prosecuted