Montana Duangprapa
I spent more than a month traveling with Sitanan Satsaksit and lawyers from the Cross Cultural Foundation in order to meet with the Phnom Penh District Court judge who carried out the inquest into the case of the 4 June 2020 disappearance of Wanchalearm Satsaksit, Thai activist and political exile in Cambodia.
The appointment was set for 8 December 2020. Sitanan submitted 177 pages of written testimony and other documents translated from Thai into Khmer, as well as spoke with the judge. She asserted that Wanchalearm was forced into a vehicle near his place of residence in Phnom Penh and then disappeared. The evidence she possessed included an audio record of a conversation between her and Wanchalearm, photographs from CCTV cameras, and witnesses who confirmed that Wanchalearm was in Phnom Penh on the day of his disappearance.
As a lawyer from Thai Lawyers for Human Rights, I traveled with the "In Search of Wanchalearm" unit as a participant and observer. We were subject to state surveillance as well as the conditions of the COVID-19 pandemic, which meant that we had to quarantine both upon arrival in Cambodia as well as upon return to Thailand. This resulted in us having to spend one month traveling to attend a one-day hearing. This is a diary of my journey and what I witnessed in Phnom Penh between 10-15 November 2020.
This was my second trip to Phnom Penh. This time was different from when I came as a tourist, at least in terms of how I felt. I still enjoyed watching locals walk by, looking at the funky old-style houses next to the new modern buildings, buildings are so big that even the piece of land in-between does not diminish their magnificence, looking into the eyes of the vendors,      smiling in greeting, and looking at the food available on their shelves, carts and in foam containers.
This time, I looked up at the sky more than usual. I sat inside, working at the same spot in front of a glass window that reflected the shadow of my finger resting on my furrowed brow. Each time I caught a glimpse, I was startled. Lifting my head to look up at the sky offered my eyes a welcome rest.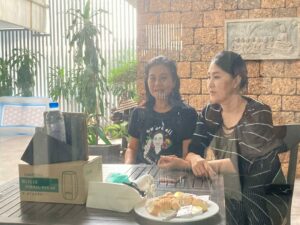 Saturday-Sunday: During the late morning and late afternoon, the common area of our hotel was peaceful and quiet, just right for sitting and reading and writing. I      took out the copy of The Blind Earthworm in the Labyrinth by Veeraporn Nithiprapha that sat motionless in my big suitcase. I brought it and sat down at a big common table. I opened it and read the first page, and then the second, and then the third. Every single letter conveyed suffering. I wept, secluded by the meanings between the lines. A sharp, stinging feeling. I finished the first chapter and closed the book. I clasped my hand to my heart, took a breath in and let it out with a "Dear God," chapter to chapter and on.
I closed my eyes, sighed, and opened my eyes. My vision collided with the "White Sphere" with a clear eye. The sphere settled on me and seemed to greet me: "Hello there." The White Sphere recorded all suffering and amazement mixed together with all the moments when I let out a "Dear God," too. But I was still not satisfied. I carried The Blind Earthworm in the Labyrinth with me to read until I reached, "Khun Chareeya is not here and is nowhere anymore," with that White Sphere itself.
The Day of Eating Ice Cream: The temperature in Phnom Penh in November-December was stifling. We took a weekend afternoon to jump in and out of the car to walk through the steaming air of the      Russian Market, the preferred market for buying souvenirs. We sat in the car and blasted the cool air as we drove through the new city that is called Koh Pich, the land of Chinese investors. On a day when the COVID-19 epidemic raged around the world     , including in Cambodia, the friend who took us around commented that Koh Pich seemed lonely and desolate.
I looked around for some trees and the cool of shade next to the water to sit down and rest.
Two round scoops of milk yogurt ice cream rested perfectly on the cone. The cold, soft flavor quenched my thirsty and cooled my entire body. I handed over $2-3 and the transaction was complete. In Cambodia, the unit of currency is the riel, but everyone is happy to be paid and give change in US dollars. "Muey" dollars is $1, "Pii" dollars is $2. I committed these numbers to memory. I clutched the ice cream in my hand and climbed up to the second story of the shop.
As I noted before, getting to see the sky was a relief      for my eyes. So that day I chose to sit on the balcony at a tall bar perched looking out over the expansive Tonle Sap River. This river welcomed us from the first day that we were quarantined at a riverside hotel. This balcony was the perfect spot to sit and stare at the point where the waters meet and the locals who make a living along the riverbank in the middle of the city and next to a major road called Riverside Road. Everyone who comes to Phnom Penh cannot avoid this road. The sky on this sunny day was an unmistakably bright blue.
The spot was so good that Wanchalearm's older sister offered to take a picture of me. This spot exactly, younger sister, she said. Smile a bit. Turn your face away from the river. Don't cover your face with your hand. Stretch your legs out in front and it will make them look longer. See, beautiful, right? Switch spots with my older      sister. So we traded places.
We repeated the process of taking photographs once again. I held up the phone to show Wanchalearm's older sister, "How about this? Will it do?" and gave a smile full of pride. We lifted up both of our lips and collided with a "Black Object Covered With Eyes": "Hello there." Utterly appropriate for the spot where I sat and turned my face further than usual to find Wanchalearm's older sister. Greetings, O Black Object Covered With Eyes, you have already recorded this joyful spell between me and the older sister, right? The Day of Eating Ice Cream By The River.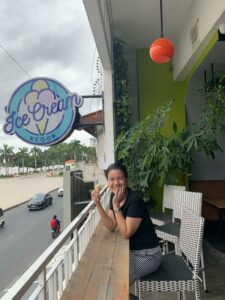 The Day of Traveling Around: We had to leave our accommodation to run errands and go to meetings. After 14 days of quarantine, it was our duty to travel and look around the city. The most-preferred vehicle in Cambodia is a three-wheeled samlor with a motor adapted from a motorcycle and seats in the back. Such a vehicle can carry either quite a few passengers or a lot of stuff. It was the most classic of classic vehicles in my view. But then Indian tuk-tuks broke into the market, small enough for easy navigation and fitted with meters to avoid the problem of haggling over the price. All you have to do is put your destination into your phone, select a tuk-tuk that is close by and get in, and then then pay the amount showing on the meter once you arrive. Plus, there is a record of the entire journey.
If you want to travel one step up in terms of convenience and safety, you can hire a car and driver. With this option, you can have a driver take you all around the city. All you have to do is tell the driver where you want to go.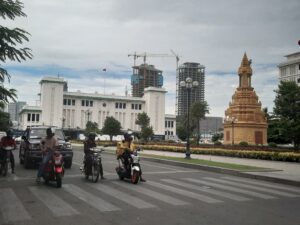 The trip included everything: shopping at the Russian Market, stopping to eat at a renowned French restaurant, meeting up with friends, and making merit for Wanchalearm to be found quickly. Finally, the driver took us back past the Independence Monument, which was constructed to celebrate Cambodia's independence from France. It is a brick monument in Angkhorian style located at the intersection of Norodom and Sihanouk Roads. On top, there is a carved lotus flower pattern adorned with the head of a serpent. It was the point that let us know we were close to our destination and to prepare ourselves.
We looked as far as possible to try to see the sky. Stillness, until when the car went left towards the road to go around the palace, I looked up at the traffic light in front of us. Again a "Long Black Object" which was attached along with the traffic light greeted me: "Suasadey" [hello in Khmer—trans.]. We greeted one another satisfactorily and made me think that it probably looked as follows at the back of the car where I was seated wondering at what point on this road it will park firmly.
You, this Long Black Object, must be friends with the Round White Object, and the Black Object Covered With Eyes, right?
Phnom Penh was a city of a great many "Eye-Covered Objects" on the day we visited.
Given the degree to which we were watched, I hope that there are traces of Wanchalearm present in the records of these Eve-Covered Objects too.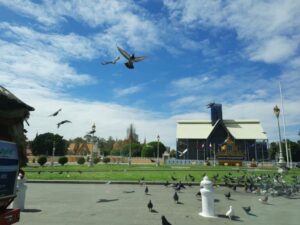 See also>> Four things you should know in "Wanchalearm" Case before Sitanan's Meeting with the Investigating Judge in Phnom Penh: https://tlhr2014.com/archives/25870