It has been reported that on 10 February 2019, Andrew Johnson, an Assistant Professor of Anthropology, Princeton University, USA, claimed to have been detained by the Thai Immigration officers while departing the country. He was reportedly asked about who he had been talking with while staying in the country and where he had been. He was asked also to give his contact information including LINE id and then let go. The officer even informed him that he was one of 30 academics on their watch list.
Dr. Johnson further states that after checking with his friends and colleagues, the watch list has probably been corroborated to include academics who signed a public statement to oppose the prosecution of Thai academics and activists who held up a sign that said "An academic forum is not a military barracks" during the International Conference on Thai Studies held at the Chiang Mai International Exhibition and Convention Centre on 18 July 2017, even though the case was already dismissed by the Chiang Mai District Court in December 2018.
Dr. Johnson's tweet alerting people about his detention at the Immigration Checkpoint
On 15 February 2019, the Union for Civil Liberties (UCL) in Thailand issued a statement demanding the Thai authorities stop detaining and "questioning" foreign academics in such a manner since it could be tantamount to an infringement on personal freedom. According to the statement, there have been many foreign individuals detained and questioned every time they enter and leave Thailand.
An Immigration officer concerned with this detention informed UCL that they had to do it however uncomfortable they felt, though they have tried to make it most polite as possible. They had to do it due to the instructions from the Thai national security agencies that keep these academics and activists on a "Watch List". The UCL, however, demands the expungement of said watch list and urges the authorities to treat these people with respect and politeness when they enter or leave the country.
Thai Lawyers for Human Rights (TLHR) has documented several similar cases since August 2018, including to several international scholars while they were entering or leaving Thailand. They have been subjected to brief detention at the Immigration Checkpoint to allow the officers to ask them questions and check their information. Many such officers claim they have to do this due to the instructions from the Special Branch. Many scholars have encountered such problems repeatedly, even though they had been detained and questioned previously already.
Many academics approached by TLHR have expressed their concern and they do not want to have their names publicized. They fear it will impact on their residency, their work or their research in Thailand. They also have no idea how long such a predicament will last and how many more ramifications it may have. Some are willing to reveal the impact on their rights and freedom and the following accounts are based on how international scholars have been treated by the Thai authorities as made known to TLHR.
Academic detained at Immigration Checkpoint 14 times, no information forthcoming from Special Branch, despite call
A social science professor revealed to TLHR that since late September 2018 until February 2019 he was subject to detention at the Immigration Checkpoint in Thailand 14 times, as he has to enter and leave the country often for his research work and his participation in academic seminars.
The academic revealed that late September 2018, after arriving from a foreign country at the Suvarnabhumi Airport, while having his passport scanned by the officer at the Immigration Checkpoint, he found it was locked and he was not allowed to pass the checkpoint. He was taken away from the line and was asked if he was an activist. Then, the Immigration officer asked him to wait for another officer, who purportedly came from the Special Branch.
The Special Branch officer then asked him for his personal information including his address, occupation, and position. The questions centered on whom he had met while conducting research or living in Thailand, though he was spared questions about his political involvement or activism. He was not informed as to why such questions had to be asked.
Then in October, this academic had to leave for a seminar in Singapore and he again found his passport was locked at the Immigration Checkpoint, both during the departure and arrival. But there was no Special Branch officer to ask him any questions this time, although he had to wait for the Immigration officer to call up and coordinate with the police in order to unlock his passport.
He tried to ask what had caused the problem and how could he solve it. According to the Immigration officer, his name had appeared in a "group of academics demanding civil rights", and such involvement has been determined by Special Branch and it has nothing to do with the Immigration Bureau. Then, the professor was given the name and phone number of Pol Col Somkiat Kaewwiseth, Commander 1 of the Special Branch 2, who was supposed to be the Special Branch officer in charge of this matter, and was urged to call the officer.
Based on the information retrieved from the Immigration officer, he assumes this might have had to do with his signing a public statement during the International Thai Studies Conference in Chiang Mai. Later, he became aware that there were another six or seven fellow scholars who had signed the public statement and were having the same problem when leaving and entering Thailand. He presumes that more foreign scholars who signed the statement might have their names included in the watch list, though they have yet to make any entrance into the country recently.
Early November, this academic called Pol Col Somkiat and was informed that if it was convenient, he could come to Bangkok and have a meeting with him. When he said he was not available, Pol Col Somkiat told him to write to the Commander of the Special Branch to explain about his academic status and work in Thailand. The scholar has written a letter as advised and sent it to the Special Branch. But until now, he has received no reply.
He called Pol Col Somkiat again and was told the officer would look into the matter again. But the officer admitted to not having the authority to make any decision. He even said he had to wait to do anything until after the election when the situation in Thailand would get better.
The scholar continues to face this passport lock situation every time at the Immigration Checkpoint until now. He always has to wait for the Immigration officers to make some coordination calls in order to give clearance to his passport. It takes around 15-30 minutes. The Immigration officer does treat him well and would offer him an apology every time. However, this treatment has caused concern to him whenever he has to leave or enter the airport. And it seems no one knows the right answer as to how to put his problem to rest.
He also said that though several months have passed since he was first stopped, he has no idea about why the authorities treat him this way. And he has no reckoning of why such an arrangement continues to persist, over one year after the release of the public statement at the Thai Studies Conference. Also, the court has already dismissed the related case. He could only assume it is a warning for foreign scholars working in Thailand to refrain from criticizing the National Council for Peace and Order, or the Royal Thai Army.
The reading of public statement "Restoring academic spaces, rights and liberties for the people in Thailand" signed by 176 Thai and foreign academics during the International Thai Studies Conference in Chiang Mai on 17 July 2017
(

Photo courtesy of Thai Academic Network for Civil Rights.

)
Thai faculty member in Malaysia detained more than ten times by Thai Immigration citing national security
Rosenun Chesof, a Thai academic, a lecturer at the Faculty of Languages & Linguistics, University of Malaya, Malaysia revealed to TLHR that from August 2018 until early February 2019, she has been subject to detention for questioning at Immigration Checkpoints ten times, including at the airport, inbound and outbound, and various other checkpoints in the South of the country.
The first detention took place on 30 August 2018. Upon her arrival at the Hat Yai Airport, Immigration officers informed her that Special Branch had alerted them since 24 August 2018 about her name being included in the watch list. The officers asked if she had committed any criminal offence or if she had participated in a demonstration or was facing any charge. Then the Immigration officers called up their superior officers while she was kept waiting for nearly one hour. They let her into the country eventually but recorded her information in a memo.
Then in September while scanning her passport on her own at an airport Immigration checkpoint, Rosenun found her passport was locked and she could not get through the automatic scanning machine. She had to ask for help from the officer, causing other passengers in line behind her to wait. Then, a superior officer arrived and told Rosenun that her name was included in a list of international academics who had demanded the restoration of democracy in Thailand, a matter of which concerned national security. She was asked for a talk in a room of the Immigration Bureau for more detail while waiting for the Special Branch to weigh in and let her go. The officer wrote in her passport that she was allowed to enter and leave the country, though.
Despite that, she has been facing the same situation and has often been questioned by officers as to what she had done, why her name appeared on the lock screen. "Have you committed any criminal offence?" they asked.  Once early this year, some Immigration officers even assertively told her that she must have done something illegal, otherwise her name should not have come up. They asked her to tell them the truth and she could only insist that she had done nothing wrong. Still, such situation has happened with her during the recent months. Once at the Sadao checkpoint, the officer informed her that, "Please understand that the country is still in an abnormal situation and that certain actions could compromise our national security".
Until now, all the Immigration officers could not clarify to her if her involvement with the public statement or any activism is the only issue that has put her in this predicament. She was only told she appeared to have been involved with a community of international academics and she was obliged to wait at different durations at different checkpoints. At certain checkpoints where the officers were seemingly unaware of the situation, she had to wait for coordination for up to 30 minutes.
Having to face such a situation many times, Rosenun lately has chosen to alert the Immigration officers at the checkpoint in advance about this problem and has asked them to have her passport checked separately to avoid causing a problem for passengers waiting in line behind her.
According to Rosenun, she has signed various public statements about the political and social situation in Thailand, including a statement opposing the coup, a statement on the Thepha Coal-fired Power Plant, and other statements related to the political situation in the Deep South. But that has never caused her any trouble regarding her leaving and entering the country until now. She signed the public statement to demand academic freedom during the 13th International Thai Studies Conference in July 2017 as well.
She has no idea if her fellow Thai academics are facing the same problem. She is only aware that several foreign scholars are facing this situation and assumes that this is part of an attempt by the Thai authorities to intimidate and prevent foreign academics from calling out or criticizing the NCPO.
The atmosphere inside the 13th International Thai Studies Conference from 15-18 July 2017 at the Chiang Mai International Exhibition and Convention Centre attended by more than 1,224 academics, Thai and foreign. Several uniformed and plainclothes military officers were spotted undertaking surveillance during the event, and it led to the holding of a protest banner that says "An academic forum is not a military barracks" on the last day of the Conference.

American social science researcher detained by Immigration for nearly an hour
A social science American, she told TLHR that she has been detained five times at the Suvarnabhumi Airport's Immigration Checkpoint, inbound and outbound.
It first happened when she left the country on 29 August 2018. The Immigration officer did not let her pass the checkpoint and asked her to sit and wait for nearly half an hour in an area where foreigners waited to pay fines for their visa overstay. Then, a high ranking Immigration officer with two Special Branch officers came to meet her. Upon learning that she was an academic and a faculty member, they asked for her address, phone number and contact information of her friends in Thailand. As she informed them that she had to rush to board the plane, they let her go and said she should not worry, it was a small matter, but it might happen with her every time she gets in and out of this country.
During the past December and January, she returned to conduct her research in Thailand and continued to face a problem at the Immigration checkpoint. The officer would ask if she was part of an academic movement that has demonstrated. She was forced to wait for 10-15 minutes before they let her go.
But once, it appeared that the officer at a particular checkpoint was unaware of her trouble, and they asked if she had an Interpol Red Notice issued for her. They tried to coordinate with the Special Branch officers based on the contact information she gave them, but to no avail. As a result, she was forced to wait for nearly an hour as the officer had no idea how to handle her case. Some Immigration officers offered her an apology saying that if they did not treat her this way, they would have been reprimanded by their "superior officers."
The academic said these incidents alarmed her, particularly during the first one. She had no idea then as to what had happened, and the officer kept asking for her contact information and about her friends in Thailand. She had never had such a problem when leaving and entering the country before even though she used to sign many public statements about the political situation in Thailand.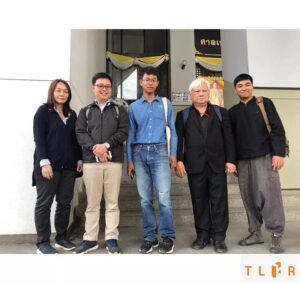 The five academics and student activists reported by the military in the "An academic forum is not a military barracks" case filed with the Chiang Mai District Court before its dismissal on 25 December 2018
US academic asked by Immigration officers if she had been prosecuted or wanted by a court
Another American female academic who has been teaching in Thailand told TLHR that she first started having a problem during her travel on 27 August 2018 after returning from abroad. While having her passport checked at Suvarnabhumi Airport's Immigration Checkpoint, she was told something was wrong and was asked to wait, though she had no idea what it was.
After a while, an officer, probably an Immigration officer, has approached her asking who she knew in Thailand, asking about her friends and contact information of her Thai friends. She explained that she was married to a Thai national and had a permanent address in Thailand. Still the officer asked to see her visas and had her fill out a form including her personal information, name, last name, and address in Thailand, her work address, phone numbers and other contact information. The questioning and filling out the form took about 30 minutes, and then she was let through.
After the incident, she had an exchange with fellow academics and found they have encountered a similar problem. It could be related to their signing a public statement demanding academic freedom during the 13th International Thai Studies Conference in Chiang Mai.
In October 2018, when her husband reported on her behalf to the Immigration Office about her residency in Thailand, which has to be done every 90 days according to law, he was asked then if his wife had been prosecuted or wanted by a court, to which he replied she had never faced any charge. He continued to ask the officer about the cause of this problem and was told his wife's name had been included in a watch list of academics demanding civil rights, though the officer could not tell how to solve this problem.
Then, she has faced the problem again at the Immigration Checkpoint of Don Muang Airport in January 2019 when she and her husband were to board a flight abroad. They did not let her through and asked her to wait for a talk with the Chief Officer of the Immigration Office. Then, the officer also asked her about her work permit and asked to see her travel documents and plane tickets as well as her husband's Thai ID card. They did not have her fill out any form, though.
The human rights academic opines that such measures have been meted out to impose fear among academics and have been part of an attempt to intimidate and prevent them from criticizing the Thai government. It is possible that the Thai government has followed the footsteps of either the Chinese or Vietnamese governments, which have tried to silence foreigners and prevent them from criticizing their governments.
* Revised edition on 22 February 2019 at 4.00 pm.