24 February 2020
It's the sixth day since the Twitter user "Niranam_" (meaning "Anonymous"), whose contents publicly criticizing Thai politics and society had been followed by more than a hundred thousand concerned citizens, was detained at Pattaya police station. He was then imprisoned at Pattaya Special Prison afterward, as the court's denied a request for the bail due to the severity of the charges.
For five long nights, his parents could no longer smile. Indeed, since our first meeting with them, not even a faint smile was lit.
To his many followers, Niranam is just an anonymous account, but to his parents, he is just their 20-year-old son.
"A nerd, wears glasses, pallid, and likes to read." These are how his dad describes him.
His mum and dad visited him twice a day. But with no car of their own, arranging transport is difficult and costly. They usually have to hire a minibus for at least 500 Baht per trip.
The morning of the second bail hearing, they entered Pattaya Provincial Court looking weary, but somewhat more resolute than on the first day of the arrest. Plus, they now had overwhelming support from the online world, a sign approving that at least they are not fighting alone.
"I've never been away from my kids for more than seven days… I always consider myself not a type of soft-hearted. But in a case like this, I don't know what to expect.  If he has to stay in for a long time, I'll sell the house and move next to the prison," his father says with red eyes, brows knit tightly.
"My son also has severe allergies; he can't take cold showers.  I'm worried about his health."
His mother meanwhile sat quietly, both hands clasped in her lap.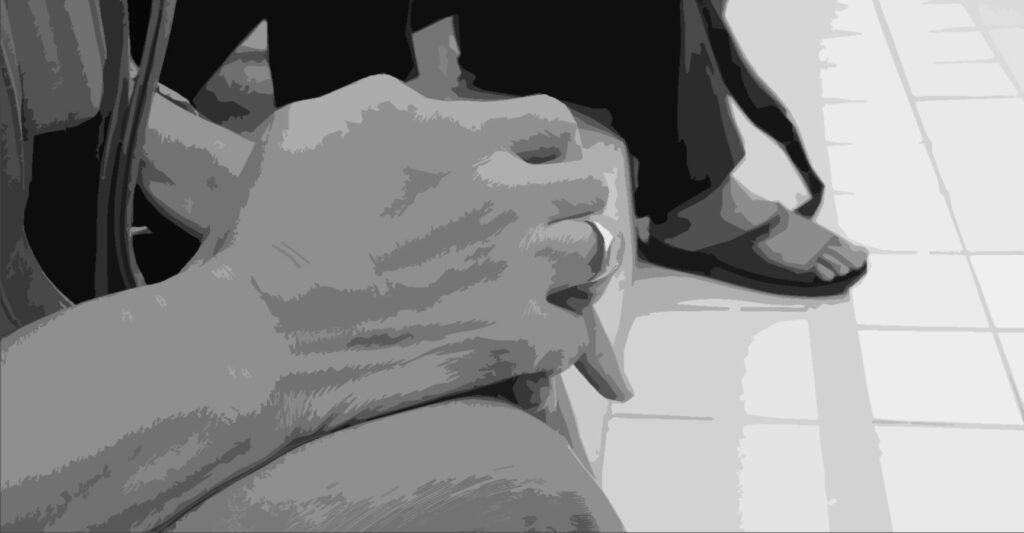 The initial bail was set at a hundred thousand baht but was denied by the court. The second time the family and the lawyer submitted five hundred thousand baht which had been fundraised hurriedly on online platforms in such a very short time. Niranam's father sat in a room waiting to hear for the bail decision. No one dares to promise him anything. No one dares to guess anything at all.
When the announcement to hear for the bail decision came along with the court's denial for a second time, Niranam's father stood there with red eyes, bent over, silent tears flowing.
Meanwhile, a team of lawyers went to meet "Niranam" at the prison. However, his friends were unable to come due to the prison's restriction on visitors.
Sporting the number 34 on his visiting attire, "Niranam" emerged from the incarceration area. After hearing about what everyone was doing for him outside, he smiled.  He didn't seem weary; he was still able to eat and take a shower.
"I've started getting used to the cold showers and have already started to make some friends," he said to pass on his words to his father.
Upon hearing of the second bail denial, the team of lawyers rushed back to Pattaya Provincial Court in order to make an immediate appeal.
Arriving at the court, they met Niranam's parents and a group of friends who had come to show support; all were waiting with red eyes.
Once the documents had been submitted there was nothing more to do but wait. The father smiled a little when he heard his son was learning to take cold showers.
Niranam's friends sat comforting his parents tirelessly. They sat and held his mother's cold hands, trying to make a conversation to keep her company, couldn't help but gaze at that small back bowing over – lower and lower.
"I don't know whether what I'm doing is right or not. My friend [Niranam] seems like he is miles away. The other day I was still able to meet him through the bars of his detention cell. Despite that, we can reach out to touch and feel him. We even made plans to meet up and hang out. The next day he was at the far end of the cell and that we had to talk over the phone. Now, he's in prison and I can't even see him."
If this is the pain for his friends to bear, what must it be like for his parents?
Everyone sat in silence.
Stunned by an unpredictable judicial process, no one dared to hold assumptions or expectations.
With the efficiency of the appeal procedure, in contrast to the past where 3 days at least needed to be spared as the minimum waiting time for the outcome to be announced, this time court officers informed the lawyers that they could expect the decision on that same day.
From filing the appeal at 1 pm, they sat on wooden chairs in the court until 3pm; the mother was clasping her hands tightly while the friends sat looking drained.
Finally, at nearly 5 pm, an official called Niranam's father to hear for the bail order alone. No one else was permitted to join.
Niranam's father rushed in. His mother and friends stood by the window at the front, straining to see, until finally bursting into tears when his dad emerged, smiling while trying to wipe away tears.
His mother beamed. It was the first time we got to see both of them smiling.
His dad was holding the court documents and a pen, his hands were shaking with excitement, trying to complete the document in time as the court was about to close for the day.
Restless but full of joy because in just an hour they would get to see their son.
They weren't quite ear-to-ear, but the smiles of Niranam's parents had returned nonetheless.