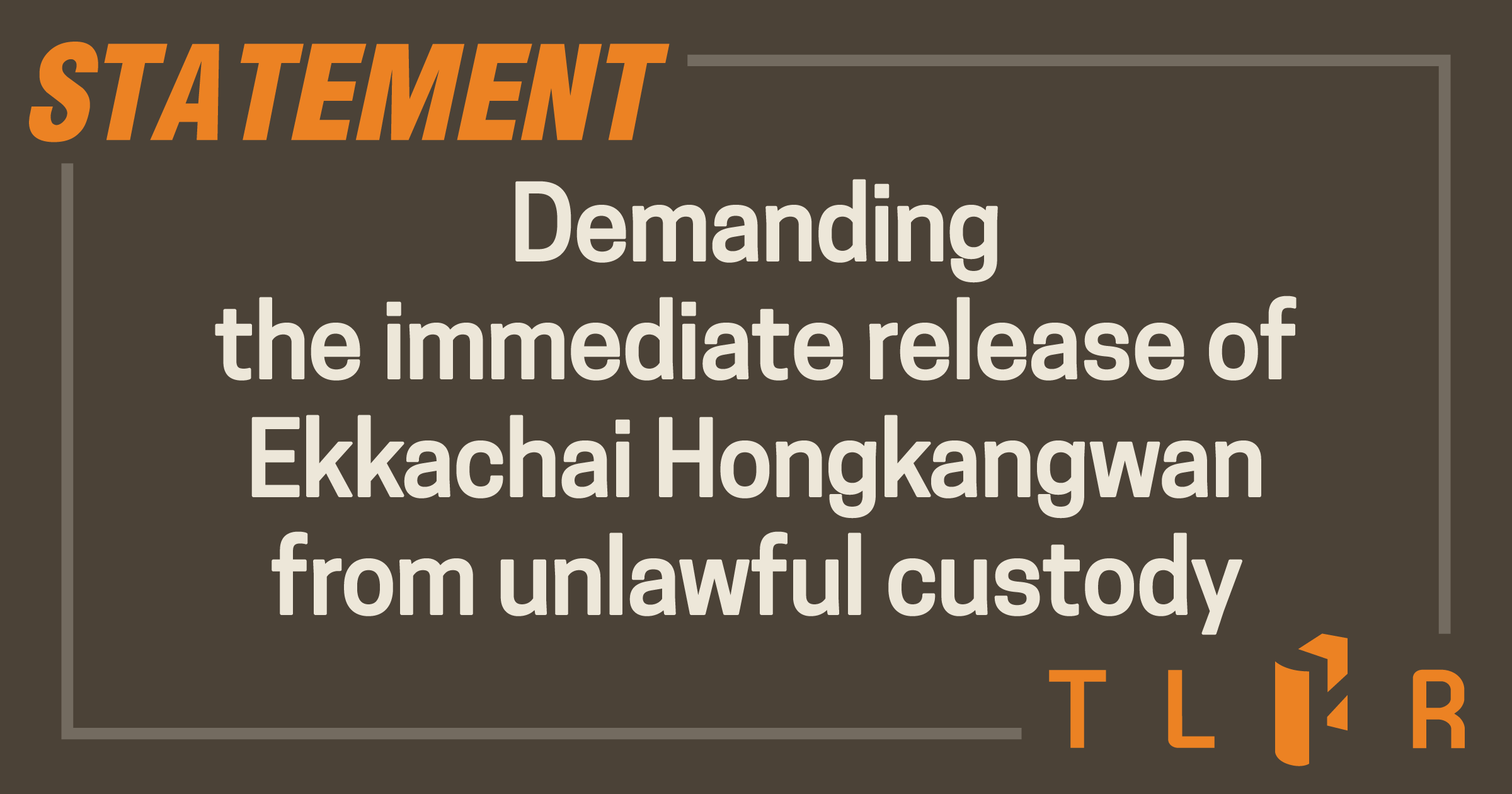 Around 8:24 am on 24 October 2017, a pro-democracy activist Mr Ekkachai Hongkangwan contacted Thai Lawyers for Human Rights (TLHR), informing that about 11 military officials came to his residence in Bangkok. Reportedly, the authorities who declined to give their names and affiliations had Ekkachai choose between having a 'trip' to Kanchanburi province or spending time in a military barrack. Ekkachai decided to go with the authorities to Kanchanburi during the Royal Cremation scheduled on 26 October 2017. He stated that he was expected to return home the morning of 27 October 2017.
Ekkachai further stated that a scuffle had ensued as the authorities forcefully pulled and shoved him into a military vehicle, inflicting wounds on his body. After the initial contact, Ekkachai could not be contacted since 09:50 am. According to eyewitnesses, there were around five or six military and police vehicles parked in front of his residence, although their affiliations were unknown.
Previously on 20 October 2017, Ekkachai posted a message on his personal Facebook account saying that he would be wearing a red shirt on 26 October 2017. The post allegedly had prompted the police officials to visit him at his office and warn him to be careful with his words and actions. In response, Ekkachai insisted that he would not commit anything illegal.
Thai Lawyers for Human Rights (TLHR) finds the authorities' actions unlawful;
1. The above circumstances constitute a 'detention' as Ekkachai was not in his best capacity and lacked free will to make a decision whether to join the trip with the military officials. In addition, he was guaranteed neither access nor contact to his family or legal counsel. Until now, it remains unknown where he is being held and which military units have carried out the detention. 
2. Such detention is in breach of Article 9 of the International Covenant on Civil and Political Rights (ICCPR) to which Thailand is a state party and has obligations to comply. It stipulates that no one shall be subjected to arbitrary arrest or detention and one shall be informed, at the time of arrest, of the reasons for his arrest and shall be promptly informed of any charges against him. In the UN Human Rights Committee's Concluding Observations to Thailand in March 2017, the Thai Government was recommended to immediately release all persons from arbitrary detention.
3. In addition, according to Head of the National Council for Peace and Order (NCPO) Order no.3/B.E.2558 (2015)'s Article 6, authorised law enforcement officials were granted power to detain a person for a maximum of seven days without charges. However, it requires that the person must have committed certain offences including violation of Section 112 of the Criminal Code (lese majeste or defaming the Thai monarchy), offences related to national security, offences related to possession of war weapons and explosive devices, or violation of the NCPO orders and announcements. The circumstances that led to Ekkachai's detention remains unclear; his detention is therefore unlawful based on Head of the NCPO Order no.3/B.E.2558 (2015).
Thai Lawyers for Human Rights (TLHR) urges the military officials to immediately release Mr Ekkachai Hongkangwan and provide information of grounds for and place of his detention.
With respect for the rights and liberties of the people
Thai Lawyers for Human Rights (TLHR)