"Big" Kiattichai Tangpornphan is a fourth-year political science student at Thammasat University. He is a member of United Front of Thammasat and Demonstration, and, one of many who were prosecuted for political expression. He is now living under restrictions including having to wear an EM Ankle bracelet at all times. 
"Big" was prosecuted for Royal Defamation under Section 112 ( Lèse-majesté) of Thailand's Criminal code, and for violating the Emergency Decree due to his speech during the #Ratsadorninsistingagainstthewall #ราษฎรยืนยันดันเพดาน, 89 years anniversary of Siamese revolution on the 24th of June 2021 at Pathumwan Skywalk Intersection along with Tee Wanwalee Thammasattaya and Benja Apan.
On the 16th of June 2022, all three were granted bail after the public prosecutor has indicted them at the Bangkok South Criminal Court. However, the bail was conditional as the court required that Big not to be involved in any activities similarly to those that he was accused of including an act that allegedly tarnishes the Royal Family, an invitation or a social media post that could lead to a protest causing unrest is not allowed nor is international travel without the court permission. Moreover, it is compulsory that Big wear the Electric Monitoring (EM) ankle bracelet.
For over four months, Big has been living with the EM ankle bracelet and in October 2022 he has posted about his physical injuries derived from wearing the EM bracelet multiple times as well as attempted to file a motion to vacate the EM bracelet for four times. All of which was denied.
Big explained how living with an EM bracelet has been affecting his life. Big received an order to wear the EM bracelet during his internship around Ramkhamhaeng. There were days where he had to travel to Bangkok South Criminal Court to process the bracelet which meant Big had to travel for 40 km just to get from his workplace to the court and back. Big said that the process was really costly and time-consuming. 
"I had to spend my few days off on this process (motion to change the EM bracelet and its removal) because it has to be during the government service hours instead of spending those days resting or running other errands." He said
"When I started wearing the EM bracelet it didn't fit my ankle. It was really loose. The size of EM bracelets in our home (country) is too big. I saw smaller sizes overseas. The alarm is also exceptionally loud when the battery dies, bothering others."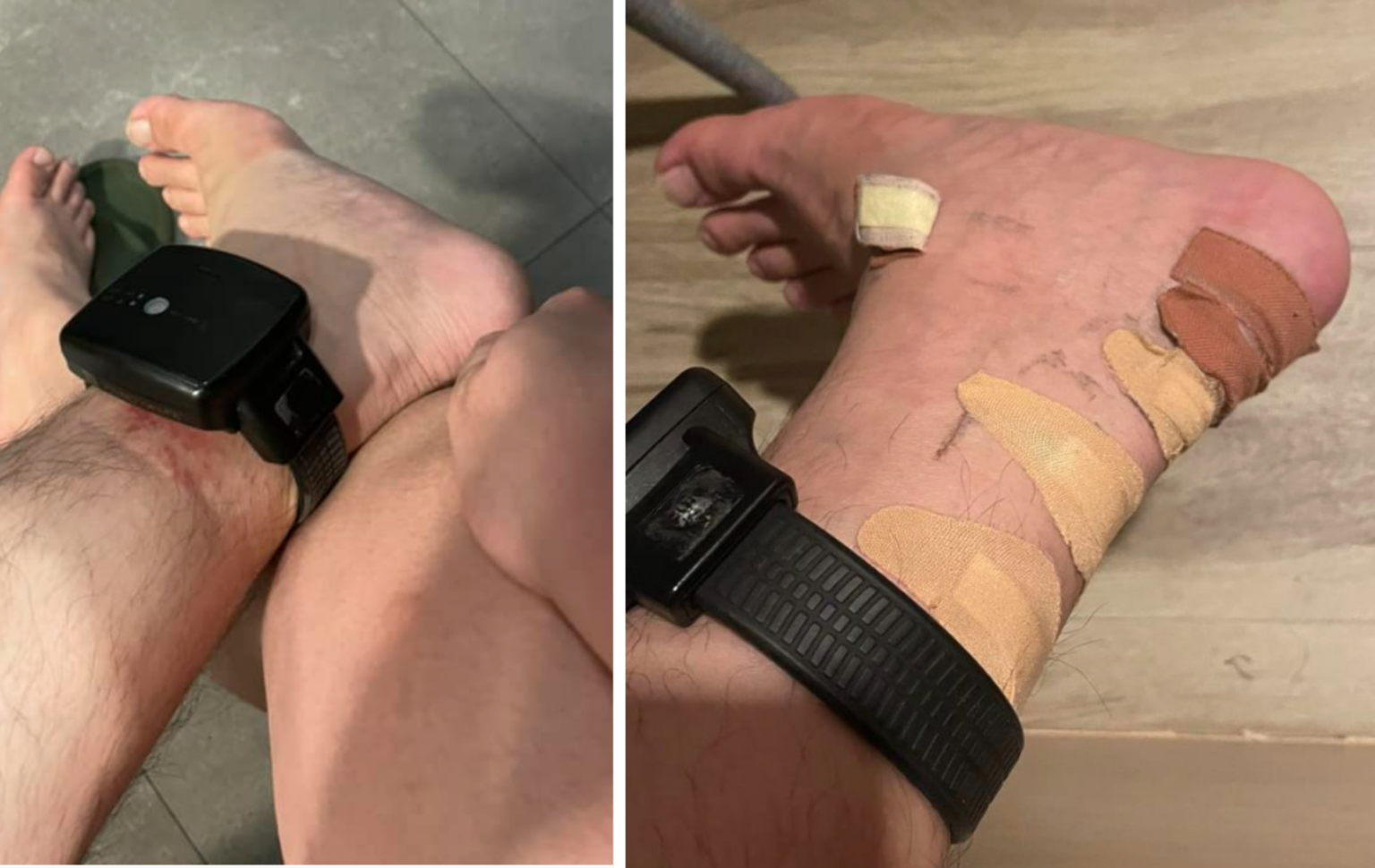 Normally people would think that looser ankle bracelets are more comfortable than one that is too tight but it is misunderstood.
"Since the bracelet is too loose it caused me a lot of pain. Because when I walk it doesn't stay in place but it swings back and forth hitting my ankle." Big explained the cons of a loose EM bracelet.
When asked why he couldn't have the bracelet adjusted or changed Big explained "Even though EM bracelet strap can be adjusted there is still a difference between sizes. When I first got it there was only one size so I had to wear what was available. The officers said there was no supply."
Big said that he had to wear the loose bracelet for around a month. During that time he used plasters (band-aid) before changing to bandages. Big found that bandaging wasn't a convenient solution as hygiene maintenance became a new concern.
"At the beginning I didn't wash it (the EM bracelets?) at all. I thought I wouldn't be wearing it for long.", he said. But as time passed Big began to realize that the EM is not getting removed anytime soon. Big said that within the first month he once filed a request to the court have his EM bracelet removed concerning the health of his foot but the court denied his motion. Big soon got a new, more fitting bracelet.
"You can call it a fit but it is still a little loose. It still swings sometimes but not as much as the old one."
Nonetheless, Big told us that a new problem befallen from the bracelet "Since the bracelet is more fitted to my ankle it rubs my skin. I don't know how much this bothers others but maybe because my skin is easily irritated."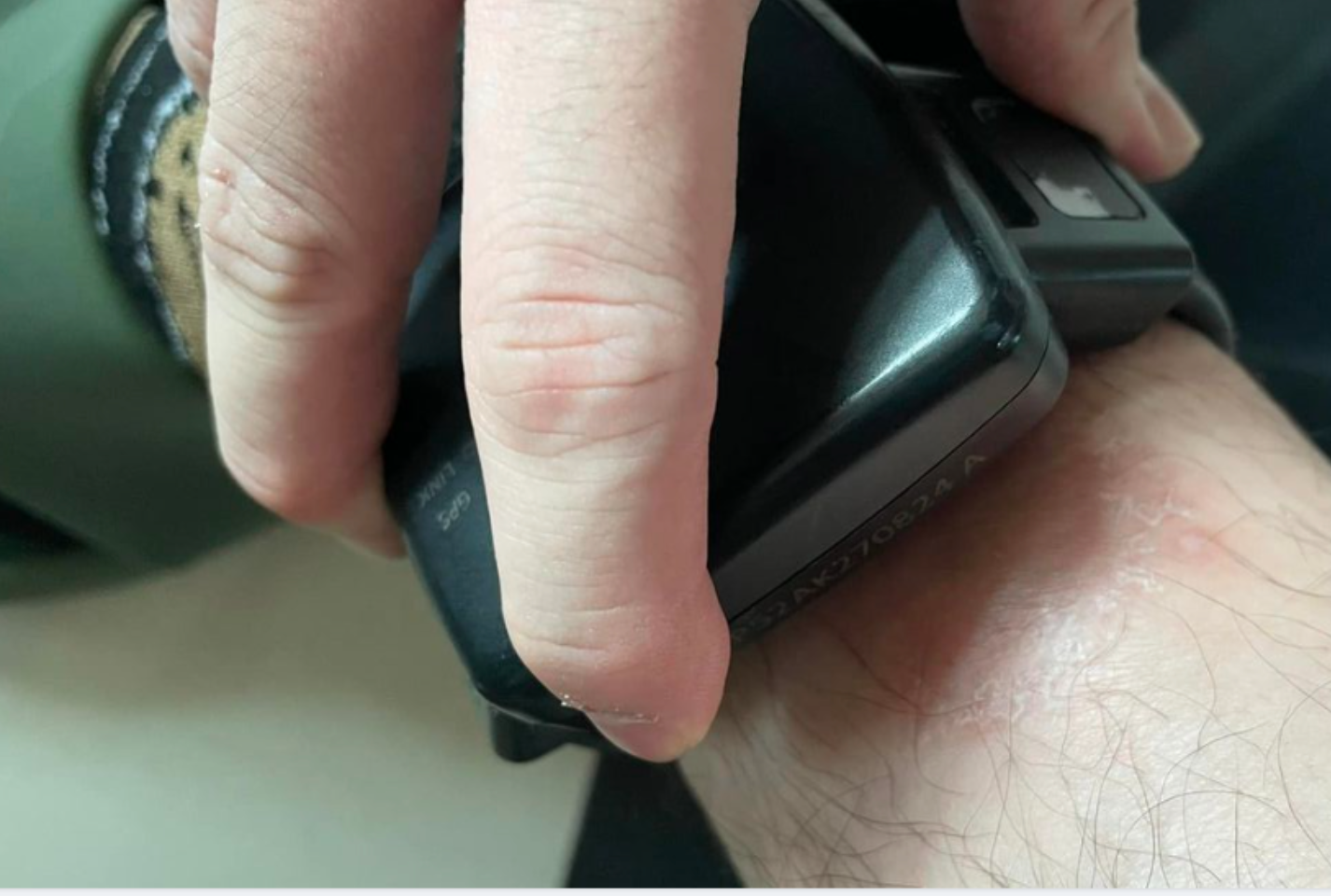 "At first I used counterpain but after several months I could no longer bear it. Some nights the pain would keep me awake. I had to go to the doctor and came back with medication and a medical certificate for supporting evidence in motion to vacate the EM bracelet.
Despite filing motion to vacate the EM bracelet orders for four times in four months due to the injuries on Big's ankle including the most recent attempt on the 25th of October 2022. The Bangkok South Criminal Court continued to deny the motions with the reasoning of "There is no cause to change the order."
"The real medical certificate has been submitted along with the motion for the fourth time. If I were to try for the fifth time I would have to pay at least 500 baht more for the medical examination" Big said.
"Big" also elaborates on the mental status of EM wearers " I asked some of my friends, some said that they got used to wearing the EM bracelet and they can live with it while some are really irritated. I am also irritated. It affects our mental health. It made us feel like we are being watched all the time. Wearing an EM bracelet is like a warning that I cannot go out and participate in the movement because the bail can always get revoked."
At present, Big is in the process of requesting for the EM bracelet removal for the fifth time. He is waiting for a behavioral assurance certificate from both the Department of Political Science and Thammasat University in order to confirm that he will not escape and will defend his case following all of the judicial process. Despite all the consequences above Big has not yet been pledged guilty and his case may take many more years through different courts.
"People who will escape will escape regardless. I never thought of running away and I am ready to fight through the judicial process because I am confident that giving a speech about Rama VII does not violate Section 112 ( Lèse-majesté) ." Big confirmed.