29-30 June 2022, Family/lawyer note from prison visit
On 29 June, Bung's family called the Correctional Hospital to seek information about Bung's health conditions after finding out that she was brought there from the Central Women's Correctional Institution. They were informed that Bung has been suffering abdominal pain on the right side that radiates to the back since 27 June, and she was brought to the Correctional Hospital around 11pm.
Bung is very tired and experiences shortness of breath. She is unable to breath deeply due to pain in her midriff. Saline and vitamins have been administered into her body as she could not bear the abdominal pain anymore.
The doctor believes that she may have uterine appendix, or due to prolong hunger strike, the intestines are constricted and are not able to absorb the medicine by themselves. Her blood test shows low potassium levels. Therefore, intravenous medication has also been administered.
When the family was talking to Bung, they noticed that she had become very thin. She looked very tired, disoriented, and replied slowly throughout the conversation.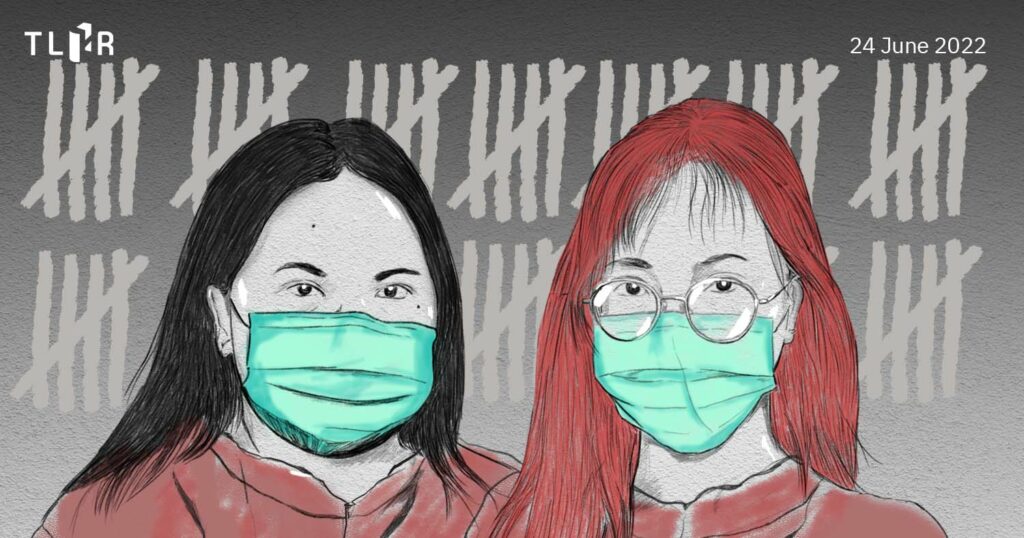 Bung shared that she is concerned that she has to leave Bai Por (who is being detained at the Central Women's Correctional Institution) like this, and that the doctor told her that if she continues to refuse liquid food, she will likely have to stay at the Correctional Hospital for a certain period.
On 1 July 2022, a lawyer submitted the letter to Mr. Ayuth Sintoppant, the Director-General of the Department of Corrections, asking for permission to allow a medical professional who treats uterine lumps and family trust to examine and diagnose Bung's health condition.
Read more:
Letter From Bung-Bai Por, on hunger strike in Central Women's Prison after Fifth Denial of Bail
Joint Press Release: Number of individuals charged with lèse-majesté passes 200
Thailand: Arbitrary detention and judicial harassment of Tantawan Tuatulanon
Overall Situation of "Thalu Gas" Detainees – All are #SufferingMentally and anxious, affecting their daily lives.