The return of Gen Prayuth Chan-ocha as Prime Minister after the elections continues to be shrouded with questions concerning freedom and justice. Such questions remain after he was voted in by the Parliament on 6 June 2019 and even after the cessation of the National Council for Peace and Order (NCPO) given the new cabinet was sworn in on 16 July 2019.
Thailand's democracy has not been restored and people cannot enjoy rights and freedoms. The overall human rights violation situation has not become "better" or "different" from when the country was subject to the whims of the NCPO. Despite orders being made to transfer all cases from the Military Court to civilian courts, judicial harassment against people who have exercised their political rights continues unabated.  Restrictions on the exercise of rights and freedoms is more than obvious amidst the invasive surveillance and visits to the homes of certain individuals by public officers. These occurrences are ongoing even though no outright legal provision exists to authorize them.
This report is an attempt to reflect on the restrictions of the exercise of rights and freedoms and the harassment and surveillance against people in June and July during a milestone transition under the new administration with the same old Prime Minister.
Prime Minister-elect? Continued suppression of freedom of expression : Sacrasm heavily suppressed similar to when he was Junta Chief
Throughout the past five years, NCPO has been clamping down on the right to freedom of expression including any mockery made of the coup-makers and the Junta Chief. In the aftermath of the elections, Gen Prayuth Chan-ocha and core members of the NCPO have admitted that their statuses have changed to "politicians".
In a democracy, criticizing or conducting a public assembly making a mockery of politicians is considered an integral element of the right to freedom of expression. It appears, however, these "amateur politicians" do not enjoy such things. As a result, when people come out to make a mockery of Gen Prayuth Chan-ocha and the NCPO, they continue to be censored by the officers or have to endure harassment as a result.
The case of Yan Marchal, a French national who lived in Thailand, for example. He has posted a video clip of a song making a mockery of the song "Return Happiness to Thailand" with the lyrics changed to highlight how the Junta has failed to make good on their word and how the regime was replete with problems and corruption. It has quickly gone viral and hit over one million views. Then on 12 June 2019, Mr. Marchal posted a message saying two police officers have come for him at his home and he was forced to remove the video clip otherwise the police would not go anywhere.  He was even compelled to sign a Memorandum acknowledging that he had posted a video clip to make a mockery of the NCPO and it was inappropriate to do so and that he would not do it again. He was even filmed while offering his apologies to the government and the Thai people for such misdemeanor.
The agreement prepared by the police officers and signed by Mr. Marchal  
Meanwhile in Ubon Ratchathani on 12 June 2019, a Facebook user, "Sukon Kruasaen" who often posts video clips making fun of sex and politics has posted a Facebook message saying he was being surveilled by an individual who did not identify himself clearly if he was a public officer after he posted a video clip featuring his criticism and sarcasm directed at the NCPO which was widely shared. On 14 June in his Facebook live feed, he recounted when he was coming off a plane and was to travel on to perform music in Sri Saket, he was taken by military officers to a military barrack and had to undergo "attitude adjustment" there. He was told not to make video clips making a mockery of politics again and then released.
In June, there were also incidences related to the annual Teachers' Day on 13 June 2019. It has been reported that in several schools in Bangkok and the province, the flower-bedecked pedestal trays made by the students to show their gratitude to their teachers have been decorated to convey political messages. For example, pictures have gone viral that in Nong Khai's Chumpholphonphisai School, the secondary school students designed and decorated the pedestal tray as a replica of a scale with one arm holding "250 votes" and the other "several million votes". Another pedestal tray was made to mimic the Democracy Monument. It has prompted police officers to travel to the School and meet with the students and their teachers. The police, however, denied that they had asked the students to remove the photos of the flora trays from their social media accounts while the School Directors have summoned the students for a talk insisting that they were too young to get involved with politics.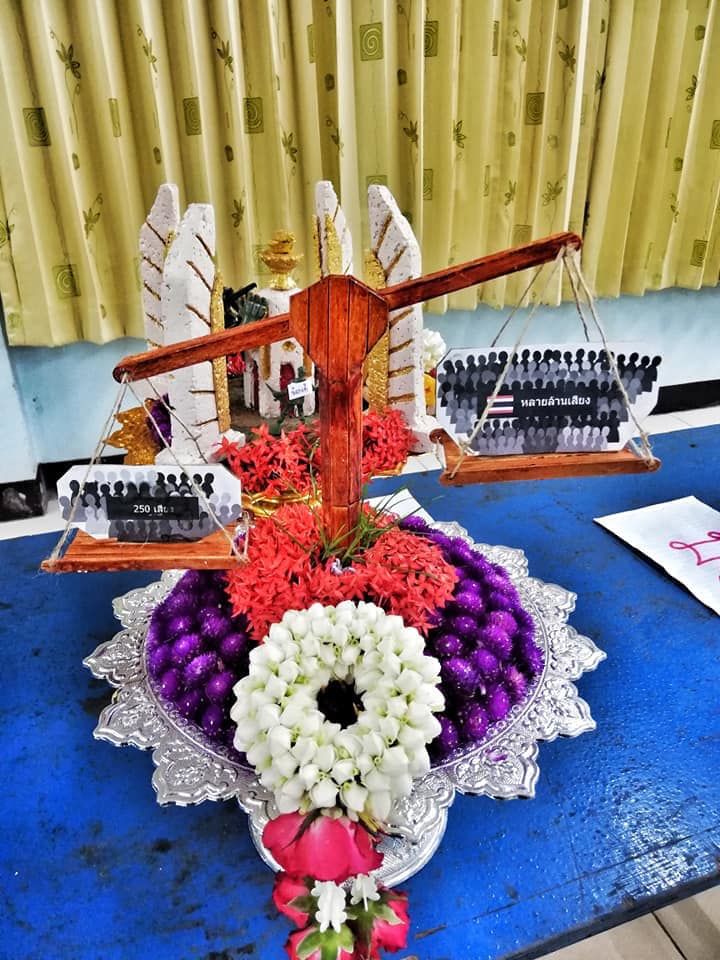 The flower-bedecked pedestal trays to show gratitude to teachers made by the high school students of Chumpholphonphisai School in Nong Khai province  
At the university level, TLHR has been informed that Special Branch police have gone to see Mr. Titipol Phakdeewanich, Dean of the Faculty of Political Science, Ubon Ratchathani University in June and asked him if his students had planned to organize any activity as it was near the break of the new semester. According to Titipol, the officers were probably worried as a result of the reported saga about the pedestal trays to show gratitude to teachers. He admits that previously he has been approached and asked about his students several times.
"Actually, the persistence of such harassment did not take me by surprise as we still have the same Prime Minister and the military are still as powerful as they have been. I understood the officers have approached me as they were instructed to do so. What bothers me is the government continues to violate people's rights and academic freedom even after the elections. It does not appear they genuinely want to restore democracy in this country. Otherwise, they should not have done this, and they should have stopped harassing people, stopped treating us like criminals even though we have done nothing wrong. The government has no right to subject people to harassment and surveillance. They should not even claim to visit people or to take our photos just to made report for their superior officers or their agencies. Their actions have made us feel less secure about our lives and it is a violation of our rights" said Titipol.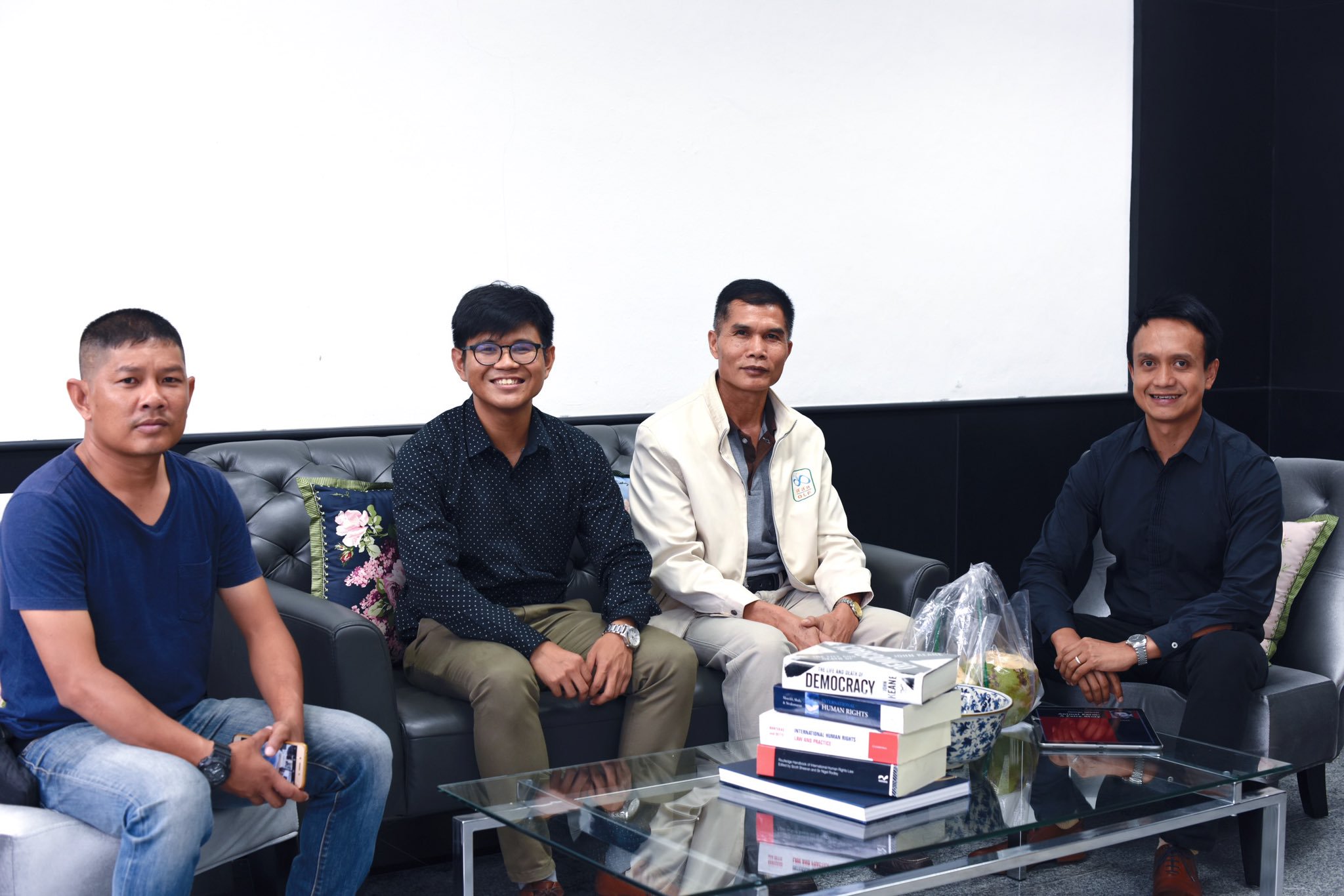 Special Branch police talking to lecturers at the Faculty of Political Science, Ubon Ratchathani University (photo courtesy of Titipol Phakdeewanich)
An onslaught of home visits and surveillance even after the elections?
Even after the elections and appointment of the new Prime Minister, another tactic often adopted by the military and police officers since during the NCPO rule is surveillance of the residences of activists or members of the public who have expressed their political views and their surveillance during major political events to monitor any movements. Such tactics continue and have become virtually "normalized".
During the June and July, an onslaught of such surveillance has taken place. It has started during the 34th ASEAN Summit hosted in Thailand from 20-23 June 2019.  Both before and after the meeting, it has been reported that officers have surveilled more than two dozen activists, students, and members of the public who used to participate in political activities to monitor their movement during the ASEAN Summit, particularly members of the We Want Elections group.
The surveillance was conducted in various forms including making a call to inquire about their movement, visiting them at their homes, etc. Such work has been mostly done by local police or investigative police who would approach them at their residences or universities asking to take their photo and inquiring about their movement or their planned activity. Some have been approached during nighttime.
For example, on 21 June 2019, two plainclothes police officers have approached Sriprai Nonsee, a labor activist from a network of labor unions in Rangsit and adjacent area. She also faced legal action as a result of joining the We Want Elections group. The officers have looked for her from her address in the ID card but did not find her as she no longer lived in the house. The officers have returned the same evening asking the persons in the house about her. They asked from the new tenant detail about Sriprai and asked for her phone number, but the tenant did not give such information to the officers. The officers even asked to take photo of the new tenant and ask to have his or her ID card photocopied, even though she or he was not related to Sriprai. They claimed they needed the information to present to their superior officers.
A student from Mae Jo University who used to join the campaigns of the Student Federation of Thailand (SFT) reveals that just before the ASEAN Summit, the police called his Faculty asking about him a couple of times. They asked for his phone number and his current address as well. His name was included in the watch list the officers had to keep track of during the ASEAN Summit and they needed to know if these people planned to do anything. The Faculty, though, did not give the officers the student's number.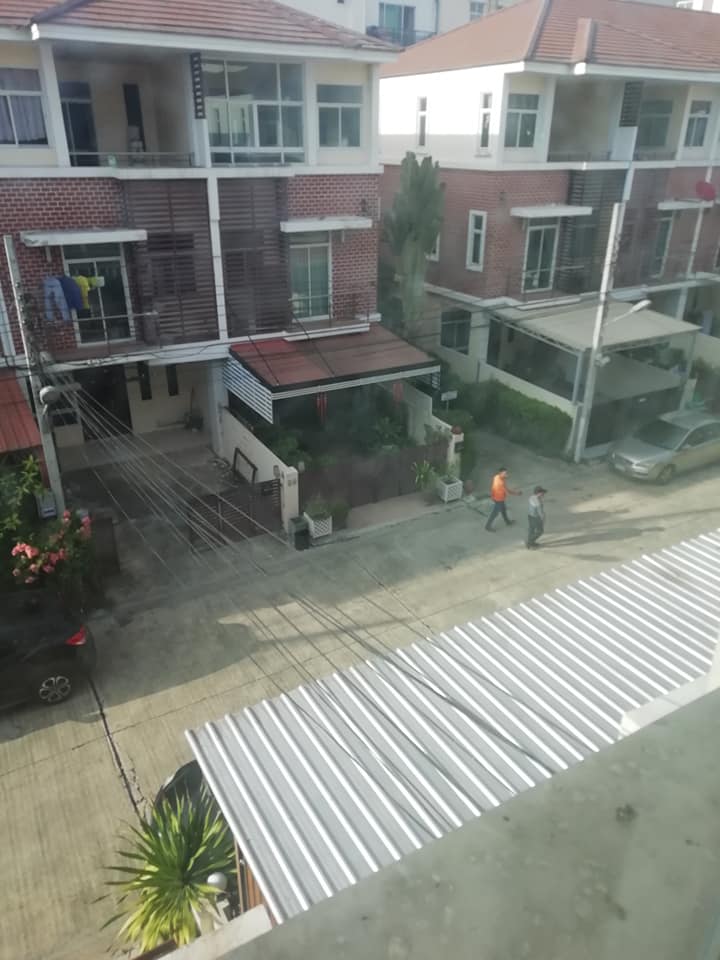 Plainclothes men keeping a watch outside Walee Yanahongsa 
Walee Yanahongsa faces four legal cases as a result of her joining the campaign of the We Want Elections group and was subject to surveillance at nighttime at her home. In the dead of night on 22 June 2019, 4 to 5 men were pressing doorbell at her home, but she did not come out to greet them. The panic made her unable to sleep through the night.
In the following morning, she walked outside her housing project on her way to participate in an activity at Ploen Chit intersection. A group of activists were to gather there to campaign against attacks of the activists and to protest against the unfair elections. Right at the guard box of her housing project, she encountered the four men who claimed to be police officers from the investigation division of the Metropolitan Police 9. They asked where she was heading to and asked about the purpose of her participating in the activity. The officers even offer to take her there, "in case anything happens". As a result, she had to travel to the protesting site being accompanied by the officers the whole time.
Meanwhile, an activist who was going to protest on the same day, Anurak Jeantawanich, aka "Ford the Red Path" says that prior to the start of the protest, three the plainclothes police officers came to see him at his home to inquire about detail of the activity after he notified the authorities about the public assembly. On the demonstration day, the officers have come to pick up Ford from his home informing him that they were taking him to the protesting site at Ploenchit Intersection.
En route, the officers abruptly changed the plan and instead took him to the headquarters of the Royal Thai Police and held him in custody there. He was forced to have a meeting with the Commander of the Police Special Branch who tried to dissuade him from organizing the protest Ploenchit Intersection. He was offered a ride to submit a letter of petition to a representative from the Ministry of Foreign Affairs instead. This shows how attempts to stifle freedom of expression by the people persists amidst the return to premiership of Gen Prayuth.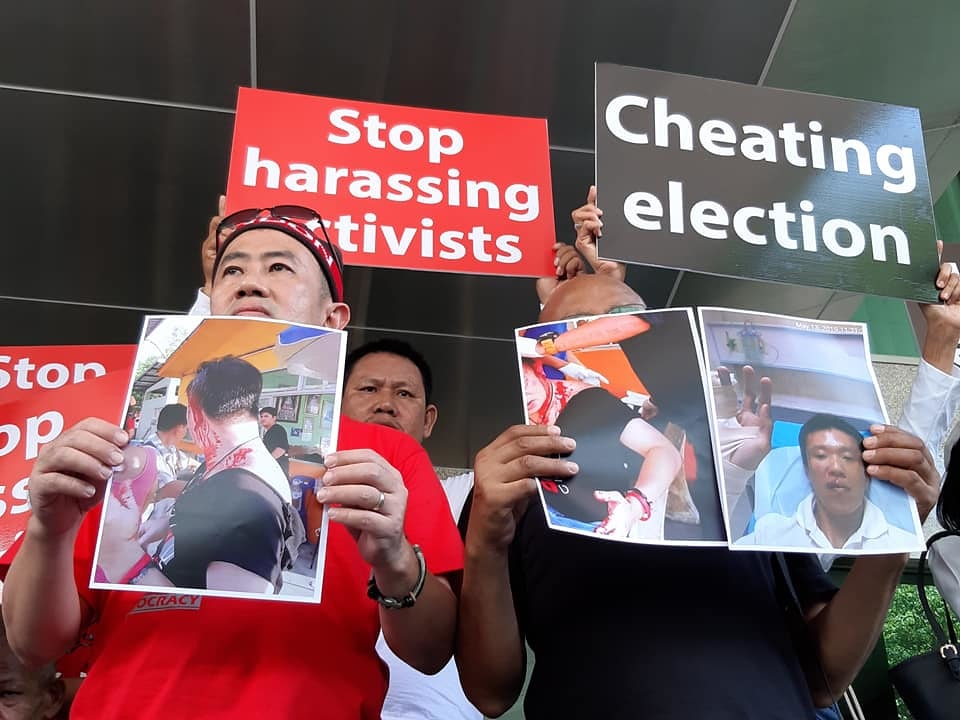 Anurak and other members of the public were holding signs in front of the Ministry of Foreign Affairs after their planned action at the Ploenchit Intersection was thwarted by the officers (photo courtesy of Ford the Red Path)
Patnaree Charnkij, mother of Sirawith Seritiwat, aka "Ja New" says that during the ASEAN Summit, police officers came to her home asking about Sirawith several times. On 21 June, the officers asked the Chairperson of the housing project to bring them to her house for a talk and said they would come here very often to keep Sirawith safe from any attack in their precinct after Sirawith was first attacked on 2 June.
Also, neighbors alerted Patnaree to the presence of two plump men who were lurking around in front of her house. They even asked when she would come home. Patnaree had no idea who those men were. The next day, plainclothes officers continued their surveillance and she noticed some unfamiliar cars being pulled over in front of her house. She also spotted two men wearing cropped hair cuts standing in front of her home all the time. Then on 23 June, two plainclothes police officers came to her home. She even jokes that it felt like the program offered by the police was to help keep the homes safe when the owners are gone on holidays.
On 28 June 2019, Sirawith all of sudden suffered another attack, much more violent than the previous one, while he was walking outside his home. That day, no officers were there to monitor him as usual.
Excessive surveillance of activists on the pretense of keeping them safe
Meanwhile after "Ja New" suffered a two brutal attacks, the latter of which was even more violent, and sustained severe injuries, the authorities have still failed to bring the perpetrators to justice. The incidents, though, have been cited as a reason for the officers to continue with subjecting the activists to excessive surveillance including approaching them at home on the pretense of ensuring their safety as instructed by the government.
The entire month of July saw reports of invasive surveillance conducted against dozens of current and former political activists. In some cases, the officers did state that they were there to ensure the activists' safety. In others, they failed to state the intent or purpose of their surveillance. There were instances that a large number of officers approached the activists in a manner which reflected their desire to harass and cause panic in the public. 
For example, Thaywin and Pranom Poontawee, a couple who have participated in the demonstrations by the We Want Elections group claim that their family has become a target of surveillance during the ASEAN Summit as plainclothes officers have approached and asked to take their photo at their home several days in a row.
On 5 July 2019, two men approached Pranum while she was buying groceries asking where she was heading to and where Thaywin was. They did not identify whether they were officers or not, or reveal their affiliation or what they wanted. The two men who came by motorbike followed her to the market keeping an eye on her until she was done with shopping. It sent shivers down her spine. Coupled with the recent attacks against Sirawith, both Thaywin and Pranom decided to report the case to the police in Samuth Prakan. The law enforcement promised to look into CCTV feed and would send them plainclothes police officers to keep monitoring the situation.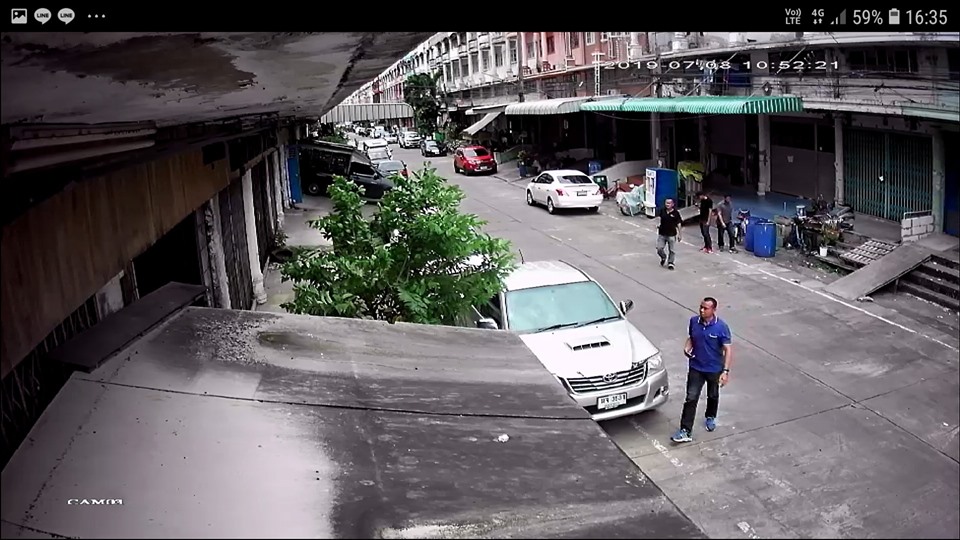 Plainclothes officers approaching house of Prachin Thanangkorn, a demonstrator and member of We Want Elections group (photo courtesy of Prachin Thanangkorn)
Prachin Thanangkorn, a demonstrator and member of We Want Elections group, says that on 8 July five police offices from Minburi Police Station have looked for him at his home. They did not find him but met his relative. When his relative tried to use his phone to take photo of the officers, he was told not to do so. "I will put you in jail!", they threatened causing his relative to feel panic and to call to alert Prachin and have him talk with the police. The officers asked about his current address and his work.
Academics and students have become a target of surveillance as well. For example, Anusorn Unno, Dean of the Faculty of Anthropology and Sociology, Thammasat University reveals that on 8 July, plainclothes officers from Don Muang Police Station have come to meet him at his house letting him know they were there as instructed by their superior officers and they wanted to check if he was living in this house as indicated by their information or not.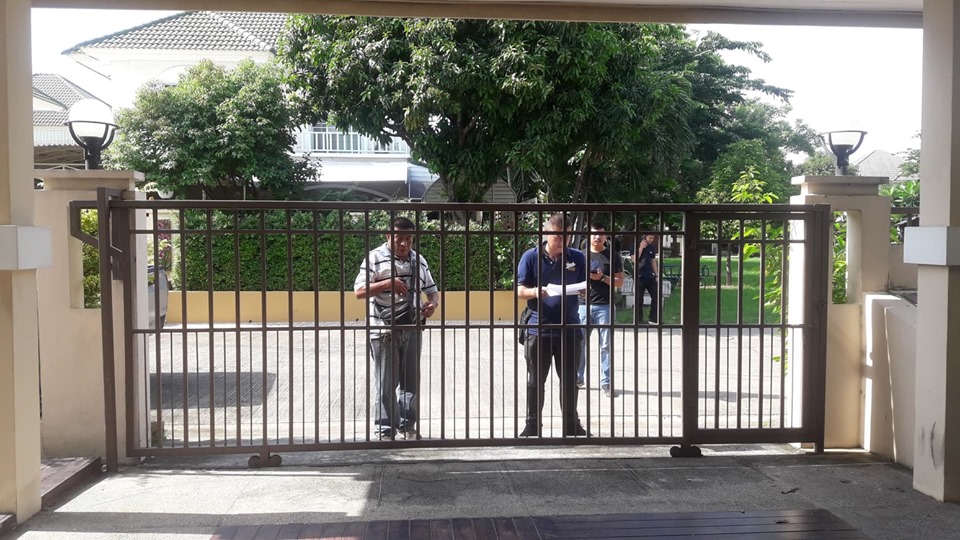 Plainclothes police officers at Anusorn Unno's house (photo courtesy of Anusorn Unno)
Kan Sangthong, a post graduate student of Chulalongkorn University, says that on 8 July, about 5 to 6 plainclothes officers who claimed to have come from the investigation division of the Taling Chan Police Station have visited him at his home. They also claimed to be there to ensure his safety in the wake of attacks against Sirawith. The officers said they had been here once but did not find him so they came again. Kay says he does not feel reassured or safe by the visit of the law enforcement. Instead, it has made him feel paranoid of the police.
Even freelance journalists are subject to surveillance including Sa-nguan Khumrungroj. On 15 July, two plainclothes police officers visited him at home claiming their superior officers had instructed them to inquire about his personal background. He refused to give any such information to the officers. On the same day, it was reported that the coordinator of the Assembly of the Poor was approached by the police both at home and at his office. They claimed to be there to ensure his safety in the wake of the attacks against "Ja New".
Another woman who has joined We Want Elections group's demonstrations says that in the middle of July, more than ten police officers have visited her home and asked about her. People in her house were panicked by the presence of a large number of police officers. It made it appear as if she was a criminal.
Towards the end of July, such operations continued unabated. Yupha Saengsai who was charged after joining We Want Elections group's demonstration reveals that on 30 July 2019, two plainclothes police officers from the investigation division of Police Metropolitan 5 have come to look for her at home. They have waited for more than an hour to meet her. The officers told her they were there to ensure her safety as instructed by the government in the wake of the incidents that happened to Ja New. They left her their numbers and asked her to call when she got into any incidents.
Such widespread surveillance has taken place after the Head of the NCPO Order no. 9/2562 was issued on 9 July 2019 to repeal more than 70 NCPO Orders and Announcements, just before the swearing in of the new cabinet on 16 July 2019, which has led to the cessation of the National Council for Peace and Order (NCPO) per the Constitution.
It is still a subject of debate if the military officers are able to invoke the Head of the NCPO Order no. 3/2558 and 13/2559 or not since the two Orders which authorize a commissioned officer appointed by NCPO to summon individuals, to carry out an arrest, to enter a residence or any place to conduct a search when it is deemed plausible that an alleged offender is hidden therein, have not been rescinded. Still, both Orders do not explicitly allow the officers to visit homes or to conduct surveillance of any members of the public. Given that NCPO no longer exists, it is debatable if the Orders are still enforceable.
It is also increasingly common that the officers who conducted surveillance of activists or members of the public in the past two months were police officers from the Special Branch or police investigators from local precincts – although it is far from clear in several instances about the affiliation of those plainclothes officers. Therefore, the surveillance has not been made possible by virtue of the two Orders. And to the police, there is no law that allows them to enter a house of an individual or to conduct surveillance of an individual without having a judicial warrant. The acts by the law enforcement thus far seem to have been made without any legal basis.
The surveillance and harassment involving human rights violations aided and abetted by the authorities until they became "normalized" during the NCPO regime should not be treated as normal or lawful after the elections and after the "new government" has been installed with the cessation of NCPO.