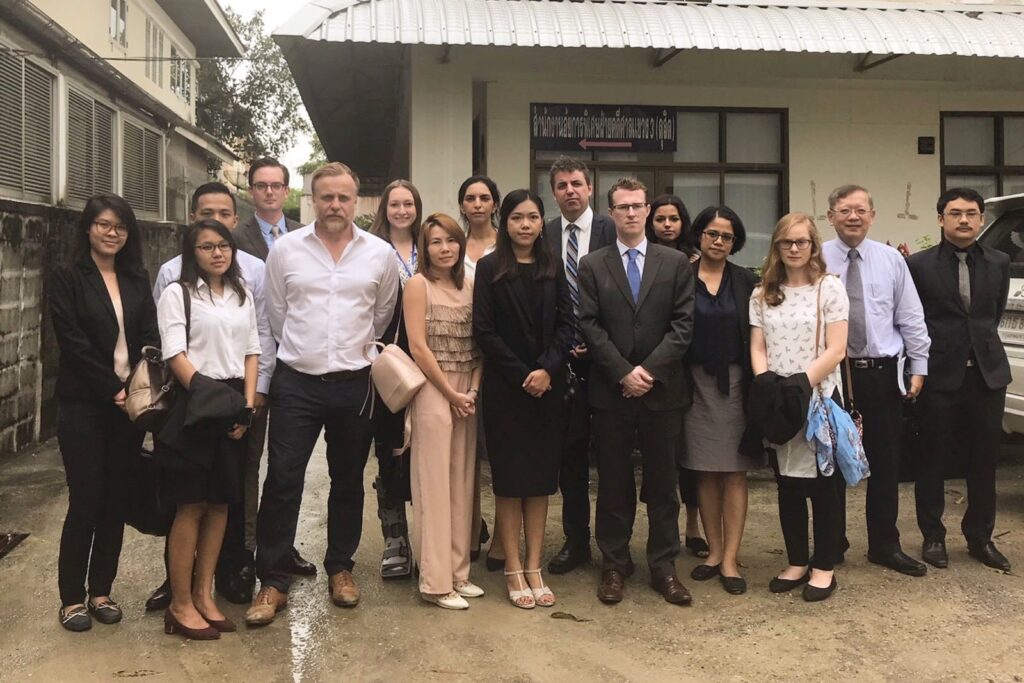 20/11/17- Sirikan with representatives from the Embassy of Sweden, the Embassy of Canada, the Embassy of the Netherlands, the Embassy of Germany, the EU Delegation to Thailand, the Amnesty International Thailand, and the International Commission of Jurists
Today, Sirikan Charoensiri (as known as Lawyer June) reported to the Dusit District Prosecutor's Office in Bangkok to hear the order for her case charged with concealing evidence and defying official order under Articles 142 and 368 of the Thai Criminal Code, as a result from her refusal to consent to warrantless search of her car, claiming to seize her pro-democracy client's belongings in June 2015. The decision whether to indict her to court or not was postponed again until 13 February 2018.
In August 2017, she reported to the prosecutor who did not conclude its decision, pending at the Department of Attorney General's Decisions, and postponed it to 20 November 2017.
Up to date, there have been already eight times of postponement of prosecution decision, amounting to more than one year of this process since she was formally charged by police in May 2016. If indicted in this case, she will be tried in a civilian court and may face up to three years of imprisonment and/or fine not exceeding 6,000 baht or 171USD. 
Background and related cases against June
Ms Sirikan Charoensiri (aka. June) is a human rights lawyer and legal and documentation specialist at Thai Lawyers for Human Rights (TLHR). In June 2015, she took part in a legal team to represent the 14 student activists of the New Democracy Movement (NDM) who were arrested and detained for their peaceful assembly against the Thai ruling-junta called the National Council for Peace and Order (NCPO). Following the after-hour opening of Bangkok Military Court to order a remand of her 14 activist clients, the police, led by Pol Lt Gen Chayapol Chatchayadetch, requested Sirikan to allow a warrantless search of her car to confiscate the activists' cellphones. Sirikan refused since the officials did not present a search warrant, after which the officials impounded her car overnight in front of the Court. The court warrant was later presented to conduct the search on the afternoon of the next day. In February 2016, June received summons from police to report on 9 February 2016 for two criminal charges; refusing to comply with an order of official and filing a false police report, after she filed charges of malfeasance against the police who illegally impounded her car. Later, in October 2016, she was charged with sedition and violating a ban on political gathering due to her representation to her student clients at a military court. Recently on 2 August 2017, she was charged with reporting false information offence for having filed a misconduct complaint, back in 2015, against police officers who illegal impounded her car in attempt to warrantless search it claiming to seize her NDM client's belongings. She is currently facing three sets of criminal charges for her work as a lawyer, including sedition offence where she will be tried in a military court if indicted.
More details about case from related sources;
Seventh postponement, lawyer Sirikan rescheduled to hear indictment decision in illegal car search case, and hears charge on reporting false information, TLHR,  https://tlhr2014.com/?p=4821
Judicial Harassment against Sirikan Charoensiri, Frontline Defenders, https://www.frontlinedefenders.org/en/case/judicial-harassment-against-sirikan-charoensiri
Thailand: End proceedings against lawyer Sirikan "June" Charoensiri, International Commission of Jurists (ICJ), https://www.icj.org/thailand-end-proceedings-against-lawyer-sirikan-june-charoensiri/