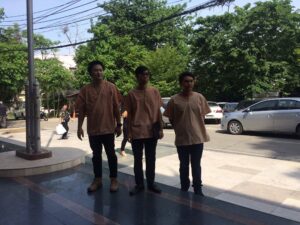 26 SEPTEMBER 2017 Verdict Day: Activists prosecuted under Constitutional Referendum Act for tearing a referendum voting ballot
Three pro-democracy activists, Mr Piyarat 'Toto' Chongthep, Mr Songtham Kaewpanpruek and Mr Jirawat Eak-akkaranuwat will appear at Phra Khanong Provincial Court, Bangkok, at 9:00 am on 26 September 2017, to hear the verdict reading on charges under the 2016 Constitutional Referendum Act. The activists could face an imprisonment not exceeding ten years if found guilty.
Piyarat, head of For Friends Association (FFA), an association that provides assistance to political prisoners and dissidents, was charged with damaging the voting ballot and disturbing the public peace at the voting station under the Constitutional Referendum Act, and destruction of government documents and damage of public property under the Thai Criminal Code. The charges stem from Piyarat having allegedly teared the referendum voting ballot and shouting "Dictatorship is dead, Long live democracy" at Bang Na voting station in Bangkok on 7 August 2016. Songtham and Jirawat were reportedly recording Piyarat's action, and were later charged with disturbing the public peace at the voting station.
27-29 SEPTEMBER 2017: Trial of seven students charged with contempt of court for having a symbolic protest in front of the court building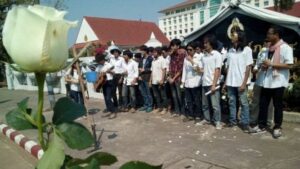 Seven student activists from pro-democracy groups Dao Din and New Generation Citizen (NGC) will report to Provincial Court of Khon Kaen at 9:00am on 27 – 29 September 2017 for the hearings of their case, charged with contempt of court under Section 33 of the Civil Procedure. The charge is a result of the activists having gathered in front of Khon Kaen Court on 10 February 2017 to support Mr Jatupat Boonpattaraksa, aka Pai 'Dao Din', who recently pleaded guilty to sharing a BBC Thai article. The students face a maximum of 500 Baht fine or a maximum sentence of six months' imprisonment if found guilty.
Since the accuser, Director of the Administration Office of Khon Kaen Court, is a member of the Court's administration, the defense and the prosecution are subject to unequal treatment. As a result, the alleged offenders are not ensured a fair hearing by an independent and impartial tribunal.
On 10 February 2017, the Khon Kaen Court held a deposition hearing for Jatupat, key member of pro-democracy group Dao Din and law student at Khon Kaen University, charged with Section 112 of the Criminal Code and Computer Crime Act for sharing and quoting content of a BBC Thai article on King Rama X profile. About 50, including the alleged offenders, were present to give moral supports to and request the Court to release Jatupat, but were denied entry to the courtroom. Members of the Four Region Student Network therefore read out a statement condemning the Court of the prolonged pre-trial detention and the prosecution of Jatupat in front of the Court.