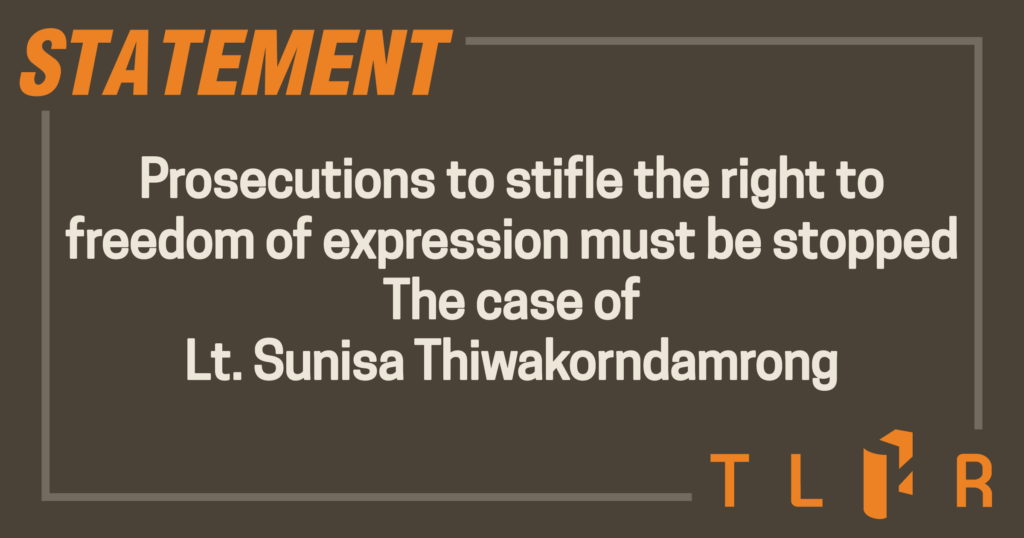 Col Burin Thongpraphai, legal officer of the National Council for Peace and Order (NCPO) has reported the case against Lt. Sunisa Thiwakorndamrong who had posted facebook messages allegedly critical to Gen. Prayut Chan-o-cha, Head of the NCPO and the government. She was accused of committing an offence pertaining to bringing into computer system false information which may compromise national security or panic the public and for publicizing material verbally, by letter or by any means not provided for by the Constitution or not made in a faithful manner, the violation of Section 14 of the 2007 Computer Crime Act and Section 116 of the Penal Code (sedition-like offences). Two cases were filed against her stemming from nine posts. Later, the third case was also filed against her. The Thai Lawyers for Human Rights (TLHR) and the undersigning human rights organizations have the following opinions to make;
During the past three years and seven months under the rule of the National Council for Peace and Order (NCPO), legal mechanisms have been harnessed to stave off the exercise of people's rights and liberties. Section 116 of the Penal Code has extensively been used by the NCPO, even on the acts that may not constitute the gravity of such offences, for example, the 'Red Bowl' case, the 'Rajabhakti Map' case, or the social media post alleging that Gen. Prayuth had transferred money abroad, or the case against a veteran report, Pravit Rojanapruk. In all these cases, the law has been used simply to stifle criticisms against the NCPO, including the cases against Lt. Sunisa Thiwakorndamrong who is facing legal action initiated to stop her from criticizing the government.
Thailand is obliged to act in compliance with Article 19 of the International Covenant on Civil and Political Rights (ICCPR) which states that 'Everyone shall have the right to hold opinions without interference.' And the UN Human Rights Committee has stated in its Concluding Observation regarding Thailand on 28 March 2017 that Thailand has been using the Computer Crime Act and criminal laws to stifle the right to criticize and to offer dissenting opinions.
The right to freedom of expression is a bedrock for democratic rule. In particular, people warrant the right to criticize those who rule the country by spending their tax money. The right to freedom of expression is a strong indication that may foretell as to how successful the implementation of human rights as the national agenda during 2018-2019 will become.
Based on the above reasons, TLHR and other human rights organizations urge the inquiry officers, public prosecutors and other concerned authorities to stop taking legal action against the individuals who faithfully criticize the government or the NCPO including Lt. Sunisa Thiwakorndamrong. This would ensure that justice process will not be used as a tool by the power that be and that law enforcement shall be faithfully executed to protect people's rights and freedoms.
.
With respect in people's rights and freedoms
Thai Lawyers for Human Rights (TLHR)
Union for Civil Liberty (UCL)