The court has accepted a case under the Computer Crime Act against a 42-year-old artist from Phuket who posted that he underwent no Covid-19 screening process on arrival from Spain. The state prosecutor has called for a heavy sentence.
On 12 May, at the Criminal Court on Ratchadaphisek Road, the state prosecutor filed a case against Danai Usama, an artist from Phuket, over his Facebook post in March, where he claimed that disease control regulations at Suvarnabhumi Airport were not properly enforced.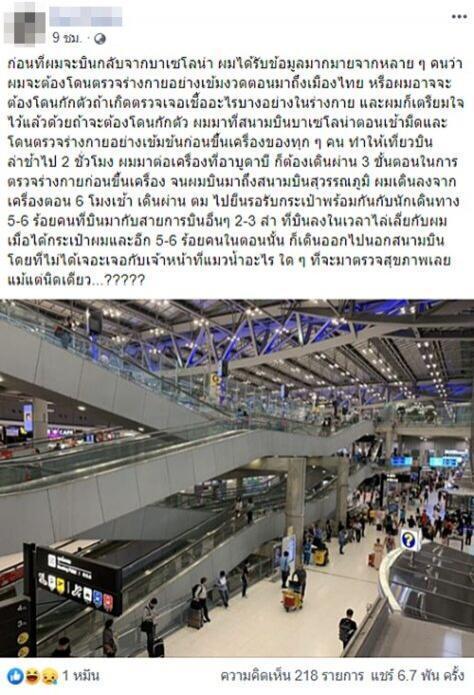 (The post which was alleged of violating the Computer Crime Act)
Danai posted on 17 March that he was not subjected to any health screening process after his arrival from Barcelona, Spain, a Covid-19 hotspot. However, the photo he uploaded to show no screening activity was taken in 2019. The prosecutor charges that he uploaded false data into cyberspace and violated the Computer Crime Act.
The prosecutor charges that the photo constitutes false information. The airport had deployed thermoscan machines and had officials in every area including the arrival hall. The false data might have misled the public and led to panic and loss of trust in the airport authorities.
The prosecutor also asked the court for a heavy sentence on the defendant because he committed the offense knowing that this false information on a popular social media platform like Facebook would lead to fast and widespread sharing. Posting such misleading information about an important national airport could cause widespread public confusion and panic.
Via video conference, the court accepted the case and arraigned the defendant. Danai confirmed his plea of not guilty. The court set 20 July 2020 for the hearing of evidence.
Danai's case has attracted international interest as it represents the use of legal action to prohibit the peaceful exercise of freedom of expression to criticize state efficiency. The arraignment process on 12 March was observed by Trial Watch.
Danai, under his Facebook alias "Zen Wide", posted a message on 16 March 2020 that upon his return from Barcelona, he encountered no Covid-19 screening at the Immigration checkpoint at Suvarnabhumi Airport, nor did 500-600 other passengers from the same flight and a couple of other flights.
Danai was arrested during his 14-day self-quarantine at his gallery in Phuket on 23 March and taken to the Phuket Provincial Police Station to process the charge. He was then taken by plane from Phuket at around 17.00 to the Technology Crime Suppression Division (TCSD) in Bangkok.
The police insisted on having him remanded in custody. By placing him among other suspects at Thung Song Hong Police Station and at the holding cell under the Criminal Court, the authorities made it possible for Danai to spread any infection he may have contracted from Spain to other suspects, which could have led to a widespread outbreak in the penitentiary system.
Courtesy to the translated version from Prachatai