The government's extension to impose a state of emergency in response to the outbreak of COVID-19, a public concern of the abuse of emergency measures to suppress on vulnerable groups and freedom of expression. Reported, Narcotics Control Operations beat a villager to death and heavily injured. Armed Forces later agreed to compensate the family with approx. USD 31,230 and decided to let the suit proceed per the law. TLHR's overall report in April 2020 covered Covid_19 measures placed the most effects on vulnerable groups, Narcotics Control Operation causing death. Finally, the report provides a vital TLHR's key case update.
Extensions of Emergency Decree due to COVID-19 outbreak leads to rights violations of vulnerable groups and restriction of freedom of expression
After announcing the Public Administration in Emergency Situations Act B.E.2548 (2005) nationwide on 26 March 2020 to counter the outbreak of COVID-19, Prime Minister Prayuth Chan-ocha announced a 10 pm – 4 am curfew on 3 April 2020, and extended the state of emergency until 31 May 2020 with some economic deregulations on 28 April 2020
>>> Read One month under the State of Emergency: Five reasons why the Emergency Decree should not be extended
According to the Attorney-General's Office, from 3 to 30 April 2020, a total of 15,895 cases have been filed against 21,426 individuals under the Emergency Decree. The number includes those who violated curfews, and individuals who breached the ban on gatherings and activities deemed in risk of virus transmission. Thai Lawyers for Human Rights finds that enforcement and measures are likely to place the most effects on vulnerable groups, and that emergency-related regulations are to curb freedom of expression.
– Curfew's effect on vulnerable groups
Police reportedly arrested at least two people who lived on the street and made a living from wheeling vegetables carts in a market in Chiang Mai, northern Thailand. The two were charged for breaking the curfew put in place between 10 pm and 4 am without permission to go outside. Mr. Tui (Synonym) was arrested by a patrol officer from his shed at the back of the market at around 00:15 am on 5 April. The officer took him to the police station and, the next day, pressed charges against him. The Court found Tui guilty and sentenced him to 15 days in prison, suspended for a year, and a fine of 1,500 Thai Bath (approx. USD 47). He is further prohibited from leaving his residence without necessity for seven days to prevent further crime.
In another case, Mr. Chart (Synonym) was arrested by a patrol officer around Tha Pae Gate, in northern province Chiang Mai, around 10.30 pm on 6 April. The Court ordered him one month in prison, suspended for a year, and a fine of 3,000 Thai Baht (approx. USD 94). He was also ordered to stay in his residence for seven days.
For Mr. Tui's case, the Court did not collect the fine per verdict. In Mr. Chart's case, a police officer paid the fine for him. The two therefore were not ordered imprisoned in lieu of the fine.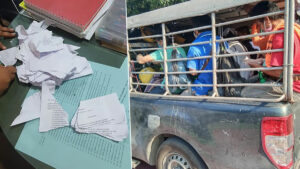 (Picture of the torn permission letters to operate during curfew hours of cement workers, Photo courtesy of Khaosod online)
Further, there were reports of prosecutions of workers who operate during curfew. On 20 April, 15 cement workers were arrested by police at Suan Kaew police station, Samut Prakarn province, near Bangkok, while they were travelling home from work. Although their employer had presented a letter of permission to operate during curfew hours, the authorities deemed the letter void and arrested the workers. People whose occupations were exempted from operating during curfew were also arrested, including a fisherman, a volunteer medic, and runner plant workers who were arrested in Songkhla province, southern Thailand, on 23 April due to lack of certificate of their occupation. All were tried, found guilty and fined by the courts.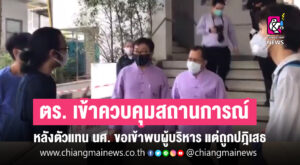 (Picture of Chiang Mai University's students negotiated with the university board, Photo courtesy of Chiangmai News)
– Authorities invoke power under the Emergency Decree to threaten people's activities
On 25 April 2020, students at Chiang Mai university, northern Thailand, submitted a letter to the university board to request a deduction in tuition fees due to the outbreak of COVID-19. Two uniformed police officers and another plainclothes officer, who claims to be a detective at Phuping Rajanivej police station, questioned the students about their activity and threatened them with charges with the ban on gatherings under the Emergency Decree. The students insisted that they were not gathering, but submitting a letter to the university. The police informed them that they would have to face the consequences of their actions, if the university should file charges against them. The threat led to an argument between the students and the police, before the university representative received the letter.
On 28 April 2020, members of the Kon Rak Baan Kerd group at Bamnejnarong, a movement protesting against mining in Chaiyaphum province, northeastern Thailand, read a state "Mining lockdown, stop taking advantage of mining concessions" and released a video clip on their Facebook page. They called on related agencies to halt all ongoing procedures in relation to the mines until the Emergency Decree is lifted, so that the affected locals could participate in the decisions.
Later, seven uniformed and plainclothes police arrested and took one of the group leaders to Hua Talae police station, Chaiyaphum province, without presenting an arrest warrant or informing him of the allegations. His phone was also confiscated and examined without a search warrant. The police later interrogated and attempted to persuade him to confess that he organized the protest in a public place without prior notice to the authorities, all of which are in violation of the Public Assembly Act, the Emergency Decree, the Communicable Diseases Act, to which the leader denied. Other locals who were present in support of the leader were also threatened of prosecution by the authorities, who claimed that they received order from the Internal Security Command Operations following the video posted on Facebook. The leader still denied all charges against him and refused to sign any documents presented to him. He was released after the police informed him of follow-up if the "higher-up" issued a command.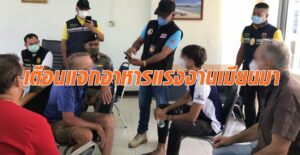 (Picture of the authorities invited foreigners to talk on food distribution, Surat Thani province, Photo courtesy of Matichon Online)
– Prosecution of individuals who distribute food
Due to the economic impacts of the government's measures against COVID-19 faced by many groups, a number of people have initiated a project to distribute food to the affected. In response, police officers issued regulations on food distribution, deeming all distributions without official cooperation or without proper preventative measures against the pandemic a violation of the ban on gatherings under the Emergency Decree.
Later there were many reports of prosecutions or threats of prosecutions of individuals who distributed food and goods in public areas. A female office worker who offered free food at Krung Kasem Road was charged. A group who distributed relief bags at the Clock Tower, Phuket province, southern Thailand, a woman who shared food at Phra Pathommachedi Temple, Nakhon Pathom province, central Thailand, as well as a group of foreigners who offered food to workers on Samui Island, Surat Thani province, southern Thailand all faced trouble from authorities. Further, a group of migrant workers in Pathum Thani province, near Bangkok, has been arrested while engaging in a sports activity, for allegedly gathering despite the ban under the Emergency Decree.
– Prosecution of distributors of "fake news"
During the state of emergency, authorities continue to arrest and prosecute individuals who publish information deemed "fake news" with charges under the Computer Crime Act. In many cases, individuals simply shared inaccurate information without the intention to circulate fake news, contrast to the authorities' allegations. For example, authorities reported that charges were pressed against seven individuals who shared details about a nationwide 24-hour curfew. In another case, authorities filed charges against an Internet user who posted "Chonburi province will return to normal this 1 May."
Mr. Puttipong Punnakan, Minister of Digital Economy and Society (MDES), further ordered authorities to file a lawsuit against film director Mr. Yutthalert Sippapak at Phayathai police station, Bangkok. The case stems from Yutthalert's allegedly tweeting critical comment claiming Puttipong was behind the death of horses in Thailand and covered up the incident with fake news. Yutthalert has not been summoned by the police yet.
The government's counter-COVID-19 measures in the past month suggests a trend of the use of arbitrary power through many strict restrictions, inconsistent with the principles of proportionality and necessity to control the pandemic. The administration also fails to implement comprehensive measures to support vulnerable groups and people living in poverty, who are amongst the peoples most affected by the state of emergency and strict curfews, in particular economic impacts mitigation. As a result, the number of unemployment, homelessness and suicide rose during the state of emergency.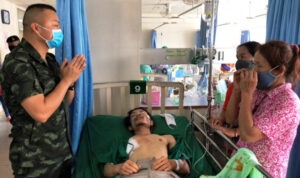 (Photo courtesy of Thaipost Online)
Narcotics Control Operations beat a villager to death, another heavily injured
In April, there were reports that military officials detained and interrogated individuals which resulted in death in custody in Nakhon Phanom, northeastern Thailand. On 17 April 2020, men in camouflage uniform similar to those of the military in a pick-up truck, arrested and took into custody Mr. Yutthana (Last name withhold), age 33, and Mr. Nattapong (Last name withhold), age 29. That night, an unknown individual used Yutthana's phone to call his parents to check on him at Thatpanom Crown Prince Hospital. There the parents found Yutthana unconscious with bruises and injuries, suspected to have been caused by beating, before he passed away later. His parents filed charges at the Thatpanom police station. Later, the military officials at Narcotics Control Operations, Surasak Montri Armed Forces, and their Commissioner contacted and tried to negotiate with the parents, while attempting to cover the incident from media. On the evening of 18 April, military officials released Nattapong. He was found with bruises and injuries throughout his body and was later sent to the hospital.
Nattapong recounted that more than ten men came charging against and pressed him and his brother on the ground. The men questioned where he and his brother hid methamphetamine. When they denied knowledge of the drugs, the men handcuffed and put them in a car, then drove them to a military barrack. There they had been beaten and tortured by men in camouflage who forced them to confirm they were drug dealers, for an hour before they passed out.
Deputy Commissioner of the Surasak Montri Armed Forces later agreed to compensate the family with approx. USD 31,230 and agreed to let the suit proceed in accordance with the law. The inquiry officer accepted charges in both criminal cases: assault to death and serious injury. Since the accused are military officers, the cases fall under official misconduct and the inquiry officer must submit the casefile to the National Anti-Corruption Commission (NACC) within 30 days. The NACC will then proceed with the investigation and submit its decision to the prosecutor.
Order of Head of the National Council for Peace and Order (HNCPO) No.23/B.E.2558 (2015) grants power to the military officers to arrest and detain individuals suspected to be in possession of narcotics up to three days, before transferring them to police's custody to further press charges. Such power allows military personnel access to unlawful processes. As a result, the practice led to a few deaths in custody. The Order was not repealed although the NCPO dissolved, therefore such power stays in place.
Key cases updates
Police arrest another suspect of UN62 protest, two years after the day of
Around 9 pm on 16 April 2020, police at Serm-ngam station, Lampang province, northern Thailand, presented an arrest warrant dated 18 June 2018 to Aisah Seomahn (f) at Don Kaew market. The charges against her stem from his participation in the We Want to Vote protests to mark the fourth anniversary of the May 2014 coup on 21 and 22 May 2018, known as UN62. The police brought her to Chanasongkram police station, Bangkok, and detained her overnight. The following morning, the police informed Kanokwan (Aisah's alias) of the charges against her under Articles 215 and 216 of the Criminal Code, the Public Assembly Act, and the Land Traffic Act, to which she denied all. The inquiry officer scheduled a transfer of her casefile to the prosecutor on 7 May 2020 and approved a provisional release at the investigation level for approx. USD 1,560 bond. The Thai Academic Network for Civil Rights assisted Kanokwan with the bail.
Following the release, Kanokwan faced difficulties travelling back to her hometown due to the shutdown of all intercity land transportations. She later received help from her friends and bought a plane ticket to Chiang Mai, before travelling by bus back to Lampang.