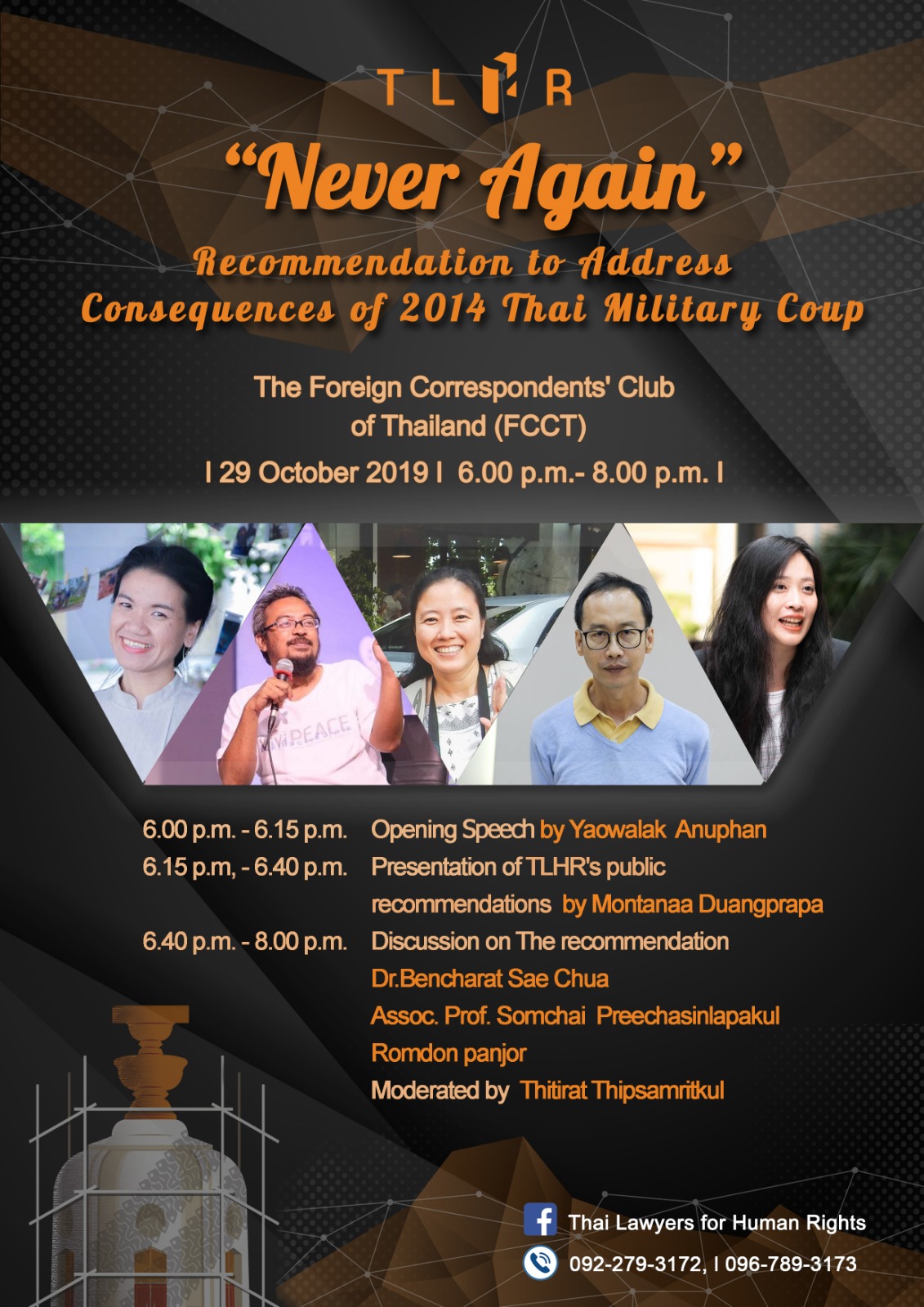 16 July 2019 was marked as the beginning of the first cabinet given full authority by the 2017 Constitution. As a result, the National Council for Peace and Order (NCPO) was automatically withdrawn from the administrative position, giving an end to Article 44 of the Interim Constitution of 2014. However, the consequences of the coup and the unlawful attempt to reorganize the structure of political power as of the past 5 years still remain, in the light of the current ministerial cabinet of which Gen. Prayuth Chanocha oversees as the leader. Nevertheless, the Palangpracharath Party (PPRP), the NCPO's proxy, failed to achieve the majority of MP seats.
Despite the leader of the NCPO has already ordered to revoke the NCPO Leader's Order no. 9/62 to administer some of the Orders remained and transfer the ongoing cases prosecuted by the Military Court to the Court of Justice, most of the Orders made during the reign of the NCPO and the law enacted by the National Legislative Assembly (NLA) which cumulated up to 444 are still in effect until another law was made subsequently to revoke the precedent, not to mention that parts of the result of such enactment have allowed loopholes for the violation of fundamental rights to exist, with the expansion of military power overshadowing civic sector.
Thai Lawyers for Human Rights (TLHR), after a thorough attempt to record data concerning the violation of human rights during the reign of NCPO while offering legal support to those who were targeted by the coup makers, believes that if we don't review on and palliate the result of the high-handed use of power on the civilians, limit the political influence of the army on the nation's politics, and amend the law, orders, and the Constitution made by the NCPO and the NLA, Thailand would never emerge from the cycle of an unlawful interference. Thereby, we would like to propose our recommendation on the administration of the consequences of the coup as a guideline or even a topic for further discussions which could lead us hopefully to the formation of Legal State as an ultimate goal; the public seminar "หยุดย่ำ ซ้ำ รอยเดิม" to introduce our recommendation will be held at FCCT on 29 October 2019 starting from 18.00 PM – 20.00 PM.
Please register here https://forms.gle/3qHSFHct4vaEmabT9
Download Synopsis of the Recommendation Here
17.30- 18.00 Registration
18.00 – 18.15 Opening Speech by Yaowaluk Anuphan
18.15 – 18.40 Introduction on the Recommendation – Montana Duangprapa
18.40 -20.00 Contributed by
– Dr. Bencharat Saechuea – Institute of Human Rights and Peace Studies, Mahidol University
– Assoc. Somchai Preechasilpakul – Professor of the Faculty of Law, Chiangmai University
– Romadon Punchor – Deep South Watch Organisation
Hosted by Thitirat Thipsamritkul, Professor of the Faculty of Law – Thammasat University