On 6-7 and 12-14 December, witness hearings in the "An Academic Conference is Not a Military Barracks" case are being held in the Chiang Mai district court. The 5 defendants are accused of violating Head of the NCPO Order No. 3/2558 regarding the prohibition of political assembly of 5 or more persons. The accusation is in relation to the holding up of a sign with the message "An Academic Conference is Not a Military Barracks" at the International Conference on Thai Studies (ICTS), held at the Chiang Mai International Exhibition and Convention Center (CMECC) on 18 July 2017.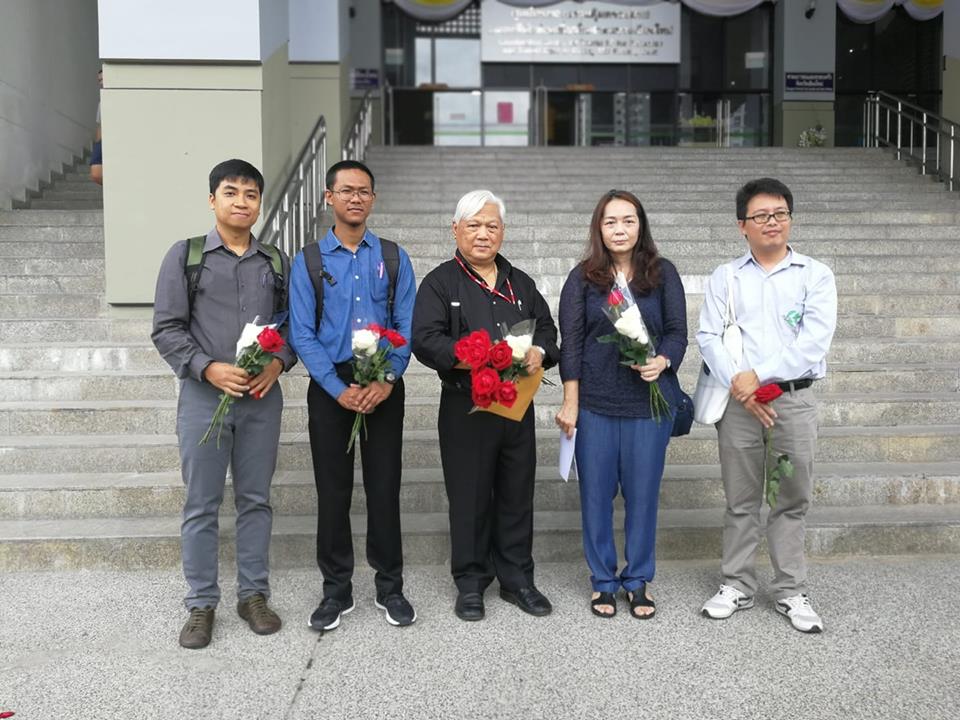 The aforementioned action was a reaction to the presence and actions of plainclothes state security officers who attended and recorded various activities at the conference. They did so without registering for the conference or asking for permission from the organizers, and otherwise interrupted the conference through speaking during presentations and making other loud sounds.
The defendants were indicted in August 2018 after the case was stalled in the prosecutor's office for nearly a year.  The case reflects the state of freedom of expression and academic freedom in Thailand and has been followed closely by international organizations and the international academic community.
The 5 defendants in the case include academics, students, and a translator, each of whom performs a different role in civil society. Each person was involved in ICTS in various manners, including as part of the organizing committee, presenter of a paper, moderator of a panel, and student assistant during the conference. Each now faces the shared fate of being defendants in this case.
The witness hearings have been divided into two periods. Prosecution witnesses gave testimony on 6-7 December. There were 11 prosecution witnesses in total, including military soldiers, police officers, CMECC workers, investigation officials, and academics. Defense witnesses will give testimony on 12-14 December, and include the 5 defendants and 10 academics from different departments and institutions.
In advance of the witness testimony by the 5 defendants next week, their biographies and roles are shared below.
Dr. Chayan: A senior academic with a long history of community involvement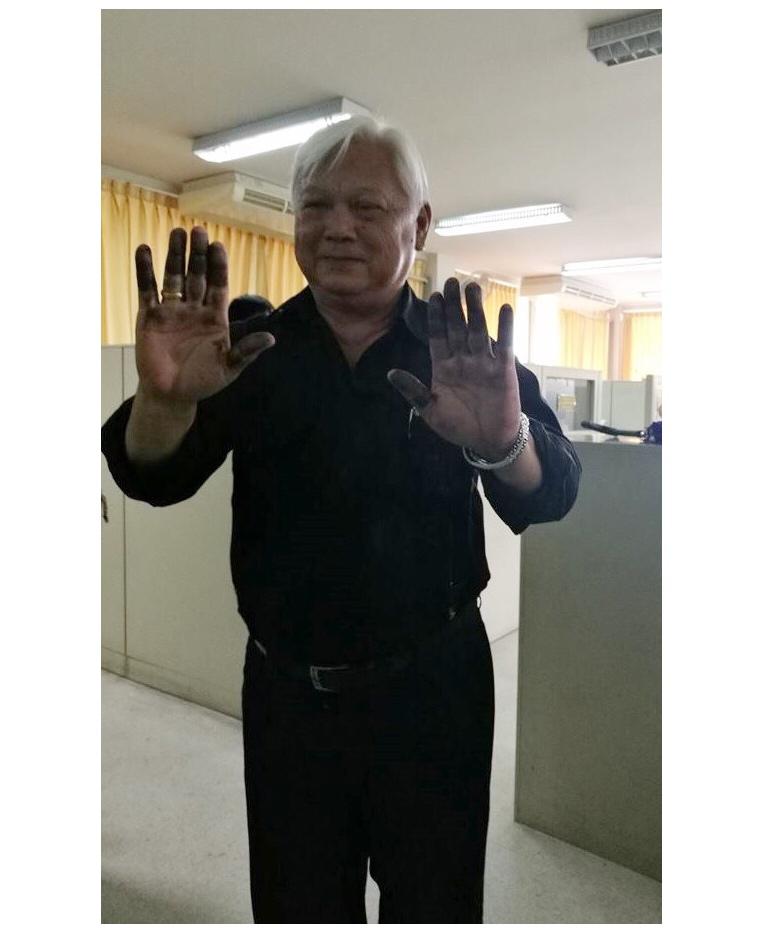 Dr. Chayan Vaddhanaphuti, age 75, has served for over ten years as the director of the Regional Center for Social Science and Sustainable Development and the head of the Center for Ethnic Studies and Development, both in the Faculty of Social Sciences at Chiang Mai University (CMU).
Dr. Chayan completed his BA in the Faculty of Arts at Chulalongkorn University and his MA and PhD in Anthropology at Stanford University.  He is also the recipient of an honorary doctorate in Social Anthropology from Gothenburg University (Sweden) in 2004.
Dr. Chayan has been a university professor for over 33 years, from 1985 until the present. His students, from BA to PhD level, include Thai and international students. He has produced scholarly work about ethnicity in northern Thailand, local wisdom, border studies, and refugees and displaced persons.
In addition, Dr. Chayan has worked with marginalized people and communities to access land and forest rights, community resource rights, and indigenous rights, as well as the struggle for democracy in Burma. He has worked to disseminate information about these issues by joining public debates, leading training workshops, and working with local communities to find solutions.
With the rise of the ASEAN Economic Community, Dr. Chayan has supported academic work in ASEAN Studies and surveying development in the Mekhong River subregion as part of his role as the director of the ASEAN Studies Center at CMU.
CMU was the host of ICTS in 2017, which was the 13th time this conference has been held. Dr. Chayan was the vice chair of the organizing committee and the chair of the academic subcommittee. He did not participate in holding up the "An Academic Conference is Not a Military Barracks" sign.  His only action was to examine the sign and decide that it was not a problem and therefore did not have to be removed. For this, he was targeted for prosecution by the military.
Pakavadi: Independent writer and translator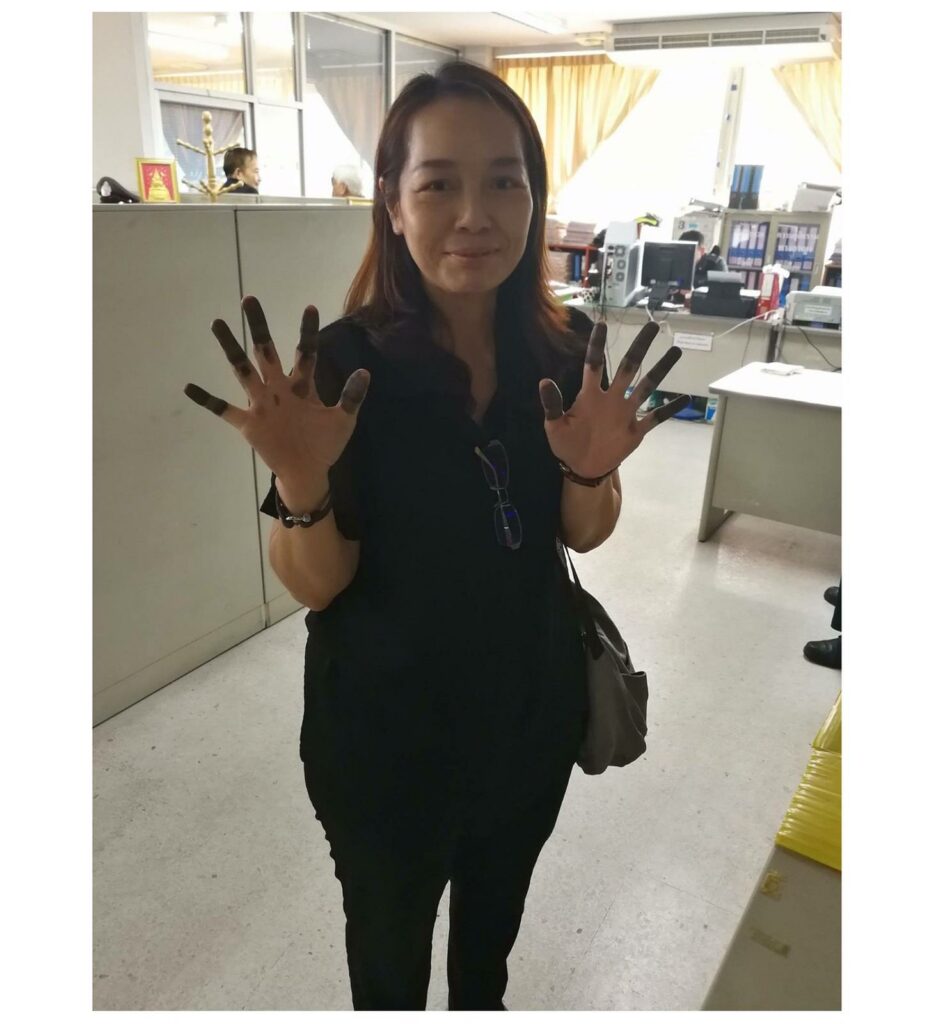 Pakavadi Veerapaspong, age 53, has been an independent translator and writer for many decades. Her academic background is in philosophy; she holds a BA in philosophy from Thammasat University and an MA in philosophy from Chulalongkorn University. Her interest in reading and translation dates from her time as a student.
Pakavadi has translated a number of significant works of literature. This includes The Name of the Rose, the historical mystery novel by the Italian writer Umberto Eco; The Unbearable Lightness of Being, by Czech writer Milan Kundera; the quartet of novels by Indonesian dissident and writer Pramoedya Ananta Toer; and the Philip Marlowe mystery novels by American writer Raymond Chandler.
In addition, Pakavadi also translates academic work, and her published translations include writing by American linguist Noam Chomsky; Blessed Unrest by Paul Hawken, a collection of essays about social and economic change;  and The Great Transformation, by Karl Polyanyi, about the industrial revolution in Europe. She was also part of the collective translation of Imagined Communities by Benedict Anderson, the scholar of Southeast Asian Studies and nationalism.
Pakavadi is compelled by social and revolutionary movements and has translated books and written articles about social movements in Latin America and the West.
Pakavadi is also a magazine columnist and has regularly joined public debates on social and political matters in recent years.  She sometimes joins protests as a participant or an observer.
At ICTS, Pakavadi was a speaker on a panel about Benedict Anderson's life and work.
Nontawat: Drama student and member of Lanyim Creative Group
Nontawat Machai, age 22, is a fourth-year drama student in the Faculty of Mass Communication at CMU.
His hometown is Phatthalung province and he graduated from Satriphatthalung School. His interest is in writing and performing in plays; he is a member of Lanyim Creative Group, a group of youth activists who perform plays, show films and organize seminars about social problems.
Nonthawat directed a play called "Swallow" in the annual theatre festival of the Faculty of Mass Communication at CMU in 2015. He has performed in many plays in the Faculty as well, including "I merely wish to go outside" (2015) and "Fly first" (2016). He also acted in the short film "Onli(n)e Society" (2016) and in the dialogue theatre of Lanyim Creative Group in collaboration with Makham Pom Theatre (2017).
Nonthawat was a member of the Chiang Mai University Student Assembly in 2015. He was awarded the National Youth Excellence Award in the field of communication for protection and resolution of social problems in 2014 and was the first runner-up for an award for creative communication and environmental innovation from the United States Agency for International Development.
At ICTS, Nonthawat was a student volunteer in the conference directorate. He was responsible for taking photographs and video at the conference and aiding with the opening and closing ceremonies.
Chaipong: Doctoral student of Lanna history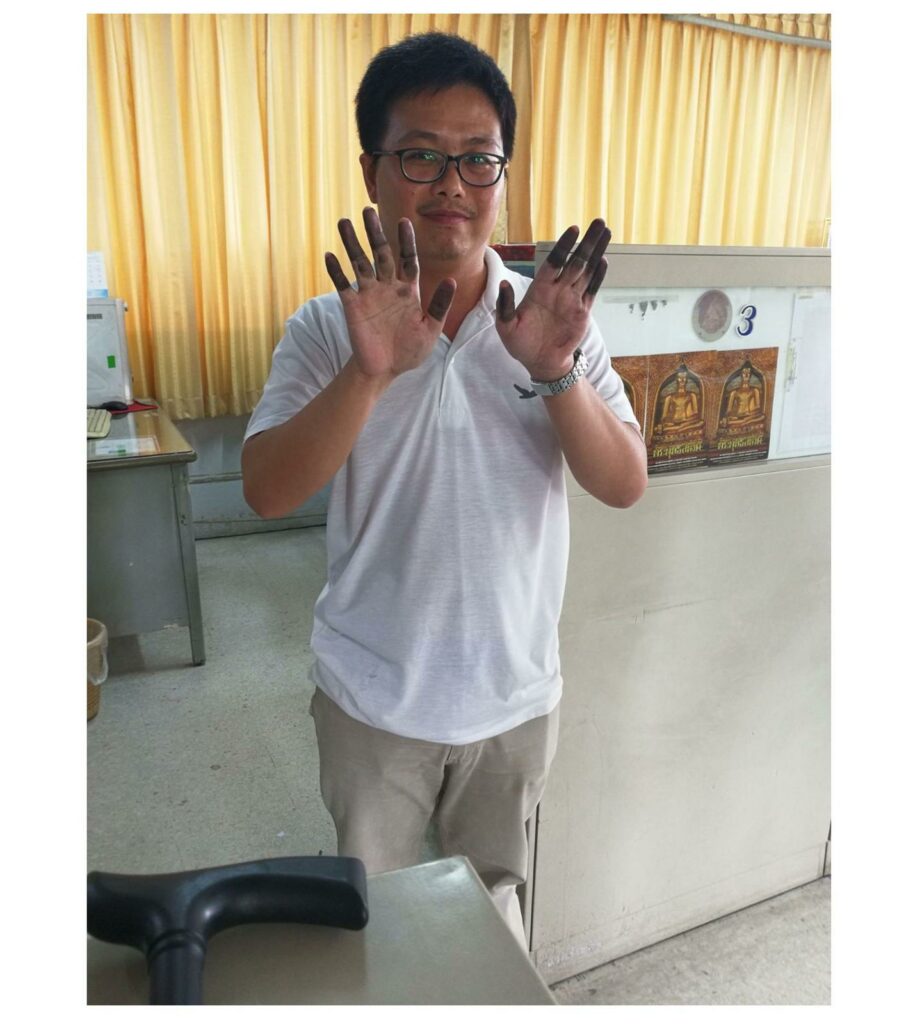 Chaipong Samnieng, age 36, is a doctoral student in the Department of Sociology and Anthropology in the Faculty of Social Sciences at CMU.
Chaipong is from Phrae province. He completed a BA in Social Studies in the Faculty of Education and an MA in the Department of History in the Faculty of Humanities at CMU.
Chaipong was previously a lecturer at Naresuan University in Phayao province. He then moved to CMU, first to work in the Public Policy Institute, and then to begin his doctoral studies, which continue at present. He is also a special lecturer for the course "Northern Society and Politics" in the Department of Sociology and Anthropology at CMU.
Chaipong is interested in Lanna (northern Thai) history, local governance and public policy. His publication, both as a sole researcher and as a member of a research team, are numerous. These include, for example, Dynamics and Recognition of the History of Phrae, 1902-2006, Development of Capital Groups and Business Networks in Northern Thailand, 1903-Present, and as part of a research project to study public policy to advance decentralization of local governance, etc.
Chaipong also writes for print journals and online media about Lanna history, politics and culture.
At ICTS, Chaipong presented a research paper about conflict and confusion in Lanna history. He was also the coordinator of a series of panels about Lanna history, which was one of the highlights of the conference.
Teeramon: Editor and graduate student in mass communication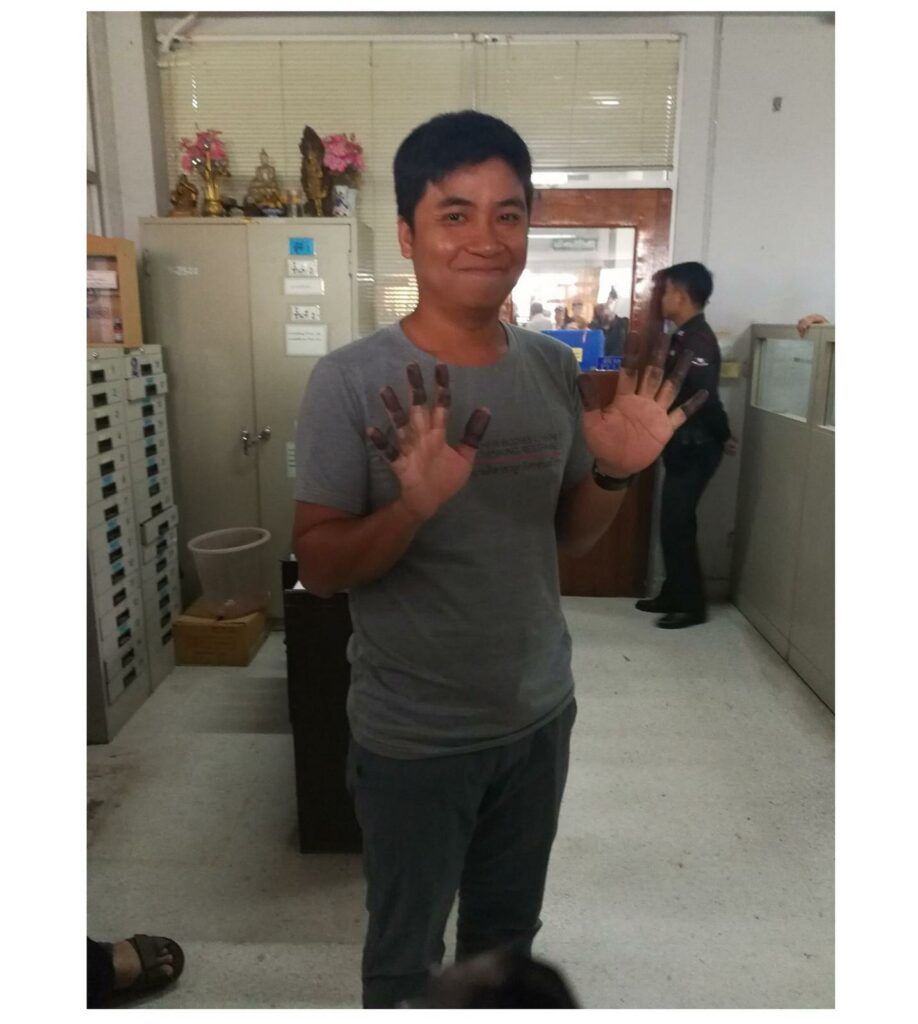 Teeramon Buangam, age 39, is an MA student in the Faculty of Mass Communication at CMU.
Teeramon is from Chiang Mai province. He completed a BA in the Faculty of Medical Technology at CMU, and then completed a BA with a newspaper major in the Department of Mass Communication in the Faculty of Humanities at CMU.
He has worked at Prachatham newspaper since 2005 and has served as editor since 2012. Prachatham is a northern media outlet that reports on civil society movements, community rights, and northern society.
At present, Teeramon is a special lecturer in alternative media and advanced reporting in the Faculty of Mass Communication at CMU and a special lecturer at Mae Jo University as well.
Previously, Teeramon was a researcher in a project to survey the landscape and direction of media convergence and a project to survey the resources and readiness for reporting of community radio. At present he is interested in data journalism and is writing his MA thesis about public communication by independent media in this field.
At ICTS, Teeramon presented a paper about data-driven journalism. He simply walked by and took a photograph with the "An Academic Conference is Not a Military Barracks." This led to him being accused of violating the law and becoming a defendant.
Original: ศูนย์ทนายความเพื่อสิทธิมนุษยชน, "รู้จัก 5 จำเลยคดี "เวทีวิชาการไม่ใช่ค่ายทหาร" ก่อนเริ่มสืบพยานในชั้นศาลเดือนนี้"